Ruger Super Blackhawk Revolvers
By Chuck Hawks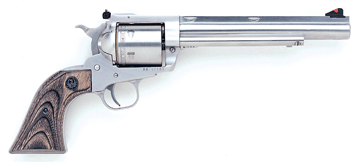 Illustration courtesy of Sturm, Ruger & Co., Inc.
When the .44 Remington Magnum cartridge was introduced in 1956, the existing Blackhawk single action revolver was immediately adapted to the new cartridge.
However, the Blackhawk was not the optimum vehicle for the powerful .44 Magnum cartridge. Realizing that, Bill Ruger set out to improve the Blackhawk, and the result was the Super Blackhawk.
Bill Ruger redesigned his single action revolvers in 1973 and created the "New Model" Super Blackhawk. These revolvers incorporate a transfer bar ignition system and use the opening of the loading gate to retract the cylinder bolt, allowing the cylinder to turn for loading. The New Model Ruger SA revolvers are probably the safest repeating handguns ever, and they can be carried with all six chambers loaded.
The New Model Super Blackhawk is very similar to the Blackhawk Model, and the mechanism is identical. But the Super was introduced with a longer Dragoon style steel grip frame with a distinctive square back trigger guard, a wider and slightly lower hammer spur, wide trigger, steel ejector rod housing, unfluted cylinder, and a 7 1/2 inch barrel.
Over the years the Super Blackhawk has mutated into a number of variations. The special Hunter Model comes with a more highly buffed stainless finish, a full length rib on a 7 1/2 inch barrel, integral scope bases, and a set of Ruger scope rings.
The most typical New Model Super Blackhawk is 13 3/8 inches long and weighs 48 ounces. The grips are smooth rosewood. The rear sight is fully adjustable and is complemented by a ramp front sight.
The specific gun tested for this review is a New Model Super Blackhawk Hunter. The grip panels are laminated hardwood stained an attractive gray color. The more user friendly trigger guard is rounded. The rear sight is the standard Ruger target type; the ramp front sight is dovetailed into the barrel rib. The test revolver wears a silver Nikon 1.5-4.5x24mm variable power scope.
The .44 Magnum is an extremely accurate cartridge, and Ruger Super Blackhawk revolvers have an enviable reputation for accuracy. This gun is no exception. In my experience both reputations are well deserved.
Note: A complete review of the Ruger Super Blackhawk revolver can be found on the Product Reviews page.