Ruger Super Redhawk .44 Magnum Revolver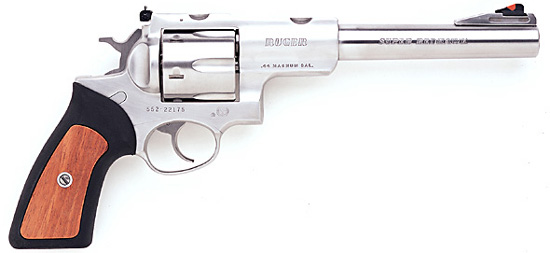 Illustration courtesy of Sturm, Ruger & Co., Inc.
I've found Ruger wheel guns to be exceptionally well built, as well as particularly good values. The tested revolver is Ruger Model KSRH-7, the 7-1/2 inch barreled stainless .44 Rem. Mag. featuring comfortable rubber grips with rosewood inserts.
The overall length of this large gun is 13-1/8 inches, and the catalog weight is 53-1/2 ounces. Out of the box, the single action trigger break was too heavy for my tastes, but the substitution of a Wolff spring kit from Brownell's brought it right down where I wanted: 2 lbs., 10 oz., with no other modifications. The supplied Ruger integral rings have done a fine job keeping the 2.5-7 x 28mm scope in place, with no hint of movement.
Ruger's Super Redhawk is an impressively strong framed revolver; that the same frame and action has been used for the .480 Ruger and the .454 Casull is testimony to that. To be sure, this is no wimpy wheel gun. The build quality clearly exceeds that of many of the other .44 Mags that I've owned, including a few M44 Taurus examples. Having hunted hogs and similar successfully with .357's, there is little question that whatever a .357 can do, a .44 Mag. just makes them "deader better."
Recently, I've found Winchester Platinum Tip 250 grain factory ammo to shoot inside two inches @ 100 yards from this Ruger from a rest, while my regular "go-to" handload for years has been the 240 grain Hornady XTP. XTP handloads have done as well as 1-1/2 in. @ 100 yards, with 2 inch five shot groups being realistic.
This makes the Ruger Super Redhawk the most accurate hunting pistol I've ever owned, with its heft and weight helping to make it controllable to shoot. Hotter rounds such as the .454 Casull have been too much in the hand-slapper department for me to enjoy shooting them, much less do so accurately. Some folks do, of course, but for me the .44 Rem. Mag. is the upper limit of what I enjoy shooting out of a handgun.
I've never had a Ruger revolver that was less than well made, including their GP100 .357, and their single action Blackhawk models. As far as I'm concerned, the Ruger Super Redhawk is the class of the field, and one of the best hunting revolvers you can buy. It's a testimony to the quality of Ruger's investment casting prowess.
You might want a trigger job, though in my case just a spring kit did the trick. In .44 Rem. Mag. configuration it is a reliable combination of power, accuracy, and manageability that is hard to beat. It remains my favorite hunting handgun. I can't recommend the Ruger Super Redhawk highly enough.
Note: A Complete review of the Ruger Super Redhawk Alaskan revolver can be found on the Product Reviews page.