Improved Rusty's Rags for Rifle and Pistol
By the Guns and Shooting Online Staff
There really is a "Rusty" behind Rusty's Rags, a lifelong gun fancier who started shooting at the tender age of four years old and is now 82 years young. That is 78 years of experience shooting and collecting guns, so when Rusty talks about firearms protection, listen up. Rusty's rags are the result of his experience and experimentation to develop the very best silicone cloth possible for protecting his valuable firearms. (We have found that they also work great on knives and fishing reels, among other things.)
A while back we reviewed the original Rusty's Rag, a silicone impregnated, 100% sheepskin gun care product designed to reach tight areas regular flannel silicone cloths miss. This turned out to be a superior product and Guns and Shooting Online Gunsmithing Editor Rocky Hays has used Rusty's Rags on his fine custom built guns ever since.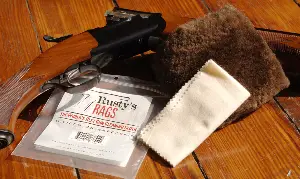 Illustration courtesy of Rusty's Rag.
Now, Rusty's Rags (www.rustysrags.com) has introduced an improved sheepskin silicone rag with shorter wool (maybe 3/16" long fibers) that is even better than the original. These silicone impregnated, shorn sheepskin squares measure approximately 4-3/8" long by 2-1/2" wide (pistol) and 5-1/4" square (rifle and shotgun). Each package includes a dry flannel cloth used to wipe-off extra silicone for a polished look. We have found that the larger rifle size works great on handguns, too, although the smaller pistol size rag is maybe a little easier to get into tight spaces on small guns.
Rusty's Rags are used like an ordinary flannel silicone cloth to wipe down guns. The difference is that the short wool fibers reach into hard to reach areas (around sights, between the magazine tube and barrel on lever actions and tube fed rimfires, etc.) more effectively than a smooth flannel silicone cloth. Rusty's Rags lists these features for their silicone sheepskin rags:
Sheepskin gun cloth
Leaves a lasting shine
Helps to prevent rust
Clean and protect your guns
Use every time you shoot and handle your gun
Gets in the "nooks and crannies" that an ordinary flannel cannot
Unlike many products today, Rusty's Rags actually do what they are advertised to do. In fact, they do it better than any other type of silicone cloth we have ever used, and we have used silicone cloths on our guns for, literally, decades. This is not a complicated subject; Rusty's Rags are simply the best product for protecting guns from fingerprints, rust and normal handling that we have ever used. Try them; we are sure that you will like Rusty's Rags as much as we do.