Smith & Wesson Model 242 .38 Special Revolver
By David Tong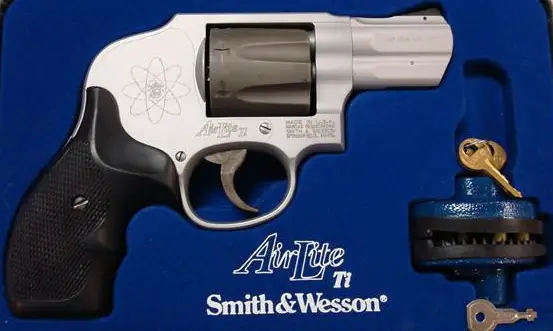 Photo by David Tong.
The snub-nose revolver is popular, as it is compact, lightweight, reliable and simple. With no magazine feeding, its cylinder rotates to bring a fresh cartridge under the hammer with each trigger pull. One of the most popular snub revolvers for the past 50+ years has been the Smith & Wesson "Bodyguard." It is chambered in .32 S&W Long, .38 S&W and (most commonly) in .38 S&W Special. Its salient feature is a humpbacked shape, due to its shrouded hammer spur. This makes the revolver more easily drawn from concealment, as it prevents the hammer spur from catching covering garments. Up until recently, these revolvers were only available in the small, J-frame (.32 caliber frame), 5-shot platform.
The Bodyguard's fixed barrel is an aid to intrinsic accuracy, although its short sight radius, wretched S&W grips and long double-action trigger stroke can make practical accuracy problematic. I have always found the snubby revolver the most difficult of all sidearms to master, especially if fired rapidly. Like any sub-compact handgun, they are difficult to use due to the small profile that makes them so popular for concealment.
The Model 49 was constructed of carbon steel, while the Model 38 Airweight had a lightweight aluminum alloy frame. Either was available in blue or polished nickel finish. Those desiring a truly rust-resistant version were rewarded for their patience when the stainless steel Model 649 was introduced in the 1980's.
The primary advantage of the Bodyguard's shrouded hammer, compared to the double-action-only (DAO), internal hammer Centennial version, is to provide enough access to the hammer spur that single-action fire remains possible. While that capability was generally lauded, many defensive experts insist that having both modes of fire merely complicates matters for the slow witted.
Hitting the mark at a distance beyond about 30', while trigger cocking the piece, is indeed difficult. This is the reason why the DAO snubbie is such a demanding mistress. The long and 10-15lb. DA stroke working against the one-pound revolver is something that can only be accomplished successfully with a great deal of practice, more than would be necessary with larger and heavier revolvers.
The Model 242 marked an evolutionary step for the Massachusetts company. One of the issues with J-frame S&W revolvers has been their inability to handle .38 Special +P ammunition, at least until quite recently. Improvements to heat treatment have now made J-frames +P capable. The other issue is the limit of five shots to the small frame, so S&W essentially took their L-frame size, produced it in aluminum alloy and fitted it with a titanium alloy cylinder capable of holding seven cartridges.
Additional lightening cuts on the bottom of the trigger guard and along the rear strap were a fitting touch, though ineffectual in reducing the gun's weight. A small lanyard loop pin was provided to allow the wearer to secure the revolver to his or her person, if desired.
There were other advantages to using the L-frame (a .41 caliber size frame), besides the larger diameter cylinder. Using the larger frame's lockwork meant that the trigger pull, especially in double-action mode, was considerably smoother and lighter. This is credited to the use of the standard S&W leaf mainspring and a heavier hammer that doesn't require as much spring tension for ignition reliability.
From an ergonomic perspective, most would agree that a larger frame also makes handling and reloading easier. Replacement K and L-frame rubber grips with an open backstrap allow greater purchase and better recoil control.
If there is a fly in the ointment, the Model 242 omitted the hammer slot providing single-action capability. This revolver has a fully shrouded hammer and is thus double-action-only. It is also, of course, not a pocket gun, nor is such a large frame gun easy to comfortably conceal, regardless of reduced barrel length.
Specifications:
Manufacturer: Smith & Wesson

Model #: 242

Type: Double-action-only revolver

Frame size: Large (S&W "L")

Length: 7"

Barrel length: 2 ˝"

Weight: 19 oz.

Construction: Aluminum and scandium alloy frame and barrel shroud, titanium alloy cylinder, stainless steel barrel liner

Year built: 1990
The example of this revolver I examined came in a hard vinyl presentation case that was blue velvet lined. The trigger pull was approximately 12 pounds, stack free and fairly smooth. The barrel, made of stainless steel, was actually a liner within an external aluminum shroud that matched the frame in both material and finish. While I was unable to detail strip the revolver, the smooth-faced trigger appeared to be the standard milled-from-forged color-case hardened part like Smiths had used until their switch to MIM-produced parts in the late 1990's.
Due to its rarity and unfired condition, I was unable to shoot the sample described here, which is a shame. Its smooth exterior contour and light weight (19 ounces) would have been comfortable to carry, while its greater ammunition load, smoother trigger action and +P ammo capability would have been comforting. I have some reservations about the .38 Special cartridge as a primary defensive sidearm load, as even the vaunted former FBI standard 158gr LHPSWC +P round rates only a 66.6% one-shot stop capability from a 2" barrel, according to statistics compiled by Marshall and Evans. On the other hand, I have greater reservations about the small-frame .38 snub's lack of controllability in rapid fire. The Model 242 seemed to cover the bases and more's the pity I hadn't the funds to buy it.