Smith & Wesson Model 5906 9x19mm Pistol
By David Tong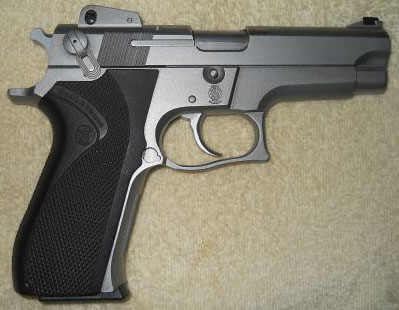 Photo by David Tong.
Recently the author has been doing a retrospective look at the high-capacity 9mm automatic pistol, and this article features the last and ultimate version of the Smith & Wesson M59. The template for the Wondernine was a double-action first shot, aluminum framed pistol with a magazine holding 15 shots, equipped with a slide-mounted decocker/safety.
A little short history is in order. The U.S. military originally proposed a new service pistol after World War II, to be in 9x19mm caliber, with a double-action first shot capability. Army Ordnance was certainly aware of the German Walther P-38 handgun, but it preferred the simpler and more typical Browning-derived tilting barrel / enclosed slide arrangement. Smith & Wesson built prototypes during the late 1950s and early 1960s, after the military decided against fielding a 9mm handgun due to remaining WWII-produced stocks of M1911 pistols in .45 ACP.
The pistol developed by S&W was called the Model 39 and it featured an aluminum alloy frame and a single column magazine, with an integral barrel feed ramp that eliminated the 1911's two-ramp system. The slide retained the 1911's removable barrel bushing. The S&W design also used broad cam and ramp systems along the barrel's sides that engaged similar cam surfaces on the interior walls of the frame, a system that is stronger than the more typical single lug and cam of newer pistols and simpler than the dropping block locking system of the P-38 and Beretta M92.
Unlike the P-38 and its derivative M92, S&W moved all of the trigger lock-work into the frame, to better seal them against dirt. The M39 is known for having one of the most ergonomic butt shapes of all semi-auto pistols, fitting most hands well, and retained the 110-degree grip angle of the 1911.
In addition to a slide mounted de-cocker and safety lever, the S&W pistols also featured a magazine disconnect system. Massad Ayoob has written about instances when a disarmed cop saved his or her life by hitting the mag release, instantly turning the captured pistol into a paperweight.
As far as the author can recall, the M39 was the first pistol that utilized a full-length, steel recoil spring guide rod. This now nearly ubiquitous part can improve spring efficiency by up to five percent and can simplify field- stripping in many pistols.
This pistol and the later, high capacity Model 59 were not designed with JHP bullets in mind. Their humped feed ramp shapes often either stopped the rather square nosed early JHP bullets at the base of the ramp, or made them skip upward into the chamber roof, causing malfunctions. As a result, police agencies often issued the pistols with ball ammo and we all know how well 9x19 ball works on unarmored human targets. S&W went back to the drawing board and by the early 1980's, the M39 and M59 were in their Second-Generation of production.
Known as the "3-digit" guns, these pistols featured a straight feed ramp, slightly refined trigger mechanisms and eliminated the separate barrel bushing. The company also added a subcompact M469. The author once owned an example of this pistol. It's relatively lightweight (25 ounce) and 11+1 capacity in 9x19 performed very well. Magazines loaded with both ball and two different JHP rounds could be rapid fired with no malfunctions, time after time. Accuracy also improved due to the fixed bushing and barrels were hard chrome plated for improved wear and reduced cleaning effort.
There were still a few minor issues, mostly cosmetic and ergonomic. The M459 (alloy frame), 559 (carbon steel) and 659 (stainless steel) were rather fat, blocky and parallel-sided in feel and the hand position was too low on the grip frame to be ideal for rapid recoil recovery in rapid fire.
Thus, in the late 1980s, S&W introduced the Third Generation autos. Probably the most famous example of these pistols is the M1076 FBI 10mm pistol reviewed elsewhere on this website, but their bread and butter pistol was the M5906 stainless handgun.
Here are some M5906 specifications:
Type: DA-SA semi-automatic, exposed hammer, pistol

Caliber: 9x19mm (9mm Luger)

Length: 7-˝"

Height: 5-˝"

Width: 1-1/8" across butt

Barrel length: 3 7/8"

Weight (empty): 40 ounces (approx.)

Magazine Capacity: 10, 14, 15 round magazines in 9x19, depending on jurisdiction

Construction: Stainless steel with hard chromed carbon steel sub-components

Trigger pull: Approximately 14 lbs., DA; approximately 5˝ lbs. SA.

Trigger Reset distance: Approximately 1/16"

Safeties: Manual ambidextrous safety-decocking levers on slide; automatic firing pin plunger; magazine disconnect

Sights: Dovetailed front and rear fixed; Novak rear; S&W click adjustable with protective ears.

Grips: Wrap around one-piece DuPont Delrin Nylon; checkered straight or arched back strap.

Production: Approximately 1988-1999
Many, for good reason, have disparaged the S&W service pistols over the years. This author was initially among their most vehement critics. There was much to dislike about the 1st generation pistols, but the company improved the 2nd and 3rd generation pistols and they served both police and civilian users well. The stainless 5906 later evolved into the M4006 when the .40 S&W cartridge took off in popularity, due as much to widespread memory of the poor performance with early 9x19 JHP bullets than any inherent deficiencies of the M5906.
The author was pleasantly surprised when he made a re-acquaintance with the 5906. In performing an overall safety and function check, along with dry fire practice before shooting, the 3rd generation improvements to the trigger action were very apparent. No longer did the double-action stroke "stack," increasing in poundage as one pulls the trigger rearward. Instead, what one experiences is a smooth and glitch free pull, perhaps better than some SiG-Sauer pistols, let alone the P-38. Of course, this test pistol had already fired thousands of rounds, giving it plenty of opportunity to wear internal parts smooth.
The single action release was not only crisp with zero overtravel, but the reset distance was transformed into probably the shortest in all semi-auto pistoldom. As a 1911 aficionado, because that particular trigger works with you in rapid controlled fire, the 5906's trigger, along with the steel construction, makes similar shooting child's play.
The heavy pistol's comfortable and broad butt section, yet slender magazine and frame, soaks up the recoil pulse. The arched rear strap of the one-piece techno-polymer grip provides a good base of repeatable shooting support. While the pistol retained the lines of its predecessors, all edges are broken and beveled to reduce skin abrasion and holster wear. A final ergonomic tweak was the "high hand hold" relieved trigger guard cut, as well as an elongated and squared/checkered trigger guard for use with gloved hands in cold climates.
Smith & Wesson dominated the police market into the early 1990s, but the handwriting was on the wall for heavy steel pistols in uniformed service. The Wondernine template morphed into striker-fired, plastic framed arms with even greater magazine capacity.
The many advantages of a plastic-framed pistol can include lower acquisition cost and very light weight. There are few forged parts, lots of stamped sheet metal, MIM sears and internal lock work. The triggers are mostly grungy and don't assist in accuracy, although the pistols are generally very reliable. They are also about as attractive, in most cases, as a mud fence.
In comparison, the 5906 shows its "age," in that frame, slide, barrel, trigger and hammer are machined forgings. There are some MIM-produced parts, such as the ejector, magazine release button, disconnector and firing pin lock plunger. Moreover, the use of the original Browning design of annular locking lug with matching slide mortise is far more difficult to execute than the modern breechblock engaging the front of the ejection port of the slide.
The 5906 is homely-looking. While not quite as bad as most plastic sidearms, the elongated trigger guard and "1917 Enfield-like" rear sight ears are ungainly. However, the latter protects the adjustable rear sight from damage if dropped and allows an injured person to rack the slide for loading against a door or table edge. As a side note, this feature originally appeared on early M39's to elevate the sighting plane when used with a suppressor in Vietnam.
The author has read many reports online of individual officers who have shot their issued 5906 pistols over 50,000 rounds with little more than routine small parts replacement. It is a robust piece and would serve for a lifetime of shooting for most of us.
Shooting my usual mix of Sellier & Bellot 115 grain FMJ rounds at 1,200 fps and Winchester Ranger-T RA9TA 127 grain +P+ at 1,250 fps I experienced no malfunctions. Accuracy results included an excellent 11-shot group that measured 2-3/8" center-to-center at 25 yards from an arm rested over the hood of a truck.
After this, a so-called "hammers" drill was performed. A first shot "flash" sight picture was taken and two shots were sent as quickly as the trigger could be pulled, without a second sight picture. The resultant 5", 15-shot group at 7 yards was windage-centered approximately 3" below the point of aim, because of the slightly heavy single action release and author's inexperience with this pistol.
Additionally, although this test pistol had been shot a bunch in its lifetime, there was no evidence of peening of the frame rails by slide recoil and the locking lugs in the slide and on the barrel were still crisp. The slide to frame fit was only average, with notable side-to-side play.
Thankfully, many years of carrying a Government Model makes me immune to the weight and the shorter 4" barrel and rounded butt section is slightly more comfortable than a 1911. All told, the M5906 is an accurate and reliable, if heavy, way to launch hot 9mm rounds at one's adversary. On the used market these pistols are inexpensive, as they are either ignored or underrated. Magazines are plentiful and cheap. A M5906 is worth a look for gunners on a budget.
Note: For convenience, this review is duplicated on the Product Reviews page.