Smith & Wesson M&P .357 SIG Autoloading Pistol
By David Tong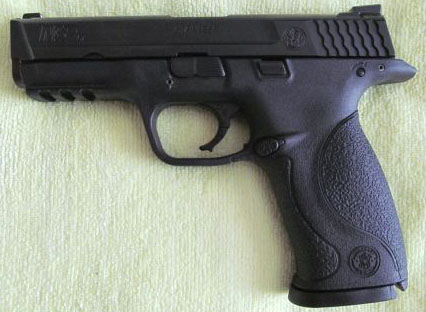 Photo by David Tong.
This is an article describing the standard duty model S&W "Military and Police" semi-automatic pistol chambered in the .357 Sig caliber. Smith & Wesson's M&P auto pistols have definitely taken hold in the U.S. and abroad (some 40,000 have been issued to the Iraqi National Police). In my home state of Oregon, both our State Police as well as our local Sheriff's department now issue them, having replaced their Glock 22 Gen. 3 pistols. Over 275 departments nationwide now use them and the numbers are increasing rapidly.
There are several reasons for the ascendancy of the design. It was the first polymer-framed pistol that has adjustable ergonomics, not only for trigger reach, but also for hand sizing, by means of three inserts that are included with the pistol. These inserts provide a softly stippled surface for good purchase and also have ambidextrous palm swells. They feel good in the hand and fit onto the frame without gaps.
Another ergonomic plus is the rounded front strap. Compared to other semi automatic pistols with staggered round magazines, the front strap is nicely curved with a single radius. This is in contrast to many that have a square feel to them that your fingers must wrap around. The grip angle is the 110 degree of the 1911. All these things combine, at least for me, in a grip that has no "hot spots." There are simply no pressure points my hand has to contend with when grasping the handle. My average size hands and digits easily wrapped around this double-column magazine butt section. This is not a trifling matter, as most of double stack magazine pistols feel huge to me.
The extensive use of stainless steel in the slide construction, as well as the fire control chassis and its components, mean that maintenance for this corrosion resistant metal will be reduced. The "ferritic nitro-carburizing" surface treatment that goes under the American trade name "Melonite" was actually developed by the British in the 1920's for hardening cutting tools and a number of gun companies use variations of it under other names. It is a case hardening process that does not distort the dimensions of the metal, due to its low temperature application. Originally a salt bath solution, later forms of the process involved gaseous application. It offers a Rockwell C-scale hardness of 68-70 and provides a long-wearing surface that is typically hardened to a depth of 0.10" – 0.15".
Absent on most M&P versions is any form of external thumb activated safety, which many agencies and legal concealed carry permit holders prefer, though they are available as a no cost option. In addition, a key-operated action lock can also be fitted, as well as a magazine disconnect safety. All models can be retrofitted at customer request.
The 1913 Picatinny railed dust cover accepts all U.S. standard flashlights or laser aiming devices. Lest this seem a minor point, this rail has now become standard on some Russian small arms.
Specifications
SKU:

209302

Model:

M&P357

Caliber:

.357 SIG Auto.

Capacity:

15+1 Rounds

Barrel Length:

4.25", 1-in-16" twist, six lands and grooves

Front Sight:

Steel Ramp Dovetail Mount

;

Tritium Sights Optional

Rear Sight:

Steel Novak® Lo-Mount Carry

;

Tritium Sights Optional

Trigger Pull:

6.5 lbs.

Trigger Travel:

Rest to Fire .300 in.

Trigger Reset:

Approx. .140 in.

Frame:

Large

Finish:

Slide and Barrel Black Melonite®, 68HRc

Overall Length:

7.63"

Material:

Zytel Polymer Frame, Stainless Steel Barrel/Slide and Structural Components

Weight (No Magazine):

25.5 oz.

Overall Height:

5.5" / 13.9 cm

Width:

1.2"

Sight Length:

6.4"

2012 MSRP: $727

Lifetime warranty to original purchaser
The trigger pull is "modern normal" for a striker-fired pistol. The take up that depresses the striker safety plunger and retracts the striker fully leads to a heavy release of over six pounds. Fortunately, the total trigger travel and its reset distance are both reasonably short for pistols of this ilk. The reset itself is quiet, no loud click, with decent tactile feel. After dealing with a crisp trigger pull on hammer-fired designs, no striker-fired pistol, as delivered in the box, is going to compare well. That said, due to police departmental requirements and legal concerns, it is unlikely that any manufacturer of such pistols is going to deliver a superior pull for a duty pistol. Due to liability concerns, it is probably best to leave the M&P trigger as is, or find a design whose trigger is more manageable.
The wide magazine well allows the tapered magazine to enter quickly, with no additional beveling required. The small grip insert retainer has a bevel on its forward facing surface to allow the shooter to use it as a magazine guide during a fast reload. The magazine catch can be switched from left to right with the use of a flat bladed screwdriver and the procedure is described in the owner's manual. The magazine release catch is low profile and has a small tapered fillet to its immediate rear that can help preclude unintentional magazine drops. Magazines drop free when the catch is depressed. Lefties are provided with an ambidextrous slide stop to allow one-handed reloads after a fresh magazine is seated.
The trigger guard is nicely oversized for gloved hands and S&W wisely dispensed with the squared trigger guard. It also allows for somewhat more rearward placement of lasers and lights mounted on the rail.
The slide width is approximately 1-1/16th". This is much narrower than the Beretta 92 or SIG P229 and slightly narrower than all Glock models. It is, however, wider than the 7/8" thick original 1911 pistol.
I also preferred the smooth, hinged S&W trigger blade to the central lever used on the Glock, Springfield XD, XD-M and several Taurus models. Smith also fitted a molded over-travel stop on the rear of the blade and on the inside of the trigger guard, a nice touch. The trigger radius is a gentle and comfortable curve.
The sights are made of blued carbon steel and of the usual three-dot design. The rear sight has a small vertical forward ledge that permits the user to rack the slide one handed, if necessary, against a door edge, should one be handy.
I found two minor niggles. Loading the magazine to full capacity is a bear, especially when new. Such springs are required for cartridges that operate at high pressure and generate high slide velocity, for positive feeding. Also, the high spring rate is the result of keeping the overall length of the magazine (and therefore, the pistol's butt) to a minimum.
Additionally, the soft stippling used on the molded Du Pont "Zytel" nylon frame (the same material used for the stock of the 1959 vintage Remington Nylon 66 .22 rifle.) might become slippery when one's hands are damp or wet, though they can offer a less than perfect grip on the butt to allow the shooter's hands to adjust the axial alignment of the pistol bore during a holster presentation, compared to designs with more aggressive surfacing.
The Cartridge
While the majority of the M&P pistols purchased are in .40 S&W, 9x19mm and .45ACP, the test pistol is chambered in the SIG-Sauer / Federal Cartridge developed .357 Sig round. This is nothing more than the .40 S&W case slightly lengthened and necked down to accept standard 9mm (.355") diameter bullets. The Federal Air Marshals, U.S. Secret Service, Texas Department of Public Safety, Michigan State Police and Virginia State Police, among others, use the round.
The cartridge has a feeding advantage compared to its straight-cased brethren, as the smaller diameter bullet "funnels" into the larger 0.424" base diameter chamber with ease. The case headspaces on the case mouth, like most auto pistol cartridges, not on its shoulder. The small, 18-degree shoulder is inadequate for positive headspacing. The .357 Sig cartridge is known for good accuracy in a pistol capable of taking full advantage of its potential.
The .357 Sig is very efficient for its case length and capacity. It operates at a maximum average pressure of 40,000 psi and its report is all but identical to the larger and equally loud .357 Magnum revolver round.
The round is capable of anything one can do with a .38 Super. It is among the highest performance autoloading pistol cartridges available, delivering more energy than the 9mm Luger, .38 Super, .40 S&W and .45 ACP from the muzzle to 100 yards. It also offers a flatter trajectory than any of those cartridges. If you want a flatter shooting and harder hitting handgun cartridge, you will need a magnum revolver.
Some specialty ammo manufacturers claim velocities exceeding 1,500 fps with 115 grain bullets and Federal, Hornady, Remington and Winchester all load 124-125 grain bullets at 1,350 fps. The .357 Sig comes within about 100 fps of the .357 Magnum revolver cartridge with 110-125 grain bullets.
Double Tap ammunition offers 147 grain jacketed and 180 grain hard cast lead truncated cone bullets, the latter for protection against wild pigs or black bear. While it is not the equal of a .357 Magnum revolver in the field, as a self-defense proposition against two-legged assailants, the SIG round has proven itself to be a very good stopper. The M&P .357 Sig pistol, with its double stack magazine, carries 2.66 times the ammunition of a six-shot .357 Magnum revolver in a lighter and flatter package.
The reloader can use hard-alloyed lead bullets for practice. The bottleneck case design means that a time saving, two die set is used for reloading, instead of the usual three die set required by straight cased handgun cartridges. On the other hand, the .357 Sig's thin case cross-section means that it can be a challenge for the reloader, who might crush them if improper case lubrication is used, and RCBS does not offer a carbide resizing die. (These are typically available only for resizing straight cases.)
It is interesting is that, due to the case design, the bullet's jacket does not need to be folded over the lead core, as pistol bullets for straight cased cartridges are, and thus resembles a revolver bullet's design. Indeed, the Federal JHP's meplat jacket transition is sharp edged, yet (because of the bottle neck case design) does not prove a detriment to reliable feeding. Of course, many .357 Sig cartridges are loaded with the same bullets used in other 9mm auto pistol cartridges.
Shooting Results
The .357 SIG round is not nearly as common (or inexpensive) as .380 ACP, 9x19mm, .40 S&W, or .45ACP, so procuring sufficient ammunition locally was challenging. Sellier & Bellot 140 grain FMJ (MV 412 m/s), Hornady 124 grain XTP (MV 1350 fps) and Federal 125 grain JHP Premium Personal Defense (MV 1350 fps) ammo was used in the test firing.
Due to our winter weather and ammunition expense, two 5-shot groups at 50 feet were fired from a bench rest with each load in a dimly lit indoor range, which produced the following results:
Hornady 124 grain XTP = 2.5" mean average
Federal 125 grain JHP = 3.0" mean average
Sellier & Bellot 140 grain FMJ = 2.75" mean average
AVERAGE GROUP SIZE FOR ALL LOADS TESTED = 2.75" AT 50 FEET
(At the G&S Online standard 25 yards, the average group size would be 4.125".)
The .357 Sig M&P is, overall, rather pleasant to shoot. I found the recoil reasonable, considering the pressure and velocity of the round. I think it is easier to control in rapid fire than the .40 S&W version. The M&P's bore axis is roughly the same as a 1911, so it is somewhat higher than a Glock pistol and somewhat lower than a SIG P226.
Conclusion
The .357 Sig caliber offers sufficient factory loads to allow one to tailor it to the purpose needed, more dynamic expansion or greater barrier penetration. It affords its shooter with very good stand-off capability for an auto pistol cartridge, due to its flat trajectory. (However, 2.75" groups at 50 feet would expand to 16.5" groups at 100 yards. - Editor.)
The M&P pistol offers a slender feeling, if not exactly thin carrying, service pistol. It is reliable, relatively inexpensive, simple to maintain and clean. It is also relatively soft shooting. Only time will tell if it is possessed of the reliability of the dominant Glock platform.