Saf-T Unloader by Genuine Innovations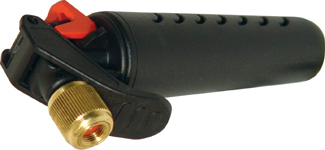 Illustration courtesy of Genuine Innovations.
There are some valid reasons for taking a look at carbon dioxide muzzleloader "unloaders." You might wish to unload your muzzleloader back at camp without a lot of noise, or discharge it into the ground when back home from the field, again without making a lot of racket. Using a witness mark on the ramrod may reveal that you dry-loaded your firearm. It is not that anybody reading this article actually has, but it seems that we all know of "somebody" who has, forgot a bullet puller, does not have the correct bullet puller, or forgot his breechplug wrench as well.
At the range, it seems it happens more than many would care to admit. Having a "Saf-T Unloader" by Genuine Innovations in your range bag along with a couple of standard 12 gram CO2 cylinders can help you save the day. It is a handy, well-made little dispenser that comes with a brass #11 cap adapter. Most of the optional adapters just plug into the #11 adapter, the standard musket cap adapter is an exception, as it just threads into the CO2 discharger in place of the supplied #11 fitting.
The Saf-T Unloader is not "one size fits all," though, and the diminutive 209 adapter does not begin to reach the Savage 10ML-II breechplug, and is not useable in Knight "Red Plastic Jacket" equipped inlines. Where it shines the brightest, in "inline land," is in any number of the increasingly popular break-action front-loaders that have been attempting to tag along after the continued success of the Thompson Encore.
To that end, I'd like to see the Saf-T Unloader automatically come with the 209 press-in nozzle, as a bullet can be quickly discharged from an Encore, Contender G2, or other break action rifle without the longer inline adapter portion (that allows for a 90 degree turn) being used at all. The bundling of the 209 "nozzle only" would increase this product's appeal.
Additionally, as the musket cap inline adapter is "#11 threaded portion based," it works equally well in inlines or sidelocks, making the threaded musket cap fitting superfluous. For sidelocks, there are no issues that I can see. Due to the diversity of 209 fired inlines, there are a more than a few rifles that make use of this item impractical. If your 209 primer fits into an easily accessible breechplug, though, you are likely good to go.
So, it is good product that could be a bit more focused. The entire Genuine Innovations array of hunting and recreational accessories is substantial, including those directed at bicycles, motocross, and ATV's. For more details and dealer locations, take a peek at the innovationsaz.com WebSite.