Savage 220F: The Best New Rifle of 2010 is chambered for a Shotgun Shell!
By Randy Wakeman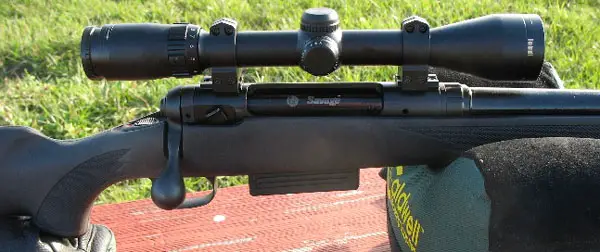 Photo by Randy Wakeman.
Introduced late in 2009, but considered a 2010 model, the Savage 220F 20 gauge, bolt action rifle is what I consider the "Rifle of the Year" for 2010. It advances the art to the point where is has created a whole new class of deer-hunting firearm as there is just nothing that can compete with it on the basis of price or performance. It redefines the slug gun in a way never done before. Already the subject of two prior articles, this rifle has generated more e-mail, phone calls and general interest than anything I can think of in the last several years. All for some very good reasons.
Chuck Hawks, Guns & Shooting Online owner, has asked me what the point of a rifled slug gun could be? Chuck has a good point, for once you rifle a barrel in a long gun it is, of course, a rifle. That's where the word comes from. Even the old muskets that were fitted with rifled barrels were called "rifled muskets," where a firearm originally produced with rifling was a rifle. The Savage 220F is only produced with 1:24 rate of twist rifling and is, by definition, a rifle.
Once you have a rifle it is only natural to expect it to act like one. That means a rifle-like trigger, a rifle-like action, and rifle-like accuracy. This is the first mass-produced repeating 20 gauge rifle that has these three salient qualities.
The action is the legendary Savage 110 action, the 4,000,000th Savage 110 being this year's SHOT Show rifle of the year. Heralded as one of the fifty best guns ever made, if there is an action that screams "rifle" and "accuracy" today it is the Savage 110. That's the heart of this 20 gauge rifled slug gun, albeit with a matt (unpolished) blued finish and the old style (ugly) barrel attachment nut.
If you want rifle-like performance, you need a crisp rifle-like trigger. The super-fast locktime Accu-Trigger means the bullet from your 220F can be through your deer before the hammer even falls on a hinge-pin hammer gun. Using Dvork TriggerScan analysis software, the AccuTrigger that was rolled out in 2003 has completely changed the idea of a factory rifle trigger. Light triggers are not new as aftermarket triggers, but light, crisp, and safe are a unique blend. High performance should never come at the expense of safety, particularly in a hunting gun. The AccuTrigger has survived the drop from a 20 foot fork lift with the safety off without firing. This is the type of firing control you can readily appreciate for yourself, but quickly appreciate even more when your son, daughter, or wife is enjoying the woods with you.
Typical two-piece shotgun stocks have the potential to negatively affect barrel harmonics and accuracy. Like all Savage Model 10 and Model 110 rifles, the 220F has a pillar bedded action, a one-piece stock and a free-floating barrel. The stock is a cheap synthetic type with zero aesthetic appeal, although it has fundamentally good lines. It works as well as others of the type and it matches the un-polished look of the barreled action.
No one likes recoil, of course. Recoil never helps accuracy and isn't great for scopes, mounts, and rings, either. Despite the moderate weight of the 220F and fast-handing, it is a very soft shooter due both to its conventional stock design and Savage's P.A.D. recoil pad that comes with every 220F.
After 500 rounds of testing, my preference is the Federal Premium P209XT1 load. It is a 287 grain .45 caliber Barnes tipped Expander with a 15 ft. velocity average of 1745 fps. It shot MOA at 100 and 150 yards, and still did better than 3 inch groups at 200 yards. This load, sighted in 3 inches high @ 80 yards is a 165 yard center of the body hold deer-whacker.
Federal 20 ga. saboted slug trajectory.
For your son or daughter, the Federal Premium P208XS standard Barnes MZ-Expander turns this already soft shooter into a real cream puff. Actual velocity is drops to 1500 fps, but no deer inside 140 yards can live on the difference. Sight this load in 3 inches high at 70 yards, and your ready for Freddy out to about 143 yards with a simple center of the body hold.
We also want shortcuts, the above should help you. For bases, go with the EGW one piece rail so you can mount virtually any scope. It is the Evolution Gun Works Savage 220 Slug Picatinny Rail Mount #2120, going for about forty bucks.
When I dropped my doe with a quick offhand shot at 155 yards or so, I didn't even bother to jack another round into the rifle. I guess my 81 year old father was a bit surprised. I'm not sure what I said, but it was along the lines of, "Well, those 500 warm up shots weren't for nothing." Best-tasting, most tender corn-fed deer we've had in a long while. I guess it is part of the Ron Coburn course in fine dining? Whatever it is, it is easy to get used to.
Jim Baker, proprietor of Savage Shooters, did his own independent testing of another Savage 220F using a pair of different 2-3/4 in. shells. His results were a three group (five shot) average 100 yard group size of 1.27 inches and a three group (five shot) average 200 yard group size of 2.86 inches.
All in all, the Savage 220F is a high-performance slug gun with unprecedented performance and easy of use. At a street price of $450 or so, it is also affordable performance that the entire family can enjoy. It obsoletes preconceived notions of slug guns, blazing a new standard of repeating rifle class that is all its own. With the right shell, it can be a one inch, 100 yard gun out of the box.
Let your barrel cool between shots for best accuracy (sabots can only do so much), use the EGW bases to mount most any rifle scope and get set to take the whole family hunting. You'll be glad you did. Savage has ushered in a new era of accuracy, safety, and game-getting ability in a twenty gauge slug gun. After you get yours, I think you'll agree. Then you'll know why, for the first time ever, my Rifle of the Year is a shotgun.