2022 Savage 220 Bolt Action 20 Gauge Slug Gun
By Randy Wakeman

Back in 2009, Savage Arms reinvented the slug gun with the introduction of their then-new Model 220 for model year 2010. It was a huge hit for Savage back then and it remains so today.
I've had quite a bit to say about slug guns, to be sure. Back when I was growing up, a slug-shooting shotgun was considered the lowest form of deer hunting firearm imaginable. For the most part, it was. Popping a deer with a foster slug through a smoothbore, shooting off the bead was about as a sophisticated approach as using a musket. Rudyard Kipling waxed poetic about the "Brown Bess" genre of musket that was in use from the late 1700s through the end of the Napoleonic Wars in the early 1800s. In the 1790s, the lighter "India Pattern Short Land Musket" appeared with a 9 lb. weight, a realistic rate of fire of two to three rounds per minute, and an estimated misfire rate of 20-40%. Much of the language in common use today (skin-flint, flash in the pan, and going off half-cocked) spawned from the smoothbore musket. The India pattern production was over 3,000,000 units, some still in use by the British as late as the 1850s.
Sticking a rifled barrel into a shotgun hardly turned them into rifles. We still had shotgun triggers, problematic scope mounting, slow lock-times, and two-piece stocks-- all things to avoid if you want accuracy. Invariably, these rifle wanna-be's were just unsatisfactory deer hunting weapons. I've gone through the gamut of B-80's with rifle sights, Marlin "Goose Guns" turned into slug guns (the 512 Slugmaster), and various other shotgun / rifle abortions. Most all were 12 gauge, heavy-handling pigs, still kicked my teeth in, and gave forgettable accuracy. There was one, and only one slug gun I tested in all those years back then that shot like a rifle. That was the poor-selling Browning A-Bolt, a slug gun that was spectacularly better than the rest by no small margin. The A-bolt was "introduced" in 1994, but didn't make it out until a couple of years later.
The problem was, as good as the A-Bolt was (and is) Browning priced it at $800 back in 1996, while the other slug guns of the day were less than half that price level. It sold like snow-cones in Anchorage, and was quickly discontinued. Hindsight is a wonderful thing, though, and the A-Bolt currently commands nose-bleed prices in the used market. My best accuracy was with Winchester-BRI 2-3/4 slugs back then, and my example did shoot 1-1/2 inch groups at 100 yards, far better than the 3-5 inch levels the other slug guns could manage. The ballistics were still relatively weak, though, the gun was still both heavy and uncomfortable to shoot for extended periods, but it was accurate, was built like a real rifle, had a real trigger, and ultimately was a terrific commercial failure.
The Savage 110 rifle itself was designed by Savage gun-designer Nicholas L. Brewer in 1956, and entered production in 1958. Right now, the Savage 110 ranks as the longest-running American made bolt-action rifle produced today. With its over fifty years of continuous production, it has long ago surpassed the Winchester Model 70 in longevity and the accuracy of this action is now legendary.
Savage obsoleted every other mass-produced slug-gun ever made with their Model 220F-- by no small margin. It isn't built on an abortion of a shotgun platform at all, the Model 220F is built on the famous 110 Savage bolt action with dual pillar bedding, a perfectly floated barrel, and the Savage Accu-Trigger. It is built like a real rifle, and it shows. Another writer recently commented, "Yeah, a six-inch group is probably the best you can do at a hundred yards from the bench on a real good day with a slug gun." In times past, unfortunately that type of "performance" was more often true than not, with far too many folks struggling to get four-inch groups at 50 yards. Those days are long gone as of right now.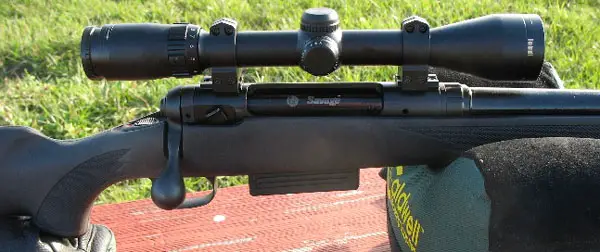 The original 220 I tested (above) came with a 100-yard test target that was a three-shot group measuring less than three quarters of an inch, .70 inch center to center to be exact. This was an astonishing level of accuracy, if not breathtaking, from a factory slug gun. It was fired with Remington three-inch AccuTips.
The current production (above) is a significant upgrade from the original Savage 220. Savage has upped their game with the addition of their Accu-Stock, and the current Accu-Fit system allows for easy comb height adjustment via included interchangeable combs along with adjustable length of pull through included spacers. The stock itself has excellent molded-in inserts, the bluing looks darker and more evenly applied, and the action has the updated front of the trigger guard bolt release. Wait, there's even more! Scope mounting and base issues are now a thing of the past, as the current Savage 220 comes with a Picatinny rail pre-installed.
I've mounted a Trijicon Accu-Point 3-9 x 40 scope with a Mil-Dot crosshair, featuring a green center dot. In low-light conditions (where you lose your reticle before you lose the image), the Trijicon is a dream come true: just put the softly glowing dot where you want it, and hit the switch. For those looking for a more economical general purpose scope, check out the Bushnell Elite 4500 2.5-10 x 40mm with the standard Multi-X reticle: the Bushnell is what I think is the best $250 or so hunting scope on the market today.
One of the casualties of the current ammunition market has been sabot shortages. While I am sourcing several brands of 20 gauge slugs to try, right now I'll use up the Hornady Superformance Monoflex 250 grain loads, which apparently have been discontinued in favor of 250 grain Hornady SST rounds that have similar ballistics. The hang tag on the original Savage 220 went as far as suggesting three specific loads: the Federal Premium Barnes Tipped three inch 1900 fps round, #PT209XT1 or either of the pair of Remington AccuTip offerings: the PRA20 1850 fps 2-3/4 inch or the PRA20M 3 inch 1900 fps loads. Only the Remington loads remain. Some of the factory Savage specifications follow after the basic ballistics. The Savage 220 has been the best slug gun on the market for over 12 years by now and it just got even better.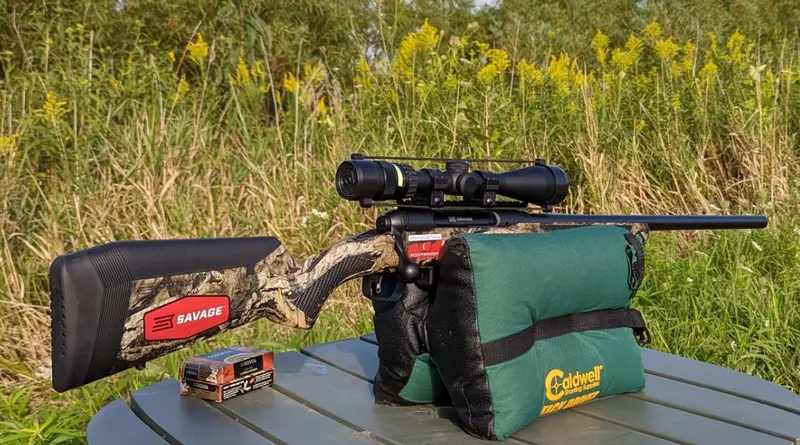 Following is the Hornady 250 grain SST estimated ballistics at 500 ft. elevation, 10 mph crosswind, with a 150 yard zero. I'll update this article with actual range results in due course.
Barrel Length (in) 22 inches
Length of Pull (in)/(cm) 13.75 / 34.925
Magazine Detachable Box Magazine
Overall Length (in)/(cm) 43 / 109.220
Rate of Twist (in) 1 in 24
Weight (lb)/(kg)