A Field Report on the Savage Model 12 F-Class Open Rifle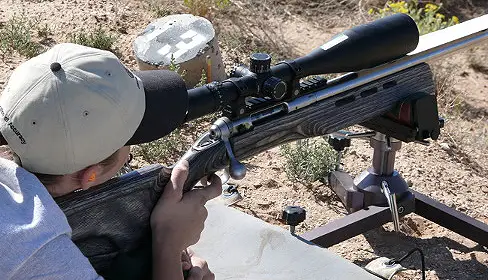 Shooting the Savage Model 12 F-Class Rifle with Nightforce NXS 12-42x-56 scope.
Susannah Clary, star member of the Guns and Shooting Online Competition Department, took delivery of her 6.5-284 Savage Model 12 F-Class rifle in early June. With a Nightforce NXS 12-42x56mm scope mounted, it is an incredibly impressive piece of equipment. Everyone in the sporting goods store came over to look at the new gun. It is an awesome looking firearm, but does it measure up to the advertising claims?
I was somewhat reluctant to write this article, as Susannah is sponsored by the Savage Arms Corporation. As such, I knew that many readers of this article would assume that I was falling into the same trap that writers for print magazines have been in since I was a kid: i.e., they always praise their sponsor's commercial products. Having said that, you can be the judge of my objectivity when I am finished.
Savage Arms should be congratulated for building this rifle, as the market is not large compared to the other firearms that they make. They priced this rifle at under $1,300, far less than the price of most custom F-Class rifles. With the introduction of this rifle, many folks who otherwise might not have considered F-Class shooting can now get into the sport.
I decided to "dissect" the gun and inspect all of its components before we went to the range for load development. I have always liked Savage products, but I knew that this particular rifle had gone through a series of design changes before the final configuration was settled upon. I wanted to see if they got it right. With that in mind, I will be comparing it to our custom F-Class rifle as well as others with which I am familiar. That is about the toughest test possible.
The stock of the Model 12 is comparable to the stocks found on most custom F-Class rifles without the after-market adjustment plates. It is an attractive gray/black wood laminate with a ventilated forend. I removed the barreled action to inspect the inletting. It was clean, with sleeve-reinforced holes ("pillar bedding") for the bolts to lock the action into the stock. The barrel is free-floated.
I will admit to being totally biased towards the Savage AccuTriggerTM, having been introduced to it on my Model 93 .17HMR. I am tired of factory triggers that have excessive creep, grit, or are so hard to pull that you cannot reliably hold on target. The AccuTriggerTM was the idea of Ron Coburn, CEO of Savage. He told his design engineers what he wanted and gave them the freedom to design what is undeniably the best production rifle trigger in the world. The adjustable AccuTriggerTM has been covered in previous Guns and Shooting Online articles, so I will not waste space duplicating the information here. The bottom line is that it is as good as any after-market trigger.
The Target AccuTriggerTM is adjustable from 6 ounces to 2.5 pounds using the tool supplied with the gun. The trigger is crisp, clean and without creep. The only drawback is that you have to remove the stock (easy to do) to make the adjustment. However, most shooters will only do this once and stick with that setting, so I do not consider this a serious drawback.
The Target AccuTriggerTM has one irritating quirk. If you "slam" the bolt forward when chambering a round, it occasionally locks up the trigger. I am not sure whether this is a failsafe built into the AccuTriggerTM to prevent accidental firing, or whether it is a flaw in the design. However, if it happens, all you have to do is lift the bolt up and lower it down (without any rearward motion) and the trigger resets.
Once you get used to the action you will have no trouble. Savage includes the Target AccuTriggerTM in their F-Class rifle, allowing the shooter to avoid the expense of an adjustable after-market trigger. If I were to grade the Savage AccuTriggerTM, I would give it an A-. The minus after the "A" is because I am fussy and sometimes "slam" the bolt. Target shooters never slam the bolt, so it is essentially a non-issue.
The Savage action is clean and smooth, incorporating a dual front locking lug system with an oversized bolt handle. It does take more effort to lower the bolt handle into the fully locked position than most F-Class actions. As such, you cannot lower the bolt handle with two fingers as you typically can with custom-built actions. However, after a few rounds on the range, you get used to this and it presents no problem.
The Savage's plunger ejector ensures that ejection of the spent cartridge is absolute. In fact, it is so good that most shooters on the line will prefer to open the bolt to release the case and remove it by hand. Otherwise, your cases will wind up in the dirt, without fail.
For those of you who may be interested, the bolt can easily be disassembled for cleaning with a ¼" hex wrench applied to the rear bolt assembly screw. I did so and was impressed with the workmanship of the components. All parts were smooth and polished. Just remember to torque the bolt assembly screw down with that hex wrench when you reassemble or it will come loose after several firings. The action isn't as pretty as a Nesika, but then it doesn't cost $1,400 either.
The stainless steel, 30" button-rifled barrel has a contour unique to Savage, rather than the straight tube of most target barrels. It is screwed into the action through the recoil lug and torques down with the distinctive Savage barrel lock nut. This makes for an excellent marriage between the barrel and the action and incredibly accurate headspacing. The barreled action is triple pillar bedded in the stock. It was very well done. We had our gunsmith bed the lug area of the stock for additional strength and stability. From prior experience, this small modification improves the accuracy of most rifles.
Savage barrels are good barrels. In field tests conducted by the Guns and Shooting Online staff with the Savage Model 12, the smallest three shot group averaged 0.41" at 100 yards with factory loaded hunting ammunition. That was an excellent indicator that the Savage M12 is a good shooter, but to be competitive, it has to be able to hold ½" MOA, or less, at 200 yards.
We decided to test our rifle with 139 grain Lapua Scenars. We settled on a load of 49.4 grains of Hodgdon's H4350 (see "Developing a Load for Competition Shooting, Part II"). I would like to point out at this time that most F-Class loads are very hot in order to reach out to 1,000 yards. I do not recommend these loads in any other gun and certainly not as a starting load. Because I only fired a five shot group during my load development for this rifle, I decided to double-check everything and fire ten rounds to make sure.
The target below speaks for itself as to the accuracy of this rifle.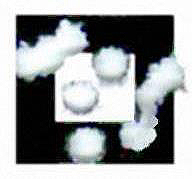 200 yard group with 6.5-284 Savage F-Class rifle..
The above ten shot group at 200 yards measured 1" in size, which equates to ½ MOA. I couldn't seem to put them into the same hole, as I did with the 6BR, but then I am prone to flinching and the heat was awful (I know, excuses, excuses and more excuses). The final test will be a twenty round string at 500 yards. If the barrel "holds up" under those conditions, then we have a real shooter.
We headed to the Zia Rifle & Pistol Club range outside of Albuquerque, NM. The air temperature was 94oF, the winds were variable from 5 to 12 mph, switching back and fourth like a politician running for office. We set up an MR-65FC, F-Class target on the range and commenced firing. Using the Savage, we shot a score of 194/200 for twenty rounds. Not a national record by any means, but definitely competitive, especially considering the adverse conditions. If I were going to become an F-Class shooter, I would have no qualms about using the Savage M12.
At this time, it becomes important to consider barrel life and competition shooting. The 6.5-284 cartridge, as loaded for F-Class competition, literally eats up barrels. Some 6.5-284 barrels become non-competitive after only 800 rounds. A few may be good to 1,200 rounds, but that is about the upper limit. You can sometimes extend that number by setting the barrel back. (This should be especially easy to do with a Savage barrel due to its unique attachment system.) With luck, you may get another one or two seasons of shooting. However, a new barrel is still your best bet.
With that in mind, here is what I suggest: If you want to enjoy the sport and challenge your own shooting ability, stick with the Savage as it comes out of the box and have fun. If you want to compete on the national or international level, use your Savage F-Class rifle to become familiar with F-Class shooting and gain a lot of experience. When it becomes necessary to replace the barrel, go with a high end competition barrel. The barrel blank will cost about the same as a new Savage barrel and your only additional cost will be a gunsmith's labor to cut the chamber and mate the barrel to your Savage action.
If you do that, your modestly priced Savage is now equivalent to any high end competition rifle on the planet. Your action may not be as pretty or quite as smooth as a Barnard and the stock may not be as fancy as the top of the line McMillan, but you will have a rifle that is a real shooter and competitive on a world class level.
I should add that Team Savage shoots the .308 caliber Savage Model 12 F-TR (out of the box) at national and international competitions and they do very, very well. As such, they can justifiably take issue with my comments on Savage barrels. You can't argue with success.
There you have it, my evaluation of the Savage Model 12 F-Class Open rifle, in the field and in the shop. Depending upon how you view my review, the gun earns a B+ or an A-. However, regardless of that somewhat arbitrary grade, it is a great gun and a real bargain at the 2008 MSRP of $1,265.
Did Savage get it right? Absolutely! Does Susannah like her Savage? Absolutely! Did I get it right?--you decide.
Note: A full length review of the Savage M-12 F-Class Open rifle can be found on the Product Reviews page.