Sexy Savage: The Model 14 American Classic

Illustration courtesy of Savage Arms.
It wasn't that long ago when my good friend, riflesmith Dave Metcalf, had a funny look on his face. "What is it, Dave?" I asked.
"Well, I need to buy a couple of more Savages; nothing else is going to do." I wondered what the problem might be.
"Well, the only way I can get a better shooter is to build one from scratch. They just are too good out of the box." I still didn't understand the source for his consternation.
"It's just a bit depressing when you used to have to work so hard to make a real shooter, and here they are, and, they are a bargain. The barrel nut is still what gets people going."
Dave likes nice furniture, and distinct mineral streaks and a touch of fiddle back are important to him in stocks, if not feather crotch. "So, Dave, I just don't get it. Great shooters are what we all want. As you know, I've had some really expensive guns that came with canoe paddle crate wood. What is the deal on the barrel nut, anyway?"
Dave replied, "Oh, it's a great design. It just gives people who have nothing else to talk about something to talk about; it is just a cosmetic thing. It just drives people nuts when Savages outshoot Weatherbys, I suppose."
Dave's been shooting Savages ever since, with assorted omnipresent Swedish Mausers thrown in. His current Savage 12BVSS in .223 shoots .070 in. 100 yard groups, less than one third of the bullet diameter. I think he'll keep it.
A lot has changed since then, not in the Savage accuracy department, but in what I always felt was the weak link, the trigger. That's been addressed by the Accu-Trigger, as most anyone knows by now. After a visit to the Savage Arms plant, I was well impressed with their proprietary metal tumbling techniques that leave no tooling marks at all on finished parts. Still, though the accuracy and value of Savage rifles has been well established for a long while now, I always felt that they weren't as pretty as they were great values and great shooters. That brings us to the tested rifle, the Savage short-action Model 14 "American Classic." It is quite a looker, and it caught my eye at the 2005 SHOT Show.
Savage's 7mm-08 American Classic weighs just seven pounds, seven ounces on my digital scale, complete with its quick-detachable magazine. The trigger breaks at a beautifully clean 2.5 pounds. The checkering is sharply cut, and functional. The deep, rich, extremely dark bluing is nicely set off by the ebony colored fore end tip, and the walnut is an attractive dark stain with a suspicion of mineral streaks. The barrel is perfectly floated, and there is no single tooling mark I can find anywhere on the metal. The polish and finish is so rich, the barrel nut becomes invisible, as Dave will be delighted to hear. The attention to detail is obvious in the Chief Lame Bear grip cap, a classy touch. It looks and feels like a thousand dollar rifle.
The current Savage Accu-Trigger short action is a work of art, featuring the fastest lock time in the industry at 1.6 milliseconds or better. That is about 50% faster than the majority of the bolt actions on the market today (Remington, Ruger, Winchester, Browning) as verified by the TriggerScan System, and can be a great help in accurate shot placement in the field. The casual consumer often overlooks lock time, but not by the military. It makes a significance difference in the field.
I installed a set of Warne Maxima Series paired bases, Part # M902/M902 with both Weaver style slots pointing inward, toward the bolt. I also used Warne Maxima medium height quick release rings that have served me so well on so many hunts. Quick release rings are a great idea on hunting rifles used out of state-I always carry a back-up scope ringed up and ready to rock, so any rare scope issues are never an issue on a hunt.
Wanting to use a scope that was aesthetically compatible with the refined lines of the American Classic, I opted for a new-for-2005 Bushnell Elite 3200 3-10 x 40 mm (#32-3104M). The Bushnell weighs 14.5 ounces, has a generous 3.7 inch eye relief, and is less than a foot long. Remarkably, this Elite 3200 model has an internal adjustment range of 85 inches at 100 yards; more than enough to address any hunting or shooting needs for this cartridge and most others.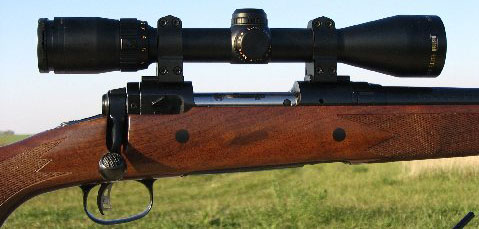 Photo by Randy Wakeman.
Detachable magazines can be tricky to design, and fussy to use. I've had my share of temperamental detachable magazine rifles, none more vividly problematic for me then several old Enfield SMLE guns. Savage spent some extra time with the single stack magazine used in the American Classic, no matter what I did I feeding was silky smooth and reliable.
I bought a few boxes of Winchester 140 grain Ballistic Silvertips locally, load # SBST708. Out at the range, it was a snap to get the Savage on the paper. Removing the bolt, I visually centered my 102 yard target in the barrel, and made a rough adjustment with the scope-the first shot was on the paper. A couple of minor scope adjustments, and I was good to go. Though the range conditions were breezy, and a bit less than ideal, I popped in a fresh magazine and emptied it as fast as I could. The result was this four shot group measuring right at one inch at 102 yards.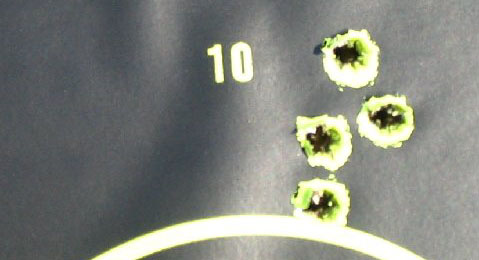 Photo by Randy Wakeman.
This is such as pleasant, soft shooting gun, you won't believe you are shooting a high-power centerfire. With a BC of .456, and a muzzle velocity of 2770 fps, you are looking at a 308 yard 8 inch kill zone maximum point blank range load that retains over three quarters of a ton of energy at 300 yards. It still retains well over 1000 ft. lbs. of energy at 550 yards; there just isn't much on hooves that can take a well-placed shot, as far as you are capable of delivering it.
I've been told that I'm somewhat of a harsh critic, but there is nothing I could find about the Savage American Classic that I could call less than impressive. There are a few rare examples of the gun maker's art that, for me, exceed the sum of their parts. I've always felt that way about my Browning A-5 Sweet Sixteen, Beretta A303, the Glock 19, the Ruger Super Redhawk in .44 Rem. Mag., and Savage's own 10ML-II muzzleloader. The Savage Model 14 American Classic joins that group.
Well appointed, richly detailed, and fine mannered, the Savage American Classic is the type of firearm your wife, son, or daughter would cherish. Sterling in looks and easily MOA accurate right out of the box, there is nothing not to like about it.
In that case, you had better get two. Once you shoot it, you won't want to be without one. I know I won't; this Savage is fabulous.