Schrade SCHEXC Outdoor Kit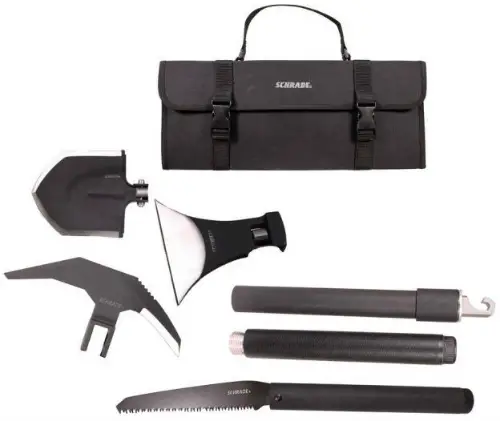 Illustration courtesy of Battenfeld Technologies, Inc.
Anyone who has set up a base camp for hunting can attest to the need for one or more of the five tools in this kit. We have either loaded our truck with their full-sized equivalents, or packed them into our campers. Either way, the full size equivalents are bulky and often forgotten.
Schrade put together this kit primarily for use in base camps and campers with limited space. The tools in this kit are not intended to replace their full sized equivalents around your house. However, at the same time, they are not flimsy clones that will not withstand hard use.
With the above in mind, we opened the nylon carrying case that came with the kit and inspected each tool head. The tool heads are made from Chinese 3Cr13 stainless steel that has been enhanced with molybdenum and vanadium for strength and corrosion resistance.
3Cr13 steel is widely used for wilderness survival and diving knives. Although not our choice for hunting knife blades, it is fine for chopping tools and can be resharpened without much difficulty.
Included in this kit is a Pick Head, Axe Head and Shovel Head, all designed to fit on the handle with a twist-lock head attachment. The collar on the head attachment is ONLY to be tightened by hand.
When a selected tool head is installed on the handle, there is no wobble. The handles are heavy gauge aluminum that form a tight fit when screwed together and expand from 9" to 27". They are wrapped with textured silicon for a secure grip. The folding saw, made from 2Cr13 stainless steel, comes with its own handle and would be a great bone saw in the field.
The heavy gauge, rigid nylon carrying case is designed to protect the tools from damage, as well as prevent them from damaging items outside the case when they are stored. The 2019 MSRP is $135.04, but the Schrade SCHEXC Outdoor Kit can be found online priced at less than $100.