Sig Sauer Max Michel 1911 Training Pistol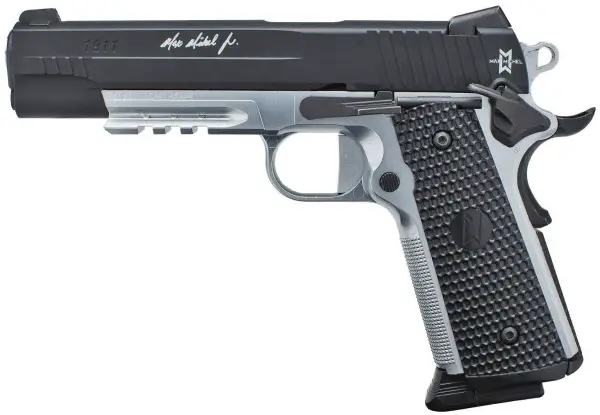 Illustration courtesy of SIG SAUER, Inc.
As most shooters know, John Browning invented the Model 1911 pistol. His design of a single-action, semi-automatic, recoil-operated pistol has impacted the design of other pistols for more than a hundred years.
Over the past few years, a lot of air gun companies have attempted to make look-alike Browning 1911 pistols to capitalize on the popularity of the design in the US. They were simply toys. Fun to shoot, but with no operational relationship to the real McCoy. It was not until Max Michel, Jr., captain of the Sig Sauer shooting team became involved that a true 1911 copy was developed. Max gets a lot of credit for the design and flawless function of this training weapon. It is as close a replica to an actual 1911 pistol as possible, except that it is powered by a 12 gram CO2 cartridge and fires steel BBs. (Under no circumstances should you use anything else.)
A lot of folks do not know that Max is the only shooter in history to hold six World Speed Shooting championships (2005, 2007, 2009, 2013, 2014 and 2015). In addition, he is the current International Practical Shooting Confederation (IPSC) World Champion.
Suffice it to say, he knows his guns and how to shoot them. If that isn't enough to convince you of his abilities, he also served in the US Army for ten years as a shooter and trainer.
A salient feature of Max's gun is the blow back of the metal slide. For lack of a better explanation, we will simply say that it is so positive and strong that it mimics our Ruger Mk IV .22 LR rimfire.
Given the incredible number of 1911 clone pistols on the market, it would be impossible to match the weight and function of each one. This air gun is a reasonable and satisfactory clone of John Browning's 1911, from its weight and handling to the trigger pull. It is more than adequate as a training weapon for law enforcement and military personnel. It will also be an excellent tool in firearm training classes with kids, prior to introducing them to the real thing.
The factory specifications indicate the velocity is up to 410 fps. We never achieved that, but given all of the factors that can affect a CO2 cylinder, such as temperature and elevation above sea level, one should not expect the same value across the board.
Our velocities varied from 350 fps to 390 fps. However, this did not impact the accuracy of our test gun. We consistently hit the small silhouettes of the Sig Gallery at 15 yards.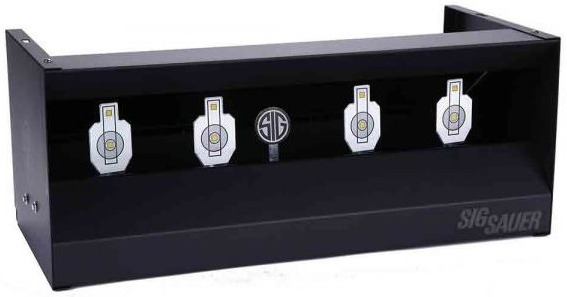 Sig Quad Gallery. Illustration courtesy of SIG SAUER, Inc.
Features
Cam Lever Loading System for 12 gram CO2 cylinder (no screws to tighten)
Full metal slide and frame
Functioning grip safety
Strong blowback action
Under barrel Picatinny accessory rail
Specifications
Caliber: BB, 0.177 in. (4.5 mm)
Velocity: Up to 410 fps
Magazine capacity: 16 BB's
Overall Length: 8.7 in.
Overall Height: 5.75 in. (top of rear sight to base of magazine)
Overall Width: Slide 0.88 in., Grip 1.25 in.
Barrel Length: 5.0 in., smooth bore
Weight: 2.06 lb.
Fire Mode: Semi-automatic
Trigger: Single Action
Trigger Pull: 5 lb. 8 oz.
Sights: White dot front and adj. rear sight
Country of Origin: Japan
2017 MSRP: $119.99
There is one drawback to this gun. It eats CO2 cylinders, with an average of only 40-45 shots per cylinder. This is undoubtedly due to the extra energy required to blowback the metal slide. If you are going to make a training gun to simulate the real thing, you need it to be as realistic as possible. We do not consider the consumption of cylinders any more than a minor irritant, especially since they are so cheap at big box stores (~$6 for 15 cylinders).
Speaking of changing the cylinders, read the instructions carefully and follow them. Otherwise, when you load a new CO2 cylinder, you will waste gas. After the cylinder is placed in the grip, DO NOT squeeze the housing slowly, as one might expect. Squeeze it like you were squeezing an exercise ball, with a single positive compression. Again, read the instruction manual carefully.
Since we are addressing how to load the CO2 cylinders, it is appropriate to list some of the precautions for safe use and handling of CO2 cylinders from the Sig Instruction Manual:
"It is possible that certain conditions may affect a CO2 cylinder, which can impact proper performance. These conditions include the usage, maintenance and storage at temperatures that are higher or lower than 59 degrees F to 69 degrees F. Rapid firing of the CO2 air gun can affect the performance of the cylinder, as well."
1. "High temperatures can increase pressure in the CO2 cylinder and also within the gun, leading to higher than standard operating pressure. This excess pressure could cause the gun to malfunction or be permanently damaged."
2. "Fast consecutive shooting may produce a decrease in temperature in the gun, as well as the CO2 cylinder. This could result in lower projectile velocities and may even lower gas pressure enough so that the pistol will not fire."
3. "During rapid fire, the muzzle velocity will diminish. This can affect shooting accuracy and you will get fewer shots per CO2 cylinder."
4. "Care should be exercised to ensure that the gun is not shot with a CO2 cylinder that is low in pressure. Here are some indicators of insufficient pressure:
A. The sound of the shot is not as loud as when the cylinder is full.
B. Reduced pellet velocity, signed by the pellet hitting the target, but in a lower position than with a full CO2 cylinder."
A final note: When you shoot this gun with the magazine in place, it will cycle with the blowback and when the magazine is empty, the slide will lock back. However, if you dry fire the weapon for practice (with a CO2 cartridge in place and the magazine out), the slide will blowback, but not lock back, even though the gun is empty. Therefore, when finished with your practice session, you must carefully let the hammer down (as you would with an actual 1911).
Sig Sauer Max Michel 1911 pistol is a great training tool, as well as a fun plinking pistol. We decided to get a second one, so that we each have one.