SIG Sauer P226 ASP (.177 Caliber Air Pistol)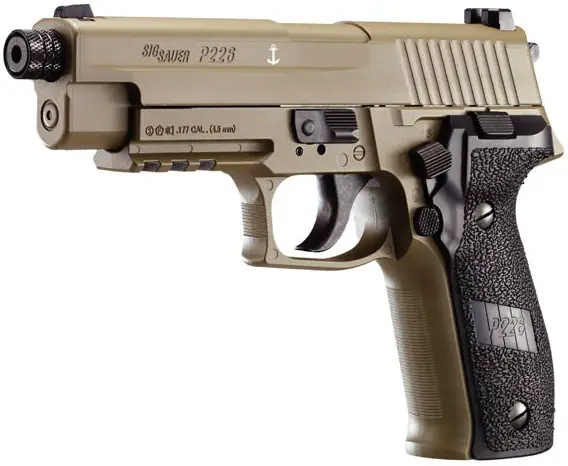 Illustration courtesy of SIG Sauer, Inc.
Over the past few years several airgun companies have marketed air pistols meant to simulate the real thing. They looked real enough, but never really mimicked regular pistols, either in their design, weight, or function. They were just toys for kids to play with.
Then, SIG Sauer entered the picture. Their P226 semi-automatic pistol was already one of the best and most reliable handguns on the market, which is undoubtedly why the U.S. Navy SEALS selected it as their standard firearm. It was only logical that SIG chose the P226 as their template for a new air pistol.
SIG spent considerable time and in house resources in the development of a P226 Advanced Sport Pellet (ASP), a clone that would mimic the handling and function of their regular P226 firearm. Their purpose was to produce an inexpensive replica that could be used by military and police units for training, avoiding the expense of high value training weapons, as well as costly ammunition.
With the development of the P226 ASP air pistol, SIG succeeded beyond their expectations. They designed and produced a superb training tool for law enforcement, as well as a very fine air gun for the civilian market. Unless you look closely at this gun, you could easily mistake it for the real thing.
Design characteristics of the P226 ASP Air Pistol
This is a classic double action/single action pistol. As with all double action triggers, it has a heavy DA pull (over nine pounds), but the single action breaks clean at just under four pounds, which is comparable to the real thing. Because we do not like double action triggers, we simply rack the slide back, as we do with our 1911s, to cock it and start shooting.
Per the original, the 3-dot sights make it easy to acquire the target for accurate placement of the pellets. We set a Dirty Bird splash target at 20 yards and Jim put an entire magazine (16 pellets) into approximately 1-1/2 inches, right in the center of the target. if Jim were a better shot, the group would be even tighter, but the old man didn't do too badly.
The magazine release and de-cocker function much like the P226 centerfire pistol. Since there is no spent cartridge to eject, there is no slide stop lever, but that in no way detracts from this gun.
The magazine is a stick-type similar to others on the market and holds eight pellets on the top and eight pellets on the bottom, for a total of 16. Just make sure that you insert the magazine properly. SIG etched the back of the magazine to make sure we do it correctly.
Once inserted, the magazine feeds flawlessly and ejects quickly for reloading, without hanging up. This makes for rapid reloading.
A unique and perhaps the finest feature of any air pistol on the market is the SIG cam lever loading system for the Co2 cartridge. No more tools, no nuts to tighten and no more wasted gas. Simply open the handle chamber, insert the cartridge, close the chamber and you are done.
Finally, someone made it simple. Depending on conditions and your individual gun, you should be able to get between 75 and 80 shots from a CO2 cartridge. Buy some extra magazines as soon as they become available.
Finally, we would like to address the velocity of the pellets. This pistol is NOT made for hunting. It is a training, plinking and fun gun, so do not be concerned that the velocity is only rated "up to 510 fps."
In fact, it is unlikely that you will achieve 510 fps, given the effect of altitude and temperature on the pressure in the cartridge. At our altitude of 5,232 feet in New Mexico, we averaged 400-450 fps, depending on the temperature. However, the lower velocity does not affect the accuracy, as evidenced by our test targets.
Specifications
Calibers: 0.177
Velocity: up to 510 fps (our tests registered 400-450 fps)
Cam Lever Loading System for CO2 cartridge
Magazine capacity: 16 (8x2 rotary magazine)
Overall Length: 8.25 in.
Overall Height: 5.25 in.
Overall Width: 1.25 in.
Barrel Length: 4.75 in., rifled
Weight: 2.4 lb. loaded w/16 pellets
Action: Blowback
Fire Mode: Semi-automatic
Trigger: Double Action/Single Action
Trigger Pull: DA 9 lb. 3 oz.; SA 3 lb. 13 oz.
Sights: 3-Dot Patridge type
Picatinny Accessory Rail
2016 MSRP: $110.99
The P226 ASP is a well made, all metal airgun with plastic grips. In fact, we are amazed that SIG can sell it for so little. It definitely has to be one of the best air pistol buys on the market. If you get one, you will not regret it. If you are looking for a good source, Airgun Depot.com is always well stocked.