Sig Sauer P238 Equinox .380 ACP Pistol
By David Tong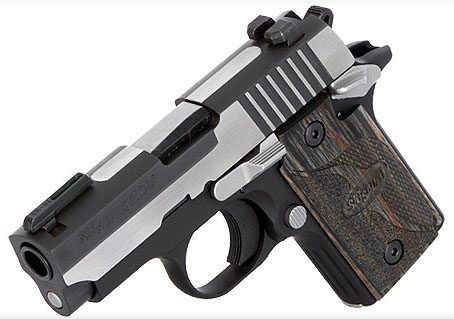 Illustration courtesy of SIG SAUER.
There is a full review of the Sig Sauer P238 on the G&S Online Product Reviews page, so this article will cover my own detailed impressions about the pistol. Those who know me understand that I have little love for the .380 ACP/9mm Kurz cartridge. It has survived for 105 years, being introduced by Colt in their M1908 Pocket Pistol. (My, how times have changed; the M1908 was an all steel handgun.) The .380 has seen extensive use by both military and police units, primarily in Europe, although it has been largely replaced in such roles by the 9mm Luger (9x19mm) cartridge today. The .380 remains very popular for concealed carry in discreetly sized handguns. It serves the same purpose as 2" barreled, .38 Special snub-nose revolvers, but is not quite as powerful.
While any defensive handgun must have its shots precisely placed for good effect, anything below the power threshold of the 4" barreled, .38 Special revolver or 9x19mm Luger rounds make this necessity even more pressing. While it is true that modern jacketed hollow point bullets have made the .380 more effective, in my opinion it still remains at the bottom of calibers in use for self-defense.
P238 Equinox Specifications
Type: Single-action, locked breech pocket pistol

SKU:

 

238-380-EQ

Caliber: .380 ACP (9x17mm Kurz)

Magazine: single-column stainless steel construction

Magazine capacity: Six or seven rounds

Length: 5.5'

Width:

 

3.9"

Height: 1.1"

Weight:

 

15.2 oz. with standard 6 round. magazine

Trigger: Single-action only, serrated plastic, 6.5-7.5lbs (factory rating)

Sights: Tru-Glo tritium/fiber optic green front, SIG-Lite tritium two-dot rear

Safeties: 1911 style left side rear-mounted thumb lever (thumb safety can be applied with hammer down to lock the slide); internal firing pin safety.

2013 MSRP: $756 ($780 with ambidextrous safety)
A cursory look at both the pistol and its specifications illustrate why it is popular. It is very small and light, roughly the same size as a Ruger LCR .38 Special revolver, but holding up to three more shots with the factory extended magazine. It is also easier to shoot, hopefully increasing the chance that the shooter will engage in the level of practice required for all small handguns in order to master them.
I found the P238 most comfortable to carry in my front right jeans or shorts pocket. It comes from the factory with all edges nicely removed, so only a pocket holster is required to eliminate printing and to position it securely, as well as protect the fabric of the pocket from eventually wearing through.
One could put it in a proper IWB or OWB holster, but this means a covering garment must be worn. It could also be placed in a fanny pack, but most folks tend to wear these with their wallet, ID, car and house keys, and even checkbook in them, thus making them a rather attractive and obvious target for a would-be armed robber. This does not strike me as a particularly good idea, but others may differ.
The P238 Sig has one advantage over many .380's and that is its 1911 design including the short-recoil locking system. (The pistol was designed by Colt as the Mustang.) This allows the safe use with the hottest .380 ammo available and provides somewhat softer recoil feel for rapid fire control.
Just like the 1911, the single-action trigger, though heavier than I like at about 6.5 pounds, is crisp and has the same lack of over-travel and short reset. Unlike the 1911, the thumb safety does not lock the slide when the pistol's hammer is cocked, thus allowing unloading the chamber when on "safe." However, it does lock the slide when the hammer is down.
Above average fit of slide to frame and barrel to slide means that it should be inherently accurate. Aiding accuracy are larger than average sights for this class of pistol and the sight picture does NOT have excessive amounts of light around the front sight, also aiding precision.
The Equinox version of Sig's pistols have matte finished, hard anodized frames. Portions of the slide flats have the Nitron coating polished off, leaving a natural stainless finish and several smaller components on the subject pistol, such as the slide stop, safety lever, magazine catch, sear and hammer pins, are left in natural, matte stainless finish. The P238 Equinox has a serrated rib machined onto the top of the slide, also left in the white. I find the contrast interestingly aesthetic, even though I prefer a monochromatic handgun as a traditionalist.
The grip panels are wood, olive-green and brown in hue, and are partially stippled to their front and checkered to their rear. They provide both firm purchase and some slight ability to adjust one's grasp.
Tritium night sights are fitted to the slide. The subject pistol is a "Tru-Glo" combination fiber-optic and tritium front sight that gives a quick aiming point, whether in bright or dim lighting conditions. An excellent choice that covers both circumstances, as most tritium front sights lack sufficient contrast to provide quick acquisition during daylight.
The factory extended seven round magazine with its molded grip extension provides a better grip than the pistol's short butt with the flush-fitting six round magazine. Both magazines are supplied with the pistol.
Racking the slide, despite the addition by the factory of a heavier recoil spring to better handle hot ammunition, proved easier than a regular blowback auto. During a rapid fire functioning test, the 238 fired round-nosed hardball, along with Hornady's "Zombie-Max" pointed JHP ammo. This latter ammunition has a small polymer tip on the truncated conical bullet that enhances penetration and initiates bullet expansion.
Both types of ammunition were fired at approximately 10 feet. All 34 rounds perked perfectly with no malfunctions of any kind. Due to the single action trigger and reset, I was able to keep all shots within a 3" circle, emptying the pistol as rapidly as I could squeeze and release the serrated plastic trigger.
While this is not the usual 25 yard, five shot standard accuracy testing employed by G&S Online, it is indicative of how the pistol would likely be used when carried by a legal handgun permit holder. (See the full review on the Product Reviews index page for 25 yard accuracy testing results. -Editor.) Felt recoil was minimized due to the locked breech design, even though the diminutive Sig P238 is both shorter and lighter than most .380 ACP pistols. Due to the consistency of Sig's manufacturing, I suspect that typical 25 yard groups would be similar to the P238 Rainbow Titanium pistol previously reviewed and possibly better, considering the two-pound lighter trigger pull of this test gun.
What you get is a pistol more reliable than the parent 25 year old Colt Mustang, fitted better, with possibly the best sights and trigger of any of the current .380 offerings today. No, it isn't inexpensive, but this kind of quality never is. Probably only the Sig P238's relatively high price and the artificially induced Obama post re-election ammo shortage would stop an experienced handgunner from getting one of these fine pistols to fill the need for very discreet concealed carry.
For 1911 fans, it offers a sub-compact handgun with the same manual-of-arms as the big pistol, shortening the familiarization and training necessary. Because of this, I find myself admiring it all the more.
Note: A full review of the SIG SAUER P238 can be found on the Product Reviews page.