SIG SAUER Elite Performance Ammunition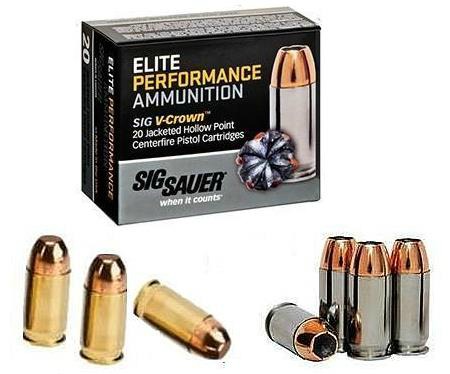 Illustration courtesy of SIG SAUER, Inc.
We do not often test ammunition, because we reload all of the pistol and rifle calibers that we shoot. Our personal experience tells us that no factory ammunition can equal our reloads for our specific firearms and purposes. Okay, we'll admit it, we are proud of our reloads.
Shannon Jackson, who works with SIG SAUER, gave us a call and asked if we would try the new SIG SAUER Elite Performance Ammunition. Shannon, who is also a shooter, told us that the SIG Elite Performance ammo will perform as well as our reloads.
That was a challenge we could not resist. We asked her to send us 100 rounds each of SIG Elite FMJ and JHP (V-Crown) ammo in our primary handgun calibers: .40 S&W, .45 ACP, 9mm Luger and .357 Magnum.
SIG SAUER loads their ammunition in their own facility. They do not outsource and license their factory loads, as many other major companies do.
The SIG facility at Eubank, Kentucky is state of the art. However, with the rapidly increasing demand for their Elite Performance Ammunition, they are relocating to a larger facility in Jacksonville, Arkansas. The new 70,000 square-foot facility will have enough room for expansion, as the market demands, and allow for the addition of even more state of the art equipment. It will also include a larger ballistics testing laboratory with their R&D personnel onsite, for optimum efficiency.
The patented V-Crown JHP bullet, produced for SIG by Sierra, was under development for four years. This proprietary bullet design uses a conical, stacked hollow point cavity. ("Stacked hollow point" means there is a secondary hollow space behind the main cavity.) Jacket skives and scores aid expansion, while a "toothed" cannelure helps keep jacket and core together during expansion. The lead alloy used for bullet cores is optimized for the caliber and intended velocity range.
Tests by independent ballistic experts have confirmed this design provides maximum weight retention and virtually perfect expansion. This should result in excellent stopping power.
The Elite Performance SIG V-Crown ammo uses DUCTA-BRIGHT 7A coated brass cases. Although we are not privy to the technical aspects of this process, it provides enhanced lubricity to aid feeding in autoloading pistols. Clean burning, low flash propellants are used to help preserve vision in dim lighting conditions.
Below are the specs for each of the rounds and the pistols that we used for our tests. As usual, we did our shooting at 25 yards, using the Caldwell Pistolero handgun rest. We used Hoppe's 25 yard slow fire, bullseye pistol targets, firing multiple five shot groups for record.
.40 S&W (Springfield Model XDM)
180 grain FMJ, MV 985 fps: Smallest group 1.75"; Largest group 2.75"; Mean average group size 2.0 in.
180 grain V-Crown, MV 985 fps: Smallest group 1.0 in.; Largest group 1.75 in.; Mean average group size 1.5 in.
.45 A.C.P. (Colt Gold Cup Series 80 MK IV)
230 grain FMJ, MV 850 fps: Smallest group 1.50 in.; Largest group 2.0 in.; Mean average group size 1.75 in.
200 grain V-Crown, MV 918 fps: Smallest group 1.50 in.; Largest group 2.0 in.; Mean average group size 1.75 in.
9 mm Luger (Springfield Model XD-9)
115 grain FMJ, MV 1185 fps: Smallest group 1.25 in.; Largest group 1.75 in.; Mean average group size 1.5 in.
115 grain V-Crown, MV 1185 fps: Smallest group 1.25 in.; Largest group 1.75 in.; Mean average group size 1.5 in.
.357 Magnum (Smith & Wesson Model 19-2)
125 grain FMJ, MV 1450 fps: Smallest group 1.75 in.; Largest group 2.50 in.; Mean average group size 2.0 in.
125 grain V-Crown, MV 1450 fps: Smallest group 1.125 in.; Largest group 2.25 in.; Mean average group size 1.75 in.
During our testing we found that all rounds fed smoothly from the magazines and cycled flawlessly. We experienced no ammunition related malfunctions.
The Elite Performance rounds are very accurate. Our groups were consistent and very symmetrical, not ragged or strung out. After firing 800 rounds, we did not experience a single flier. This does not guarantee that you might not get one, but we did not.
(SIG SAUER also provided .380 ACP, 9x19mm and 10mm Auto Elite Performance ammunition for some recent Guns and Shooting Online handgun reviews, in which it has performed very well. -Editor)
Switching from FMJ practice ammunition to JHP defensive carry ammunition has presented problems in the past, as the two bullet types usually do not have the same ballistics. One of SIG's goals with their Elite Performance Ammunition was to produce V-Crown and FMJ rounds that were almost identical in performance, so switching from range ammo to duty ammo would not be a problem. Given our results, it should be apparent that SIG has achieved their goal.
This ammunition is also the cleanest we have ever used. There was substantially less fouling in the barrels of our test pistols, even when compared to our own reloads. We are not sure what powders SIG is using, but they are very clean burning. We wouldn't mind getting some of this stuff for our reloads.
The Elite Performance Ammunition exceeded our expectations. We have to admit that it was as good as our custom reloads, and that is saying a lot. If we did not reload, this is the ammunition we would use for home defense and daily carry.
If you try it, you will like it and you might never want to feed your favorite pistol anything else. SIG SAUER offers loads in a variety of semi-auto and revolver calibers that we did not test, in addition to rifle ammunition.
Our friends have asked us whether we will keep reloading after shooting the SIG Elite ammo. Of course we will. However, we intend to lay-in a supply of Elite Performance Ammunition, just in case.
We would like to thank Shannon Jackson for introducing us to this ammunition. Special thanks also to Dan Powers, President of the SIG SAUER Ammunition Division, for providing us with sufficient quantities to conduct our tests.