SIG SAUER MCX ASP Airgun with SIG SAUER 1-4x24WR Scope

Illustration courtesy of SIG SAUER, Inc.
When SIGARMS, Inc (now SIG SAUER, Inc.) came to the United States in 1985, they already had a reputation for making high quality, durable and dependable firearms. Their semi-automatic rifles and pistols are world class and used by elite and special forces military and law enforcement units around the globe.
It seems only natural that they would eventually enter the expanding field of airguns. To accomplish this task, they brought in Lou Riley, former CEO of Gamo USA, to lead the SIGAir Division and oversee all product development. With his extensive background in optics and airgun design, as well as holding multiple patents, Lou Riley was a good and logical choice to head SIGAir.
Using the popular and rugged design of the SIG SAUER MCX and MPX center fire rifles, he engineered an entirely new line of air guns, called Advanced Sport Pellet (ASP) guns. Now, Mary and I are not much for manufacturers fancy names for new products, as every company uses them to set their products apart from competitors. However, in this case, the name ASP is well deserved. This new generation of CO2 powered air guns is a game changer.
First, they are not manufactured from plastic wrapped around a metal barrel and spring action. The SIG SAUER MCX and MPX have metal housings with polymer stocks, grips and forends, like the firearms from which they were developed. There are a few cosmetic differences, as the stock does not fold, since it houses the 90 gram CO2 cartridge and the magazine is modified to take the patented 30 round belt. Otherwise, these guns closely mimic the weight and design of the originals. As such, they are ideal for law enforcement and military training when it is not desirable to use the "original" either due to cost or availability.
Our focus is on the function, reliability and applicability of these airguns to the recreational market for plinkers, sport shooters and (very) small game hunters. During two days of field testing, we went through all 500 of the SIG SAUER Match Ballistic Alloy pellets included with the gun. The 5.2 grain pellets fed through the patented 30 round belt without a single misfire. As fast as we could pull the trigger, the MCX RPM (Rapid Pellet Magazine) fed a new pellet and the gun kept firing. We have to admit that the first 120 shots were purely for fun. The change from having to stop after a single shot to load another pellet was awesome. Compared to spring fired airguns, the SIG is commendably quiet in operation.
After mounting a 1-4x24mmWR scope on the gun and sighting it in at 25 yards, we began our tests for accuracy. The gun has a heavier trigger pull than we would like. However, the weight of the gun (8.75 pounds with scope and cylinder) ameliorates the heavy trigger pull. The target below pretty well sums up the accuracy of the MCX, as it illustrates the result of firing a full 30-round belt at 25 yards. To say that it is impressive is an understatement.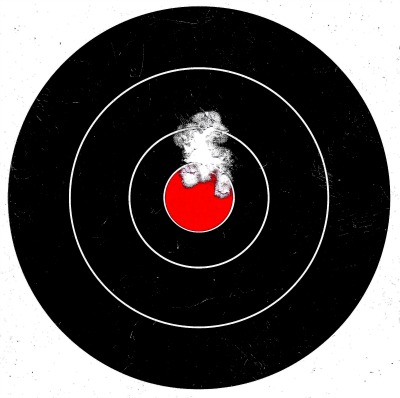 30 rounds at 25 yards with the MCX.
We fired another 30 round belt of the 5.2 grain pellets over our Caldwell Chronograph. The velocities were consistent and averaged 745 fps with SIG 5.2 grain pellets. That is just five fps shy of the velocity listed in the specs. The instrumental velocity averaged 684 fps with 7.2 grain pellets. This was significant for us, as most airgun manufacturers exaggerate their velocities as a selling point. Not so with the MCX, it performed as stated.
The SIG SAUER 1-4x24WR scope was also a pleasant surprise. Its quality matched the MCX. It was clear from edge to edge with minimal distortion. The 1/4 MOA adjustments were crisp and accurate. After having experienced so many cheap scopes on other airguns, it was a pleasure to use this one. Actually, the scope was not that much of a surprise, as optics are one of Lou Riley's specialties and he will not settle for second best.
SIG SAUER MCX ASP Specifications
Caliber: .177 pellet (also available in .22 pellet)
CO2: (88 gram / 90 gram)
Housing: Metal
Magazine: 30-Round Rapid Pellet Magazine w/ encapsulated belt feed
Fire Mode: Semi-automatic
Features: Integral Picatinny Optics Rail
Safety: Manual
Muzzle Velocity: 750 fps
Weight with scope and gas cylinder: 8.75 lbs.
Sights: Flip-up Adjustable Front and rear Sights are available on order
Warranty: 1 year limited
Country of origin: Japan
2015 MSRP: $221.99 ($299.99 with scope)
SIG SAUER 1-4x24WR Scope Specifications
Magnification Value (variable): 1x to 4x
Objective Lens Diameter: 24 mm
Lens Coating: FMC
Length: 260 mm
Weight: 370 grams
Construction Material: One-piece aluminum
Finish: Black matte
Mounting Length: 34 mm - 98 mm
Windage and Elevation Adjustment Range: +/- 30 MOA
Adjustment Click Value: 1/4 MOA
Reticle Type: Wire, MIL-DOT
Eye Relief: 110 mm to 90 mm
Field of View: 91.7 ft. - 23.6 ft. at 100 yards
Features: Nitrogen Filled, rainproof/fog proof/shockproof; Quick focus ring on eyepiece
Is the MCX perfect? No, but darn close! We would like to see a lighter trigger pull on this gun. The reason for the heavy trigger is the gun was designed to mimic the MCX center fire for training purposes. We can only imagine how fantastic it would be if the trigger pull were in the neighborhood of three pounds, as it should be.
Since we believe that a lot of sportsmen will want to take this gun into the field for hunting the smallest game, we would like to see a single-point sling attachment added behind the pistol grip. We would also suggest that SIG SAUER include a second 30 round belt in the package. Then, a varmint hunter would have 60 rounds available, without having to reload a belt in the field.
The MCX is an excellent airgun. It is well built, reliable and very accurate.
In addition to the MCX ASP and MPX ASP rifles, SIG Air has introduced the P226 ASP and P250 ASP pistols. In the coming months, they will be introducing several ASP rifles designed specifically for hunting. For more information on other SIG airguns, visit www.sigsauerasp.com
When you buy this gun, and you will if you try it, be sure to purchase extra CO2 cartridges and pellets. You will need them, because it is really a fun gun to shoot. Any prairie dogs that get too close to our fence line had better watch out!
Addendum: Lou Riley left SIG Air at the end of October 2015, but his legacy lives on in the MCX airgun.