SIG SAUER Pro SP2022 Pistol
By David Tong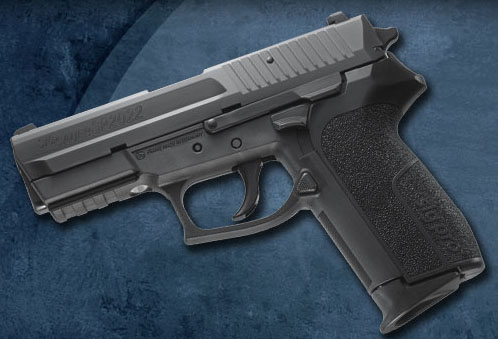 Illustration courtesy of SIGARMS.
The SiG Pro came about in the early 2000s, as SiG-Sauer attempted to control their spiraling price niche and provide the market with a polymer framed handgun. It differs from the usual run of like arms in that the trigger system remains SiG's typical DA/SA with external hammer and decocker template, compared to the more usual striker fired variety offered by other makers. It was also designed to sell for a much lower price point than the $800 street price of their more usual P-200 Series.
Obviously, the plastic molded frame is one cost cutting measure, though SiG did take the time to properly design the butt section as an ovoid, rather than slab sided, shape, thus ensuring most will find it more comfortable than the usual plastic framed arm. Aggressively stippled, it provides a firm yet snag free grip that is actually better than the standard stocks on SiG's main offerings, plus it provides an interchangeable backstrap to adjust for hand sizes.
Other changes from the more prevalent P-Series receiver group include the deletion of the take down lever and the inclusion of a relocated and much larger cast or MIM-produced slide stop lever that functions as the take down initiator; a trigonically-shaped magazine catch button and a conventionally-shaped trigger guard.
The slide received a bit of a makeover as well. Constructed from either a machined forging or machined from ordnance-grade stainless steel in SiG's plant in Exeter, NH, its top contour has changed from a very open radius to a flat surface with angled cuts, which reduces the impression of blockiness compared to, say, a Glock. A spring-loaded, stainless steel loaded chamber indicator has been fitted over the standing breech face that protrudes when a round is up the spout. The usual huge slide grasping grooves are fortunately still present.
Specifications:
Calibers: 9mm Luger (9x19mm) or .40 S&W

Length: 7.4"

Width: 1.4"

Height: 5.7"

Trigger Pull: 10 lbs. DA;

 

4.4 lbs. SA

Finish: Nitron

Magazine Capacity: 15 (9X19); 12 (.40S&W)

MSRP: $494; $566 with SiG Lite night sights
Other initial impressions include a double-action pull that is even smoother and more glitch-free than the standard SiG P-Series, even though the stated weights are the same. The crisp single-action release measured just under 4-1/2 pounds, making shooting (and hitting) that much easier. Standard sights are the usual dovetailed "von Stavenhagen" front dot over rear square white painted inserts, clearly visible and easy to acquire, with "SiG-Lite" tritiums an option well worth taking advantage of.
Rounding out the package is a plastic carrying case. Only one fifteen-round magazine is provided. SiG has been criticized by many for this last cost-cutting measure. However, one should remember that Colt and Kimber, to name two others, only provide one magazine for their even pricier pistols.
The magazine is a very precise metal stamping, in keeping with the company's adherence to a mantra of reliability and they understand the need to supply first-rate magazines to achieve this. Likely subcontracted by the Italian maker Mec-Gar, who supplies most of the European pistol makers these days, this author has no quibble with the use of an outsourced part when it is of such high quality.
Stripping the pistol is performed by dropping the magazine, clearing the chamber, retracting the slide slightly to expose a cut that allows the removal of the slide stop via pushing its cross pin with your right index finger. The slide group is removed and the spring guide/spring and barrel are removed from below, with reassembly in, as they say, reverse order. Quite straightforward and my usual concerns about losing a small, non-captive part during disassembly are reduced by the nearly three inch length of the slide stop.
An additional observation is that the barrel fit into the slide without any tactile play at all, indicating the usual thoroughness with which the company's products are engineered and machined to ensure accuracy via minimal tolerances and precise headspace.
I was unable to test fire this new in box handgun. Due to the usual SiG precision manufacture, superior trigger pull and fine sights, I would expect above average accuracy, from both the intrinsic and practical standpoints. Other SiG products that I have shot were all capable of 2" groups or less at 25 yards from a bench rest.
The sights fitted to the test pistol were three-dot "SiG-Lite" tritium night sights. While I have seen examples of these sights fade somewhat faster than the American-made Trijicon units, they are a nice finishing point for a pistol built to a price point.
Let's talk about that price point for a moment. When the pistol was originally introduced, it retailed at a street price of about $500 with standard sights. Nearly a decade later in 2011, perhaps because of slow sales, the street price of this pistol with night sights is now in the mid-$400 range.
In short, while the manufacturer must have saved some money in machine time and materials by going to a polymer frame, they did not scrimp on the details and the SiG-Sauer Pro's fine trigger action, comfortable ergonomics and excellent sighting equipment makes this pistol a "deal" for those who want something different in a polymer framed pistol. I look forward to putting my hands on one for a live fire test soon.