Sightron Big Sky SIIB 3-12x42mm Riflescope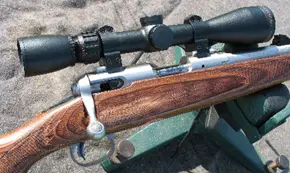 Sightron SIIB 3-12x42mm. Photo by Randy Wakeman.
The Sightron "Big Sky" series of riflescopes continues to expand; perhaps more correctly put, as production is finally starting to meet the demand. This non-adjustable objective 3-12 scope offers special appeal for me. Although we tend to be over-magnified and "under scoped" in the hunting field, the twelve power magnification has proved to be a benefit at the bench while three power is where the scope resides for many hunting applications. By staying away from the adjustable objective in this model (an AO model is also available), all of the hunting utility found in 3-9 and 3-10 series scopes is retained and the added weight and complication of an adjustable objective is not. The specifications show a weight 13.4 oz. and an overall length of just 12.6 inches, which is very hard to achieve with an adjustable objective scope.
The full specifications are as follows:
| | |
| --- | --- |
| Name | SIIB31242 |
| Magnification | 3-12X |
| Object Diameter | 42 |
| Eye Relief | 3.9-4.1 |
| Reticle Type | Duplex |
| Click Value | 1/4 MOA |
| Fov | 31.9-8 |
| Length | 12.6 |
| Tube Diameter | 1 |
| Windage Elevation Travel | 70 |
| Weight | 13.4 |
| Finish | Satin Black |
| Minutes Per Revolution | 15 |
| Target Knobs | No |
| Sunshade Included | No |
| Lens Cover Included | Yes |
| Windage Elevation Knobs | Finger Adjustable (Resetable) |
| Adjustable Objective | No(Parallax100Yards) |
| Fully Multi Coated | Yes (Zact-7 TM 7-Layer) |
There are several notable features about this Sightron Big Sky in addition to its dimensions that will not overpower the aesthetics of many rifles. Its light weight for power and objective size are easily appreciated. The eye relief is excellent; not only is it initially generous, but it is generous throughout the zoom range. The eye relief is close to constant, more "constant" than some scopes billed as "constant eye relief," in fact. You won't need to stock the crawl to keep things in view. The internal adjustment range is more generous than most twelve power scopes, something that you rarely appreciate until it is too late. Where 50 or 40 inches of internal adjustment is not uncommon, the Sightron's 70 inches of internal adjustment allows for scope mounting on rifles for which other scopes require the use of shims or tapered bases.
Any time you get above seven or eight power, the edge-to-edge full view may become an issue: so much so that some scopes can quickly become fuzzy above eight power, or the eye positioning becomes touchy. Not so with the Sightron, I'm delighted to report. I am also glad to see the finger-adjustable, ¼ MOA click windage and elevation knobs used here as opposed to just coin slots, though they are unlikely to get heavy use.
The image quality on the Big Sky is impressive, as good as any scope in its class, if not better. It is bright and crisp, something easy to notice against even the better mid-range scopes. The Sightron does what is most important of all in a riflescope as well: it holds its zero. In terms of usable zoom range in a high quality optic, there isn't much out there that competes with this scope. If you feel that the extra 3x of magnification is something you will not use, you can expect the same level of scope in "Big Sky 3-9 x 42mm" configuration as detailed in Chuck Hawks detailed impressions. Both of these scopes are virtually indistinguishable in platform size and weight.
If you cannot already tell, I am extremely impressed with this scope and I believe you will be as well. It is one of the best scopes I have tested in a long while.