Sightron SIII LR Series Roof Prism Binoculars
By Chuck Hawks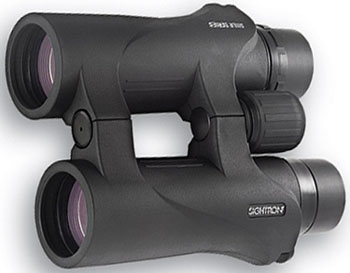 8x42 SIII LR. Illustration courtesy of Sightron, Inc.
Sightron is probably best known for their excellent riflescopes, but the Company also offers a full line of binoculars that includes (in ascending order) SI, SII, SII Blue Sky, SIII and, new for 2009, the SIII LR series. The premium SIII LR 8x42mm and 10x42mm roof prism binoculars are intended to compete with the best and should find favor with amateur astronomers, hunters, bird watchers, boaters and outdoorsmen of every stripe. These are versatile, all-around binoculars that seem to do everything well. The 8x42 and 10x42 models appear to be identical except for different focal length oculars. Here are the major features of the SIII LR Series Binoculars:
10x42 (#SIIILR1042) and 8x42 (#SIIILR842) Models
One-piece main tubes
Ergonomic open hinge design
BAK-4 roof prisms
Phase coated prisms
Low dispersion (ED) glass
Lead free glass
Fully multi-coated lenses
Superior eye relief
Center focus with locking right eye diopter ring
Twist-up eyecups
Rubber armored
Waterproof, fog proof, nitrogen filled
Nylon case, case strap, binocular strap, lens caps and lens cleaning cloth included
Made in Japan
Lifetime warranty
Here are the specifications of the SIII LR 8x42 binocular featured in this review:
Product number - SIIILR842
Magnification - 8x
Objective diameter - 42mm
Exit pupil - 5.25mm
Angular field of view - 7.5 degrees
Linear field of view - 393 feet at 1000 yards
Minimum focus distance - 9 feet
Eye relief - 18.4mm
Relative brightness - 27.5
Weight - 31.5 ounces
Length - 6.5 inches (eyecups retracted)
Finish - Black rubber
2009 MSRP - $637.77
2009 online discount price - $490.59 (Optics Planet)
Close inspection showed the one-piece optical tubes to be fully blackened inside and thread baffled. This binocular is ergonomically shaped, the open hinge is more comfortable than the usual roof prism binocular solid hinge and the center focus is smooth and easy to adjust.
Pull up on the right eyepiece diopter correction ring to adjust; when the diopter ring is pressed down its setting is locked. This system prevents friends who look through your binocular from inadvertently changing your diopter correction setting, a worthwhile feature.
Twist-up eyecups are my favorite kind of eyecup. They effectively block stray light and can be set for the proper eye relief. Eyeglass wearers will appreciate the 8x42's 18.4mm eye relief and the rubberized eyecups that, even when twisted-down, protect eyeglasses from scratches.
The Sightron SIII LR's are focused like other center focus binoculars. First, pick a suitable subject and close or cover your right eye and focus the binocular to your left eye using the center focus. Then, without changing the center focus setting, close or cover your left eye and focus the right eyepiece to your right eye. From then on, you can focus the binocular at different distances (for both eyes) using only the center focus.
Visually, this binocular provides excellent views. I tested it by observing branches, cones, twigs and needles on fir trees at distances from 100 yards to 1000 yards. Such subjects, particularly when silhouetted against a bright sky, make good comparative tests of resolution and contrast. In every respect, the SIII LR 8x42 provided an excellent view. The color rendition is accurate, brightness is very good, contrast and resolution are very good, center sharpness is excellent and edge sharpness is good. Optical aberrations appear to be well corrected. There simply is not anything to dislike about this binocular, and a great deal to like.
I used my 7x35mm Celestron Nova binocular as a control. This discontinued premium model was Celestron's top of the line binocular from back in the days when Celestron binoculars were made for them by Vixen Optical in Japan. The center focus Novas are built on one-piece main tubes, use Erfle eyepieces, BAK-4 porro prisms and are fully multi-coated. They were and are fine binoculars, the equal of equivalent Zeiss, Swarovski and Steiner binoculars of the period. I have owned them since the early 1990's and back in the day, I successfully tested them against all comers. They had previously been bested in comparisons only by Leica binoculars. However, my old Celestron Nova's optics were outclassed by this new Sightron SIII LR 8x42mm binocular. The Sightron is superior in every way except field of view, which figures since the Sightron is an 8x binocular and the Celestron is a wide field 7x bino. (Field of view is inversely proportional to magnification.)
The already intense premium binocular market has gotten even more crowded. Those seeking premium binoculars should do themselves a favor and add Sightron to the list of names that includes the likes of Leica, Leupold, Nikon, Pentax, Steiner, Swarovski, Vixen and Zeiss. Exalted company in the world of optics, to be sure, but not an overstatement. Sightron's SIII LR Series binoculars are not inexpensive, but they offer quality and performance competitive with some binoculars costing twice the price. With a Lifetime Warranty and Sightron's reputation for excellent customer service, you simply cannot go wrong with Sightron SIII LR binoculars.