Sightron S1 1.75-5x32mm G2 "It Should Be Your Next Scope"

Sightron's new S1 1.75-5 hunting riflescope is a spectacularly good little scope; it is also destined to be under-rated as well.
Many hunters are severely under-scoped and over-magnified. Some folks would be a bit offended if you asked them if they could hit a deer with iron sights at 100 yards. Yet, that is the sight picture a 5x scope presents you with . . . at 500 yards.
The brightness of an optic is related to the exit pupil size. In low light conditions, the human eye can open its pupil up to about 7mm. That is the average for a 30 year old, but as we age maximum pupil dilation drops off to a 5mm average at age 50, 4.1mm at age 60. This Sightron, at its lowest setting, has an exit pupil of 18.28mm, while at its maximum five power yields 6.4mm. That's part of what makes this an extremely bright scope, as common 10x42mm binocular sets can only give you 4.2mm of exit pupil.
This new Sightron solves many of the most common scope frustrations. How often do we seek lightweight rifles, only to pop on a couple of pounds of scope, bases, and rings? This Sightron weighs just over three quarters of a pound. The constantly changing eye relief of some scopes can be annoying, for as you crank up the magnification the eye relief shortens until whammo, it is scope eye time. This S1's eye relief varies only one tenth of one inch throughout its entire zoom range.
Another frustration is running out of adjustments, which means back to the drawing board with MOA bases and so forth. The Sightron S1 1.75 x 5 has a whopping 125 MOA of adjustment: more than double that of most common scopes. A Burris Fullfield II 3-9 x 40mm scope has 50 MOA of adjustment for example.
| | |
| --- | --- |
| Magnification | 1.75x5 |
| Objective Lens Diameter | 32mm |
| Eye Relief | 3.4 in - 3.3 in |
| Field of View | 71.2 ft - 24.1 ft @ 100 yards |
| Tube Size | 1 inch |
| Turret Style | Capped Hunting |
| Zero Stop | No |
| Click Value | 1/4 MOA |
| Minutes Per Revolution | 15 MOA |
| Max Elevation Adjustment | 125 MOA |
| Max Windage Adjustment | 125 MOA |
| Parallax Setting | Parallax Free (100 Yards) |
| Focus Type | Fixed |
| Reticle Type | Duplex |
| Focal Plane | Second Focal Plane |
| Illumination | No |
| Finish | Matte Black |
| Waterproof | Yes - IPX7 rated |
| Anti-Reflection Tech | MC-333 Multi-Coatings |
| Fog Proof | Yes |
| Length | 10.3 inches |
| Weight | 12.7 ounces |
It is hard not to be impressed by this scope. This Sightron S1 is light, it is bright, with consistent eye relief, and an outstanding range of internal adjustments. With the 1.75 power low end comes a massive 71.2 foot field of view at 100 yards. For deer or larger game to 250 yards or so, this scope is ideal. For hard to mount applications, such as some muzzleloaders and slug guns, this S1 solves the problem before it becomes one.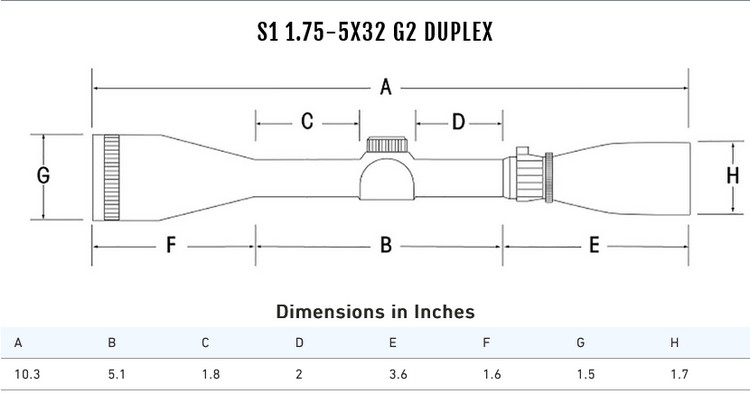 For woods hunting, or for use on your turkey gun, you'll likely just leave it at 1.75 power after initial sight-in, and you'll be glad you did. This scope is available right now at Sightron for about $200: https://sightron.com/collections/s1-series/products/s1-1-75-5x32-g2-duplex , in plenty of time for Christmas.