Simmons .22 Mag 3-9x32mm Rimfire Riflescope
By Chuck Hawks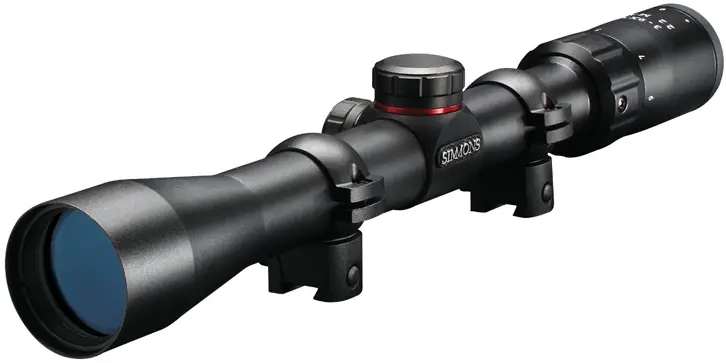 Illustration courtesy of Simmons Outdoor Corp.
Needing a dedicated hunting scope for our recently reviewed Henry Pump Octagon .22 LR Rifle to replace the Sightron SII Rimfire target scope we had temporarily mounted for the review, we ordered a Simmons .22 Mag 3-9x32mm in matte black finish. We chose the standard 3-9x32 scope for small game hunting. There is, in addition, a version available with an adjustable objective for parallax correction, which we deem more suitable for a rimfire varmint rifle than for a small game hunting rifle. All .22 Mag scopes are supplied with a Truplex reticle, the Simmons version of the ubiquitous Leupold Duplex hunting reticle.
Purchased in December 2013 from Amazon.com, this scope sold for the heavily discounted price of only $29.99. Like many rimfire riflescopes, the .22 Mag is supplied with tip-off (3/8" dovetail) mounting rings, so for most .22 rifles it is a complete package; just clamp firmly to your rifle's grooved receiver and zero-in. If you don't like the supplied mounting rings, the scope's standard 1" (25mm) diameter main tube allows use of the rings of your choice.
Since 1983, the Simmons (www.simmonsoptics.com) brand has been identified with high quality, reasonably priced, high value riflescopes and sport optics. Simmons has suffered through several ownership changes, including a disastrous period under Meade ownership, which attempted to "reinvent" the riflescope with the much ballyhooed Simmons Master Series and finance a mega-buck production facility in Red China to produce them that almost sank the brand. The Chinese factory proved a financial, production and quality control disaster and very few Master Series riflescopes ever reached the marketplace, although the Master Series Pro Hunter example we reviewed in 2006 performed well.
As this is written at the end of 2013, the Simmons brand is part of the Bushnell Outdoor Products (BOP) conglomerate, which seems to have stabilized the Simmons riflescope line. Unfortunately, the upscale Simmons Aetec and Whitetail Expedition lines have been dropped, probably because they competed with Bushnell Elite scopes. Under the Bushnell umbrella, Simmons brand riflescopes have been relegated to the lower price classes, where they remain a force with which to be reckoned.
Most rimfire riflescopes are sold at relatively modest price points, so Simmons .22 Mag rimfire scopes can be considered mainstream entries in this sector. In price, performance and features, they are quite competitive. Indeed, Simmons claims that their .22 Mag line is America's most popular rimfire scopes, with big game optics and eye relief in a rimfire scope. To quote Simmons advertising directly, ". . . one of the finest, most reliable rimfire riflescopes available anywhere – at any price." Following are the notable features and specifications of the .22 Mag 3-9x32 scope reviewed here.
Advertised Features
One-piece main tube for greater strength and durability.
High quality optical glass and fully coated optics deliver bright, sharp images and high contrast.
HydroShield exterior lens coatings help maintain a clear sight picture regardless of the weather conditions.
TruZero windage and elevation adjustment system.
Truplex reticle.
QTA (quick target acquisition) eyepiece.
Waterproof, fogproof and shockproof.
Rimfire tip-off mounting rings included.
Specifications
Model: 511039
Magnification: 3-9x
Main tube diameter: 1" (25mm)
Objective lens diameter: 32mm
Exit pupil: 10.7mm (3x) / 3.6mm (9x)
Linear field of view at 100 yards: 31.4 ft. (3x), 10.5 ft. (9x)
Eye relief: 3.75"
Adjustment click value: ¼" at 100 yards (1/4 MOA)
Adjustment range: 60 MOA
Finish: Matte black
Length: 12"
Weight: 10 ounces
Accessories: 3/8" dovetail mounting rings included
Country of origin: China
2013 MSRP: $65.95
Our .22 Mag scope arrived packaged in a cardboard box decorated with color graphics. Inside was the scope, mounting rings (complete with an Allan wrench for assembly) and the usual paperwork. The Simmons Lifetime Limited Warranty (U.S. customers only) is not transferable and protects only the original purchaser from defects in material and/or workmanship. Proof of purchase is required and check or money order for $10 must accompany any scope returned for warranty repair, allegedly to cover the cost of postage and handling. A product registration card is included, but it is not necessary to register your new scope to activate the warranty.
The scope's external matte black anodized finish is well done and looks as a riflescope should. "Simmons" is lettered in silver on the left side of the adjustment turrets and there is a red ring around the base of the elevation knob, a Simmons trademark in recent years. "3-9x32" and "22 Mag" are screen printed on the top of the objective bell, along with small numbers from 3 to 9 behind the zoom ring to indicate magnification. The scope's graphics are restrained and attractive.
The medium height Simmons tip-off mounting rings provided with the scope are aluminum. Steel Allan-head machine screws (one per side) are used to hold the top and bottom halves of the rings together. The screws must be tightened sufficiently to hold the scope securely and without any possibility of slippage, but take care not to strip the aluminum threads in the rings. Steel is, after all, stronger than aluminum. The ring base is clamped to the receiver's 3/8" dovetail by means of a large, slotted thumb screw that threads into a captured steel nut. Use a screwdriver with a large blade to tighten securely.
Mounting and bore sighting the .22 Mag scope on the Henry Pump Octagon rifle took about 10 minutes and no problems were encountered. Grooved receivers and tip-off rings usually provide for generous scope mounting latitude, so it is easy to position the scope exactly where you want it.
The scope's large, grooved zoom ring is a bit bulky, but provides a secure grip and turns smoothly. The European style, fast focus ring at the back of the ocular bell is easily adjusted to focus the reticle to the shooter's eye and it is rubber coated to protect eyeglasses. The 3.75" eye relief is more than provided by many centerfire riflescopes and the OTA eyepiece delivers a generous eyebox, so perfect eye positioning behind the scope is not critical. Plastic slip-on lens caps are included.
The optics are more than adequately sharp and contrasty for shooting at rimfire ranges and beyond. Optical aberrations are generally well controlled. I observed some chromatic aberration and spherical distortion, but at residual levels that do not interfere with seeing the target or aiming. The lens elements are fully coated, but not multi-coated, so a strong light source just beyond the field of view can produce some flare. This should not be a problem, unless you are shooting nearly into the sun. (Never point any scope directly at the sun!)
The always centered, medium width Truplex reticle naturally leads the eye to the intersection of the crosswire, making aiming at bull's-eye targets or small game animals equally easy. Its size remains the same when the scope's magnification is changed, as North American shooters prefer. It is a good aiming reticle for a rimfire hunting scope.
The fingertip windage and elevation adjustments are provided with ¼ MOA click increments. They are easy to grip, but stiff to turn and the "clicks" are not very positive or precise. When you get the rifle zeroed-in, leave them alone; these are not target type adjustments intended to be tweaked in the field. Threaded aluminum caps are provided to protect the plastic adjustment knobs and prevent the intrusion of moisture.
Overall, the Simmons 22 Mag 3-9x32mm is a good rimfire hunting scope for $66 and a real bargain at the discounted $30 price we paid for this example. I don't see how a .22 rimfire hunter could go wrong with this scope.