Simmons AETEC 3.8-12x44 WA/AO Riflescope
By Chuck Hawks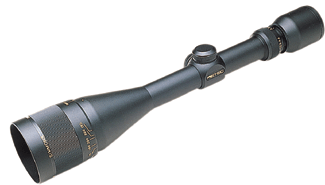 Illustration courtesy of Simmons
Simmons is the "popular priced" brand among the Simmons/Redfield/Weaver trio owned by Meade Instruments Corp. Nevertheless, some Simmons models are endowed with rather sophisticated features. Among these upscale Simmons riflescopes is the AETEC line.
The Simmons AETEC line of riflescopes was the first to introduce aspherical lens elements. An aspherical lens system makes it possible to provide sharper images across the entire field of view by reducing lens aberrations.
Most lens elements for binoculars and riflescopes are ground as segments of a sphere. Spherical lens elements are relatively easy to grind and mass produce, which primarily accounts for their popularity. Only recently has it become possible to economically produce aspherical lens elements. Simmons makes this significant optical breakthrough available in their AETEC line of riflescopes.
In addition, the AETEC 3.8-12x44 scope that is the subject of this review incorporates such features as a 1" diameter aluminum alloy main tube, fully multi-coated lenses for superior light transmission and flare suppression, and a matte black finish. It is guaranteed to be waterproof, shockproof and fogproof.
The 3.8-12x44 WA/AO also features a wide-angle (WA) field of view. The "AO" refers to its adjustable front objective, which allows the scope to be focused to eliminate parallax. The supplied reticle is the Simmons Truplex.
Simmons offers a limited lifetime warrantee on all of their AETEC scopes, pursuant to which Simmons Outdoor Corp. guarantees them to be free of defects in materials and workmanship for the lifetime of the original purchaser.
And, best of all, it is reasonably priced. The 2005 MSRP for the 3.8-22x44mm reviewed here was about $200, and the actual retail price at a local discount department store was about $158.
Here are the basic specifications of the AETEC 3.8-12x44mm WA/AO (product #802104) riflescope.
Objective lens diameter (mm): 44
Exit pupil range (mm): 15-3.7
Field of view at 100 yards (feet): 33-11
Optimum eye relief (inches): 4
Length (inches): 13.5
Weight (ounces): 20.
Our test AETEC is the standard model with the plain (not illuminated) Truplex reticle. This scope was mounted on a Marlin 917VS varmint rifle in .17 HMR caliber using Millet rings.
It performed pretty much as advertised. The fully multi-coated aspheric optics delivered a clear, sharp image. There was noticeable curvature of field at the edges of the field of view, but this did not interfere with sighting.
The generous 4" eye relief minimizes the possibility of scope cuts and provides superior comfort, particularly for eyeglass wearers. This is an important but often overlooked specification, particularly if the scope is to be mounted on a hard kicking rifle.
The Simmons Truplex reticle is a typical copy of the Duplex type invented by Leupold. I would have liked the intersection of the crosshairs to be a little finer for use on a varmint rifle, but this reticle was evidently designed primarily for use on big game rifles. It is heavy enought to show up well in dim light.
The windage and elevation adjustments were reasonably accurate, and zeroing-in the test rifle revealed no problems. As always, the convenience of 1/4 MOA click, finger tip adjustments was appreciated.
The "American style" eyepiece focus requires many turns of the ocular bell, but works correctly and has an adequate adjustment range. Once obtained, tightening a locking ring retains correct focus. The fast "European" style eyepiece focus used on Simmons Whitetail Expedition line scopes was judged to be more convenient, but is seldom seen on scopes in the AETEC's price range.
All in all, the AETEC 3.8-12x44 WA/AO was deemed to be a good scope for its relatively modest price, able to more than hold its own against the other brands in its class. Simmons' top of the line Whitetail Expedition series scopes are even better, but not so much so that I would turn down a good deal on an AETEC.