Simmons Whitetail Expedition 4-12x42 AO Riflescope
By Chuck Hawks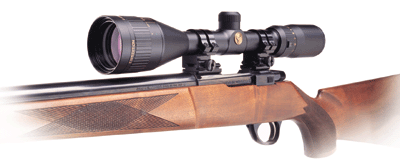 Illustration courtesy of Simmons
Simmons Whitetail Expedition riflescopes incorporate an aspherical element in their optical formula. This has the effect of reducing aberrations, which means sharper, clearer views of the target. If aspherical elements can be produced economically, as Simmons has done, the view through a moderately priced scope can rival that seen through a much more expensive scope.
For those who are not familiar with optical design, perhaps I should explain that the curved surfaces of lens elements are usually segments of a sphere. This is because spherical shapes are much easier to mass-produce than other shapes. Advanced technology has made it economically feasible to mass produce aspherical lens shapes, curves that are not segments of a sphere. These have advantages in minimizing some of the aberrations common in all lens systems. In the last decade of the 20th Century aspherical elements began appearing in reasonably priced camera lenses. Simmons was the first riflescope company to take advantage of this new technology.
All Whitetail Expedition models are variable power riflescopes built on sturdy aluminum alloy tubes. These are the second generation of Simmons scopes to incorporate aspherical elements, and they provide exceptionally clear, distortion free views that are sharp from center to edge.
Simmons advertises a 30% greater field of view than average scopes of similar magnification and objective lens size, and all Whitetail Expedition scopes incorporate "WA" (for Wide Angle) in their nomenclature. In addition, Whitetail Expedition scopes are fully multi-coated for excellent flare suppression. The finger adjustable windage and elevation adjustments "click" in 1/4 MOA increments. They come with a Truplex reticle and are designed to be shockproof, fogproof, and waterproof. Whitetail Expedition scopes are furnished with a matte black finish, and are supplied with lens caps.
The Whitetail Expedition scope reviewed for this article is the 4-12x42mm AO (Model #800440). "AO" stands for adjustable objective, which lets the user focus the front objective bell of the scope to eliminate parallax at any distance from 25 meters to infinity. The AO scale is marked in both feet and meters.
This scope is 13.25" long and weighs 21.25 ounces. It is built on a 1" (25mm) diameter main tube. Its 100 yard field of view is 29 feet at 4x and 9.5 feet at 12x, and its eye relief is 3". The exit pupil diameter ranges from 10.5-3.5mm.
I mounted the sample 4-12x42 AO on my Browning 1885 Low Wall rifle in .243 Winchester caliber using a Browning two-piece base and rings. Mounting was simple and no problems were encountered. Bore sighting was accomplished using a Bushnell Magnetic bore sighter.
This whitetail Expedition is a handsome scope. It has the legend "Simmons Whitetail Expedition 4-12x42 AO" in gold letters around the front of the objective lens bell housing. The left side of the adjustment turrets bears a round brass medallion with an embossed whitetail deer head. This scope was assembled in the Philippines, and is so marked on the underside of the adjustment turret assembly.
The optics are as Simmons claims, bright, contrasty, and visually sharp. Optical aberrations and internal reflections well controlled. This is an easy scope to look through.
I especially appreciate the rubberized "European style" fast focus ring and the 1/4 MOA "click" windage and elevation adjustments. The gripping surface of the zoom ring is just over 1/2" wide and there is a low, square, raised bump to facilitate power changes when wearing gloves. Operation of (turning) the zoom ring is smooth and the tension is about right. The Truplex reticle appears the same size regardless of what magnification is selected, as I (and most North American hunters) prefer.
The front objective focuses as advertised and the distance markings are accurate. If the range is known, just set the appropriate number opposite the index mark. If it is not, simply adjust the front objective for the sharpest view of the target and parallax will be eliminated.
At the range the Whitetail Expedition's good optics allowed precise shooting under all circumstances, from bright sun to heavy overcast, and at all ranges from 25 to 200 yards (the minimum and maximum distances available at my local rifle range). The 1/4 MOA finger tip adjustments were convenient and sufficiently accurate to make sighting-in the rifle at 100 yards easy. In fact, everything about this scope works well. No problems of any kind were encountered during testing.
This Browning Low Wall is a combination varmint, predator, and light CXP2 game rifle, so the wide magnification range of the 4-12 power scope is useful. Its size and weight, however, would work against it on a .243 rifle specifically intended for deer and antelope hunting. I would recommend a 3-9x scope for that purpose.
Simmons Whitetail Expedition scopes come with a Lifetime Limited Warranty that says Simmons will repair or replace, without charge, any scope found to be defective in parts or workmanship. These scopes evidence a level of quality and performance well beyond their relatively modest price. They are also good looking scopes that do not seem out of place on high quality rifles. The Whitetail Expedition line deserves serious consideration from anyone purchasing a medium price riflescope.