Pro and Con: Sims Limbsaver Slip-On Recoil Pad
By Randy Wakeman and Chuck Hawks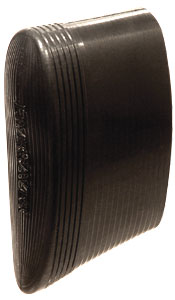 Illustration courtesy of Sims Vibration Laboratories.
---
PRO (Randy Wakeman)
There are few "slip-on" recoil pad that are particularly easy to slip on, don't look garish to a great degree, stay in place, and work well. The Limbsaver Slip-On Recoil Pad, by Sims technologies, is all of the above. It is stretchy enough to easily install, and keeps enough tension on your buttstock to stay in place.
Unlike the Velcro types, it is not baggy or saggy, and had no odd protrusions that can snag either your jacket or offend the eye. Also, I've found the "Navcom" (Noise and Vibration Control Material) to be non-marking, though Limbsaver suggests that these pads be removed when the gun is not used for extended periods of time. Most importantly, the Sims Limbsaver slip-on recoil pad really works.
I tested the medium size slip-on Limbsaver on three different rifles, and it did splendidly. It is an ideal approach if you need to add a little extra length to your buttstock, or want to soak up recoil without affecting the value of your Browning Superposed or Winchester Model 70. The sizing is as follows:
Size

Inside Dimensions

Part #

Small

4 1/2" X 1 1/2"
Up to 4 13/16" X 1 5/8"

10546

Medium

4 13/16" X 1 5/8"
Up to 5 1/8" X 1 3/4"

10547

Med. Camo

4 13/16" X 1 5/8"
Up to 5 1/8" X 1 3/4"

10557

Large

5 1/8" X 1 3/4"
Up to 5 3/8" X 1 7/8"

10548
The camo pad is new for 2006, and makes great sense when the all-camo look needs to be maintained with a minimum of effort. It is a very good product, and if a slip-on pad appeals to you this is a great choice. Sims is now also offering a slip-on recoil pad that increases the LOP by just 1/2 the thickness of the standard slip-on pad to address those who want softer recoil, but not the extra stock length.
It is easy to carry a spare slip-on pad for extended range sessions. If you are like me, you believe that self-abuse in not part of what the shooting sports are all about, and this is the fastest way to address it. I'd much rather slip on a Sims than strap on a "Past Pad" to my shoulder. Highly recommended.
---
CON (Chuck Hawks)
I had never tried a Sims recoil pad, so I purchased a small size (#10546) Limbsaver slip-on pad last fall for my Winchester .30-30 at my local Bi-Mart discount department store. This particular .30-30 is a pre-'64 Model 94 in excellent-plus condition, so I didn't want to permanently install a Pachmayr Decelerator, which is my usual choice in recoil pads. For deer hunting I don't find a recoil pad necessary on a .30-30, but it is nice to have one when practicing at a range, so a slip-on pad seemed ideal for my purpose.
The Sims pad is sold in a blister pack, so I did not attempt to open it to see the inside of the pad until after I had made the purchase. Fortunate packaging from the manufacturer's point of view, as I would not have bought the thing if I had examined it carefully first.
My Limbsaver is the basic flat black model, which comes with an unattractive ribbed exterior. I found it to be very expensive for a rubber slip-on pad, about $26 in 2006 compared to $10 for a Pachmayr rubber slip-on pad.
In addition to being ugly and expensive, it turns out that the actual pad part of the slip-on Limbsaver is an inch thick, a good 3/8" thicker than I would have guessed by looking at the outside of the pad. That makes it 1/4" thicker than a Pachmayr rubber slip-on and 1/2" thicker than a Kick Killer leather covered Velcro or lace-on pad. The result is that the Sims unacceptably increases the length of pull (LOP) of the rifle, making it awkward to shoulder. (And I wear shirts and coats with size "long" sleeves.)
Randy mentions a new Sims slip-on pad that is only half as thick. That would be a lot better for my purposes. Unfortunately, my local retailer does not carry it, nor could I find any mention of it on the Brownell's, Midway USA, or even the Sims Limbsaver web sites.
I also wasn't too impressed by the internal construction of the Limbsaver pad. I'd expected some sort of high tech gel pad for the price, but it's just a soft rubber (sorry, "Navcom") pad. The middle of the pad is mostly hollow with a couple of open semi-honeycomb cells.
The thing does attenuate recoil pretty well, but so would practically any other soft rubber pad this thick. My shoulder, at least, found no miraculous properties to either the material or design of the Sims pad.
Sims is certainly correct in suggesting that the pad be removed when the rifle is not being used. I made the mistake of forgetting to remove the Limbsaver from my Model 94 after a trip to the range. When I did get around to removing it, about a month later, the Navcom material had dulled the stock finish. It was not difficult to rubout the finish to bring back its proper luster, but I'm not too keen on having to do so. (To be fair, I would not recommend leaving a Pachmayr rubber slip-on pad on a stock, either.)
Leather temporary pads such as the Kick Killer carry no such restriction. I have left lace-up leather pads on stocks for years with no deliterious effect on the stock finish.
The bottom line is that I prefer both the cheaper Pachmayr rubber slip-on or more expensive leather covered Kick Killer recoil pads to the slip-on Sims Limbsaver. Leather pads cost much more than any rubbber pad, but are only half as thick as the Limbsaver (with consequently less affect on LOP), look much nicer on the gun, and don't dull the stock finish.
My conclusion is that the slip-on Sims Limbsaver recoil pad is too expensive, too thick, too ugly, and too hard on the stock finish. Not recommended.