SJK Flush Lumbar Daypack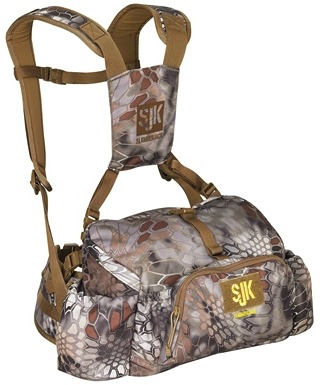 Illustration courtesy of Slumberjack, Inc.
Lumbar or fanny packs for day hunting trips have been around for several years. They range in price from $50 to over $300. The size of these packs also have a wide range, from less than 600 cc to over 1,500 cc. The question is, what are the criteria that one should use when deciding on a pack to purchase?
Let's take a look at what we consider to be the ideal lumbar day pack. First, the capacity should be between 600cc and 900cc. Anything smaller is of little value to a hunter and anything larger is approaching the size of many backpacks, which defeats the purpose of a lumbar pack. Second, the pack should be made of the same material (such as Cordura) that quality backpacks are constructed from, not soft nylon or cotton.
Third, the lumbar pack should have a well-padded shoulder harness which can be easily detached when not needed. Unfortunately, the shoulder harnesses on many lumbar packs are little more than suspenders, without padding.
Last, the waist band should be as wide as found on a good backpack, with adequate padding to provide support and a comfortable carry. A lot of lumbar packs utilize a waist belt that is only suited for holding up your pants, with little or no padding and zero support.
We were pleasantly surprised that the SJK Flush 750 met (actually exceeded) all of our requirements. It is well designed and provides the wearer with a full range of motion and is unobtrusive when you need to take a shot. There are dual side pockets for water bottles or accessories, like two-way radios. The main compartments have more than adequate room for ammunition, extra clothing, food, rain parkas or whatever you want to take along for the day.
The detachable padded shoulder harness is virtually the same as found on regular SJK backpacks, which pretty much says it all. The waist band is well padded and comfortable to wear.
The Flush Lumbar Pack is constructed of the same high-end Cordora material as the regular SJK backpacks and has the advantage of coming with the Kryptek Highlander camo pattern for low conspicuity.
Features and Specifications
Volume: 750 cubic inches
Weight: 1 lb. 13 oz.
Height: 9 in.
Width: 18 in.
Depth: 7 in.
Removable padded shoulder harness
Paddle holster compatible hip belt
Front zippered pocket with internal organization
External overflow pocket with compression
Quick access dual pockets
2015 MSRP: $119.95
All in all, this is the best lumbar (fanny) pack we have encountered in many years. Is it perfect? Well, almost! Jim would like to see the lanyard clips on the front harness straps that attach to the pack replaced with 3-prong buckles, like the back straps. The lanyard clips are a bit tough to detach. However, this is minor complaint compared to the benefits of the SJK Flush Lumbar Pack.