The SJK Snare 2000 Backpack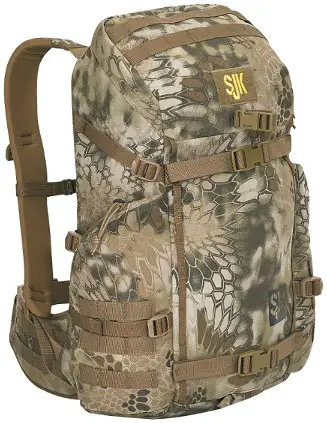 Photo courtesy of AmericanRec, Inc.
This is not a review of a backpack for camping, but rather a daypack for hunters. When you venture into the mountains of the western U.S., you are advised to take along a few survival essentials, in case you get stranded and have to remain overnight.
If you go into any large sporting goods store in the country you will find more brands and styles of backpacks than you thought possible. They will be priced from under $50 to well over $300, which presents us with a dilemma. Which pack is the best daypack for hunting?
First of all, do not let price be your guide or a factor in selecting your pack. We have seen some pretty pricey backpacks that, when filled, were almost impossible to carry without causing pain.
Secondly, do not be enticed by all the neat pockets, extra straps, etc. These are not essential for a hunting daypack.
You should select your pack based on design, construction and how it fits your body type. Given those criteria, it is best to stay with a known and proven name brand. With that in mind, we admit to being partial to Slumberjack, having used their gear for over forty years without a problem or complaint.
Slumberjack recently introduced a new line of hunting packs and accessories under the name SJK Hunting. Their new pack for fall 2014, the Snare 2000 backpack, is constructed from a very heavy nylon that is tear resistant and sown with nylon thread.
The pack has closed-cell foam pads in the lumbar and scapula areas. When coupled with the single stay suspension underneath, you are assured of a comfortable carry.
The padded shoulder straps can be adjusted so that the belly straps, or padded waist band, can be positioned properly. THIS is where the no-name backpacks almost always fail. Get the shoulder straps adjusted to your body and the waist band comes across your body just below the diaphragm, rather than resting on your hips.
No matter how much you pay for a backpack, if the shoulder straps and waist bands do not fit properly you will be in misery by the end of the day. Unfortunately, we have seen some no-name packs that appeared to fit properly in the store, when empty, but fail miserably when loaded for a day's hunt. That is another good reason to stay with a name-brand backpack.
The Snare has a 33-liter capacity, more than adequate for everything needed during the day, with space left over for some emergency gear. The side pockets are well positioned for binoculars and bipods. There is MOLLE webbing across the back, near the top of the pack, as well on each of the side pockets.
However, the best feature of this pack is the built in rifle/bow carrier. With the Snare, you do not have to shoulder your rifle when climbing up the side of a mountain, which is awkward and keeps you off balance. It conveniently centers your rifle or bow in the middle of your pack. Unlike several other daypacks that require you to purchase an add-on weapon carrier, the Snare includes it at no additional cost. If all of the above were not enough, the Snare 2000 features the new Kryptek super camouflage patterns that have been proven to literally blend into the environment.
The only question remaining is: How does this pack perform in the field? Well, Carl and Susannah took it on a five-day archeological expedition in southern New Mexico. They loaded it up each morning, using the side pockets for water bottles. Their conclusion? They rated it as superior! As you may have guessed, our daughter now owns the Snare.
They had only one recommendation for the Snare. Add a small elastic pocket to each side of the waist-band for their GPS units and cell phones. Otherwise, they found this pack perfect.
With an MSRP of $179.95, it is competitively priced with other daypacks and functionally superior to the others we have tested over the years. By the end of the summer, this pack will be in sporting goods stores across the country. If you wish to order directly from SJK Hunting, packs are now available from their website at http://www.SJKGear.com/