Smart-Torq & Driver Master Set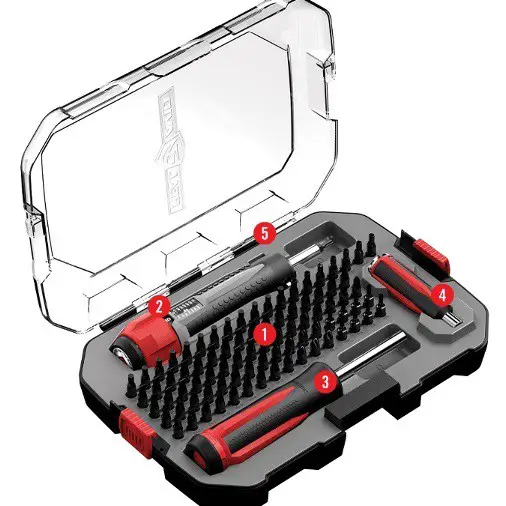 Real Avid has combined their outstanding bit set with a torque wrench to produce a kit that every hunter and shooter should have. The Smart-Torq® and Smart-DriveTM gunsmithing drivers are equipped with ergonomic comfort grips. Both drivers fully integrate with the multi-purpose Force AssistTM driver.
The Smart-Torq wrench features easy to see and set, 1 in-lb increments. The Smart-Drive has a free spinning cap for applying additional downward pressure and an LED light for dark spaces. For non-torque applications the Smart Drive will be your go-to for not only gunsmithing work, but many tasks around the house or shop. From personal experience, the driver-bits in this set are hardened, such that they do not strip out on tough screws. Beware of cheap sets in the "big box" stores, their bits are not sufficiently hardened to be of use to firearm owners, again from personal experience.
This Smart-Torq & Driver Master Set is composed of the following:
1. COMPLETE BIT SET: 83 professional gunsmithing, hollow ground / square cut bits / black oxide coated that perfectly match gun screw-slots from top to bottom to reduce slippage and risk of stripping the screws.
2. ACCURATE TORQUE DRIVER: precise 1 in-lb torque increments for superior accuracy and confidence to follow torque requirements for tasks such as scope mounting or custom gun builds.
3. NO SHADOW, LED DRIVER: illuminated, long, bit driver extends to hard-to-reach and hard-to-see areas.
4. DUAL FUNCTION SMALL DRIVER: auxiliary driver for tight spaces, can also partner with both torque wrench and large screwdriver as force-assist lever that helps to loosen stuck screws or fasten screws tighter.
5. WELL-ORGANIZED: easy-access case features bits labels and two magnetic compartments to prevent losing small parts, screws, bolts or nuts.
Although this set is not cheap with an MSRP of $149.99, given the uses that it will find around the house, as well as for your firearms (as well as its quality), it is a bargain.