Spanish Side-by-Side Shotguns
By Chuck Hawks

Grulla Royal w/old silver action and Purdy style engraving. Illustration courtesy of Grulla Armas, S.A.L.
These days, when a knowledgeable shotgunner says "Spanish Shotguns," chances are they are referring to guns made by four small manufacturers in the Basque region of Northern Spain. All four are centered on the small cities of Eibar and Elgoibar, the heart of Spanish gunmaking.
The manufacturers to which I am referring are (in alphabetical order) Aguirre y Aranzabal (AyA), Arrieta & Pedro Arrizabalaga, Armas Garbi, and Grulla Armas. None of these are major arms producers and none have a particularly long history in their present form. They are all small specialty shops with few employees (maybe a dozen on average) that make mostly bespoke shotguns essentially by hand. Grulla, for example, is 19 craftsmen that produce around 300 guns per year.
These are not the only shotgun makers in Spain, but they are the firms that turned the reputation of Spanish shotguns completely around. For while today Spanish best guns are considered by connoisseurs to be among the best in the world, in my youth Spanish guns were regarded with suspicion, even disdain.
This was because in the 1950's there was a niche market in the United States for cheap double guns. The mass market in those days was for repeating shotguns (as it still is) and what market there was for middle and high priced double guns was already overcrowded by American, British, Belgian and Italian guns. The Spanish economy was still struggling to recover from the debilitating Spanish Civil War that preceded WW II and, ruled by the only surviving Fascist government in Europe, laboring under the weight of international censure.
There was room at the bottom of the price structure and American distributors paid the largest Spanish gun makers to produce economy doubles. The Spanish gun companies desperately needed cash flow and were in no position to turn down orders, so cheap guns is what they built. Before long, although it was far from the truth, the average American shooter thought that all the Spanish could build was cheap guns.
Unfortunately for the Spanish makers who mass-produced inexpensive shotguns, as the years went by manufacturers in South America, Eastern Europe and Turkey were able to undercut their prices. Eventually, the market for double guns turned around and quality became more important than price. The large Basque gunmakers who had misjudged the market by concentrating on inexpensive guns went under and the few surviving specialty shops began their ascent to international respectability.
They tightened their lines, dropped their lower grade guns and concentrated on building fine side-by-side shotguns of the kind in which they passionately believed. The Basques have always had close trading ties with Britain and Basque gunmakers traditionally saw the classic British side-by-side game gun as the ultimate expression of the gunmakers' art. This was a gun that they could build as well as anyone in the world and they set out to prove it.
It took years of hard work and their individual company histories are turbulent and varied, but today the Basque gunmakers named in the second paragraph of this article are rightfully ranked with the best in the world. The Spanish nation and its economy have made great strides since the 1950's and today Spain is a Constitutional Monarchy and a member of the European Union. With increased prosperity has come higher labor costs and higher prices.
Good Spanish guns are no longer inexpensive, although they are still substantially cheaper than equivalent British and Italian best guns, their two main competitors in the luxury sidelock double gun market. The reality of the marketplace today is that consumers will still pay substantially more for a Holland & Holland Royal Ejector than they will for a Grulla Royal or a Garbi Royal. However, it is understood in the trade that all three guns are in the same general class and that alone represents a tremendous achievement by the Basque gunmakers.
I read somewhere that the best selling double gun in the UK today is the AyA No. 2 and I know for a fact that the Boss Robertson gun was conceived to take domestic market share back from the Spanish makers. That speaks volumes about the status that the fine Spanish guns have achieved in the birthplace of the best gun.
The typical Spanish best gun is a sidelock side-by-side game gun with chopper-lump barrels. H&H style locks are practically universal, as are double underbolts leaving a clean breech face, double triggers and selective ejectors. Assisted opening is offered, as are various rib styles, barrel lengths, chokes, metal finishes, etc.
Straight hand stocks are preferred, as are splinter forends, although a pistol grip and beavertail can be ordered. Stock measurements are made to order. Hand checkering in a conventional point pattern is standard, but stock carving and other checkering patterns are available by special order. Checkered butt faces are the norm, but any sort of butt plate or pad can be provided.
Standard engraving patterns are typically vine or rose and scroll based, usually similar to traditional Purdey, H&H, or Churchill engraving. Bulino and other engraving styles can be provided, as well as gold or other precious metal inlays. Inside, the lock parts are usually mirror polished, engine turned, or gold plated. (Attention to detail inside the action, which customers ordinarily never see, is one of the hallmarks of a best gun.)
To see for yourself how good a Basque gun can be, get your hands on a Grulla, Garbi, AyA, or Arrieta & Arrizabalaga. Note the balance and lively handling characteristics, finish, metal to metal and wood to metal fit, arcaded fences, hand engraving, fine line checkering and high grade walnut stock with a hand rubbed oil finish. You don't have to be a shotgun authority to understand that you are not just holding a fine gun, but also a functional work of art.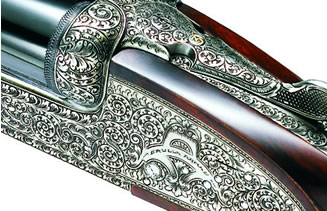 Grulla Royal w/H&H style engraving. Illustration courtesy of Grulla Armas, S.A.L.
Guns and Shooting Online has reviewed a Grulla 216RL. Grulla builds only sidelock ejector doubles. Grulla guns are available in several similar models with increasingly fancy decoration and extras. The 216RL features a rounded action body and I ordered our test gun upgraded with Royal (presentation grade) wood. I chose a 20 gauge gun with 28" barrels, concave rib, case colored receiver, straight hand stock and splinter forend. It is a very typical Spanish best gun.
The Bellota nickel-steel, chopper lump barrels are beautifully struck, highly polished and luster blued. The 24 lpi checkering wraps around both stock and forend. Engraving coverage is basically 100% in a fine Purdy type rose and scroll pattern on the drop forged steel frame. The action incorporates safety sears, disc set strikers, gas escape valves and gold line cocking indicators. The triggers are subtly shaped for a right hand shooter and the front trigger is articulated. There is a rolled edge on the trigger guard.
We removed the locks and found the parts to be mirror polished and the inside of the lock plates were engine turned. Also engine turned were the barrel flats and action bars. All screws are properly indexed. Inletting is exact and the metal to metal fit is so good that it is hard to see the lines where the side plates join the receiver. The presentation grade wood is exquisite and the stock incorporates a little cast off to facilitate smooth mounting. The butt is skip-line checkered. As I said, the gun is a work of art.
This gun isn't cheap. At the time of review (2009), the MSRP in the USA was $9,995. However, similar guns from other countries cost far more. A Piotti (Italian) round action King No. 1 retailed for about $32,700. A Holland & Holland (English) round action cost about $62,500.
The top of the line Grulla Royal with assisted opening, chrome-nickel steel barrels, even more elaborate engraving and a fitted leather trunk case cost over $17,000. That's a lot of money, but an equivalent Piotti Monaco started at around $42,000, a Holland & Holland Royal Ejector ran about $93,000 and prices have continued to rise since 2009. We are talking about some of the best guns in the world here, so it is obvious that the Basque gunmakers will retain their competitive advantage for some years to come.
Conclusion
Let me close this little treatise on a personal note. I have been exposed to a fair number of best guns and I have been fortunate enough to have personally reviewed several of them. They were made for different purposes in different countries at different times, so they are not directly comparable.
However, what these guns have in common (besides high grade wood and engraving) is evidence of a great deal of attention to detail in their design, quality, manufacture, fit and finish. I think it is attention to detail that separates a best gun from an ordinary production firearm. The point being that the Spanish best guns have this in full measure.