Springfield Armory XD and XD-M Semi-Automatic Pistols
By Mike Barrett
The Springfield Armory XD in .45ACP was my first move away from the 1911 pistols I have used for years. One of my hang-ups was the fact that the XD, like the Glock pistols that inspired it, does not have a hammer. It does not sound like much, but it caused a problem for me. Never the less, there are many features on the XD's that impressed me to the point that I eventually took the plunge and purchased an XD-M in .40 S&W. Here are the key features:
An extended pin on the back of the slide indicates if the XD is cocked and ready to fire.
Chambered round indicator on top of slide lets you know if there is a cartridge in the chamber.
Ease of removing slide for cleaning. Significantly simpler that a 1911 and reassembly is just as easy.
The grip safety is very nice and newer models also incorporate a thumb safety.
The accessory rail is a very nice addition that I have not had on my 1911s.
13+1 capacity of .45 ACP cartridges is a big improvement for a 1911 shooter.
From grips to balance the XD is a very easy handgun to migrate to from a 1911.
The feature that really sold the XD to me is the ease with which it feeds nearly any cartridge you put in the magazine. From magazine to chamber is a much lower angle than a 1911, allowing hollow points to feed nearly directly into chamber. No rounds stuck on feed ramps to worry about.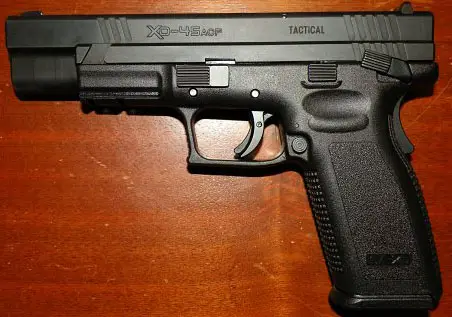 Springfield XD pistol. Photo by Dave Tong.
Of course, there are some good things about the John Browning designed Colt 1911 mechanism. For one, I love the trigger pull on my 1911 pistols and it took some time to adapt to shooting the XD because of its very different trigger mechanism. Here are the specifications for the Springfield Armory XD pistol:
Magazine: 13 rounds, Stainless steel
Barrel: Steel, Melonite finish, Fully supported ramp
Sights: Dovetail mounted, Steel 3-dot type
Trigger Pull: 5.5-7.7 lbs.
Frame: Black polymer
Slide: Forged steel, Melonite finish
Recoil System: Dual spring with full length guide rod
Length: 7.3"
Height: 5.75"
Weight w/empty magazine: 30 ounces
2008 MSRP: $536
Following the success of the XD, Springfield Armory introduced the new XD-M model. They improved the pistol's ergonomics and features, right down to the frame textures. This new version is awesome! Here are the specifications for the XD-M:
Caliber: .40 S&W and 9mm Luger
Magazine: 19 rounds, Stainless steel
Barrel: 4.5", Melonite finish, Fully supported ramp
Sights: Dovetail mounted, Steel 3-dot type
Trigger Pull: 5.5-7.7lbs
Frame: Black polymer
Slide: Forged steel
Height: 5.6"
Weight w/empty Mag: 32 ounces
Available Colors: All black; Bi-Tone stainless steel slide w/black frame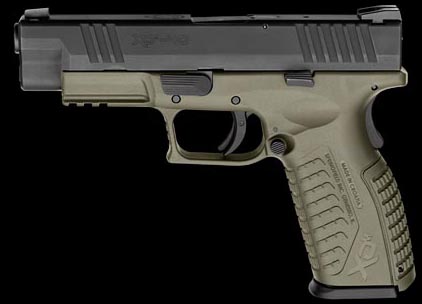 Springfield XD-M pistol. Illustration courtesy of Springfield Armory.
The XD-M comes with adjustable grips to better fit various size hands. Springfield did a major overhaul of ergonomic features and made all controls, such as the magazine release, easier to operate with one hand. The trigger mechanism requires less travel than the XD to fire the weapon, allowing better control, and features a minimal reset for faster repeat shots. The XD-M incorporates a longer accessory rail, allowing more mounting options for lights and lasers. Even disassembly is easier. Compared to a Glock or a Kahr, these are heavy pistols for daily concealed carry. However, they are not particularly burdensome if you are used to carrying a 1911 pistol.
Accuracy is typical for semi-automatic service pistols. I have shot over 500 rounds with no cleaning and only one feeding malfunction. One misfeed in 500 rounds is excellent performance compared to the multiple feeding malfunctions typically encountered shooting a similar number of rounds in one my 1911 pistols.
Springfield Armory's XD and XD-M pistols are loaded with features designed to make them easy to use. I recommend them to anyone interested in personal protection. If you have wanted to try a polymer type handgun, I am convinced you will not find better pistols at a lower price than the Springfield XD and XD-M.
Note: A full review of Springfield Armory's XD Tactical pistol, as well as a review of Springfield's 1911A1 "G.I." Model 1911 pistol, can be found on the Product Reviews page.