Springfield Armory's XD Tactical .45 ACP Pistol
By David Tong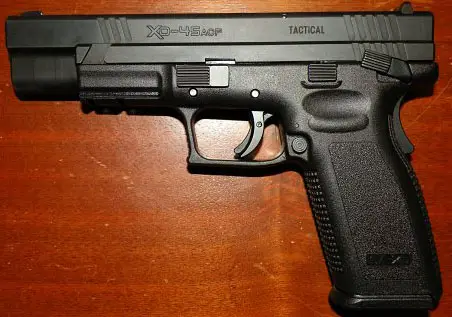 Springfield's XD Tactical Pistol. Photo by David Tong.
For several years, Springfield Armory has marketed a pistol built in Croatia. Called the "HS2000" in its native land, where it serves as their Army's service pistol, it was imported and re-named "XD," meaning "extreme duty."
It is, by modern standards, a typical service pistol. Glock was the first to popularize the plastic-framed striker fired high-capacity pistol, and the XD is a twist on the theme. Rather than the Glock's so-called "Safe Action" design, whereby the trigger stroke completes the retraction and release of the firing pin to discharge the weapon, the XD operates with a fully cocked striker, and thus would ordinarily be classed as a "single-action" design.
However, in terms of what your index finger feels, the pull is similar to a Glock in that there is a pivoting trigger lever which helps, but does not preclude (more on that later), negligent discharges and then a fairly "springy" and slightly creepy striker fall. Both pistols have automatic firing pin locks (spring-loaded plungers), while the XD also adds a 1911-style grip safety that prevents the trigger being pulled unless depressed.
The XD "Tactical" is named for the preference of most military and police units' desire for a full-length 5" barrel, which is what the test pistol has. The barrel also had more typical lands and grooves, rather than the Glock or HK "polygon type," meaning inexpensive cast lead bullets of sufficient hardness can be used to reduce practice cost, if at the "price" of somewhat inferior gas seal and 5% less velocity for a given barrel length.
The additional muzzle weight due to the heavier slide, longer barrel and recoil guide rod and sight radius does enhance recoil control and accuracy and reduces somewhat the powder residue deposited on one's weapon-mounted flashlight compared to other shorter XD's. In fairness, it does somewhat slow the draw stroke and makes it somewhat more of a lever if one is involved in a disarming scuffle.
The barrel also has a so-called "fully-supported" chamber. The feed ramp is cut further to the rear at 4 to 8 o'clock, where the internal webbing of the cartridge case can better contain the rare instance of an over-pressure cartridge.
In addition, Springfield recently released what will probably be the last evolution of the original XD platform by adding a 1911-style ambidextrous thumb safety. Frame mounted and stroke down to fire, it accompanies the ambidextrous push button magazine catch that all other XD's have. This pistol's manual safety probably has its origins in the 2006 "Request for Proposal" by the U.S. Army to begin a now-cancelled process to purchase a .45 pistol to replace the Beretta M9.
I have shot many Glock and Heckler and Koch polymer framed pistols over the years and the Springfield is certainly a viable alternative at an attractive price point. I shot about 150 rounds of mixed factory hardball and jacketed hollow points from Federal and Remington, with no malfunctions. Average groups ran about 2.5"-3.0" for five shots at 25 yards.
Trigger pull is one of those highly subjective things. While a good pistol shot can make do with just about anything, in my hands, single hand unsupported I have found that I simply cannot hold it steady enough in dry firing to preclude front sight movement when the striker falls. That means that the occasional shot is simply not going to go where it is supposed to, especially in weak-hand drills.
In addition, the longish stroke of the pull and longer reset is harder to master at speed. While not as long as the double-action pull of a revolver, most of the striker fired pistols are similarly endowed, probably to help preclude negligent discharges. The pivoting trigger "safety" supposedly keeps the weapon from discharging unless the trigger is deliberately pulled by a finger.
The pistol's steel parts have a surface finish called "Melanite," that provides a measure of corrosion protection and that "oh so tacticool" black look that some genuflect over. The pistol's metal surfaces appear to be well machined and polished under the finish. There were no apparent machining or tool marks present either outside or inside during routine fieldstripping.
The barrel and slide interface with a steel locking block assembly. SiG's P220 was the first to employ such a device in the mid-1970s and basically it provides a removable camming surface for the barrel to unlock out of battery by angled lugs, as well as slide grooves that guide the slide reciprocation on recoil and feeding. The rear of the polymer frame has polymer slide grooves, but it is obvious that the main support is the steel block.
The XD requires that one clears the chamber, racks the slide to engage the slide stop, rotate the disassembly lever upward/clockwise, run the slide forward and pull the trigger to disassemble for cleaning. The newest Springfield "XD-M" dispenses with the trigger pulling and might be preferable.
Sights are steel, rather than plastic, and are the usual three-dot white affairs that help in dim light. The obligatory Picatinny-style dust cover mounting rail is there to allow fitment of lights and lasers and the grip is much like a Gen. 2 Glock, in that it has molded checkering front and back, with pebbled surfaces to the side and no interchangeable backstraps to adjust ergonomics.
However, the XD simply feels better to my hand. Look at the photo; the inset radius molding of the grip safety and web of one's hand interface means that one can reduce the trigger reach substantially and the use of a thin stainless magazine means that the butt is slimmer and easier to manage with the same 13 round capacity. The front strap is also more rounded and natural feeling. The newest Glock 21 SF addresses this by shortening the length of pull distance by about 0.3", but still feels bulkier.
The wide butt section, low bore center and heavy slide and recoil spring means that the .45ACP XD Tactical is quite soft shooting. In a back-to-back comparison with the Kimber TLE .45, it left me wondering whether there was anything I could do to improve the trigger action, as recoil and muzzle flip were minimized, making extended range practice quite comfortable.
This particular XD has been made as safe as any semi-automatic defense pistol can be. In addition to the above-mentioned internal and external safeties, there is the usual disconnector precluding firing out of battery, an inertia-type spring-loaded firing pin to go along with the passive firing pin block, a loaded chamber indicator immediately behind the top of the barrel hood and a cocked striker indicator protruding out the back of the slide. Any more than that and one would have to be tattooed with instructions on one's forearm!
What I appreciate about the design is the additional ambidextrous friendliness and having the same control layout as a 1911. This enables anyone who is familiar with that pistol an immediate familiarity and ease of use and a bit more peace of mind for those who feel, rightly or wrongly, that a pistol with a short stroke trigger and no manual safeties can be problematic under certain circumstances.
Ultimately, without spending tons of money, the Springfield XD offers some notable advantages of soft-shooting, "safety" and a deep magazine that many average to large handed shooters, who will find it very appealing. Some pistols have the slim feel and a more easily managed trigger, but lower round counts, while others such as the Glock 21, Para Ordnance P-14-.45, or Heckler & Koch USP have butt sections that feel bulky, so this pistol might be the best overall compromise. While I cannot begin to emulate their accomplishments in tactical firearms training (not even close), both Chuck Taylor and his American Firearms Academy, as well as Clint Smith's Oregon Thunder Ranch have both recently converted to the XD as their primary range training pistol.
NOTE: This review is mirrored on the Product Reviews page.