Stone River Adjustable Focus LED 3-D Cell Flashlight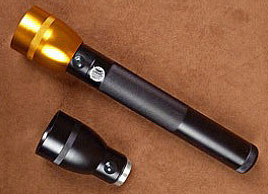 Photo courtesy of Stone River Outdoors, LLC
In the days before LED's, high power flashlights had either Xenon or Krypton bulbs. There were advantages to both. Krypton bulbs belong to the halogen/incandescent group of bulbs. Being filled with krypton gas, they have a longer life span than xenon bulbs. However, they are not as bright as xenon bulbs and generate more heat. Xenon bulbs are filled with xenon gas (rather obvious) and their output is whiter with minimal heat generation. As such, Xenon bulbs are more efficient and more desirable. However, both have the drawback of being expensive and susceptible to damage from dropping the flashlight. With modern CREE LEDs, we can't imagine that anyone would buy a krypton or xenon bulb flashlight. In fact, when your old ones break, recycle the aluminum and spring for a new LED light.
With all of the above said, it is not difficult to generate a high lumen output from a small LED flashlight that throws a relatively narrow beam. However, it has been a challenge to develop full sized flashlights with a high lumen output. One of the first companies to do so was Stone River with their Adjustable Focus 3-D cell flashlight (SRG3DFL) with a 250 lumen output, but lumen output is not the only reason you should buy one flashlight over another. Other factors that should be considered are construction, flexibility of the unit in use and durability. The latter may be indicated by the warranty that is offered. Let's take these factors one at a time, as they apply to the Stone River flashlight.
Construction: The barrel and the head are machined from aircraft quality aluminum. That is as good as it gets. The unit is light weight, but strong.
Flexibility: A pushbutton switch for 250 lumen high beam, 80 lumen low beam or strobe, with telescopic focus to adjust the beam from flood (wide) to spot (narrow).
Durability: The barrel and head are sealed with a water resistant O-ring. The light comes with a 10-year limited warranty; as long as you do not use it as a hammer or throw it out the window of a speeding car, it is covered.
The power head (bezel) uses one CREE white LED that has an estimated 50,000 hour average life. The bezel diameter is 2.13", main tube diameter is 1.5", overall length is 12.13" and weight with batteries is 1 pound 15 ounces. This is approximately the size of a three D-cell Mag-Lite.
However, the best part of this package is that Stone River provides an extra black power head, in case you want to switch from the "signature" orange Stone River head to an all black unit. Essentially, you get two lights for the price of one. If you ever exceed 50K hours on one head (which is unlikely), simply switch to the backup and you are as good as new.
With an MSRP of $39.95, we haven't found another flashlight with these features and a backup power head. We use ours when checking our animals at night and spotting coyotes before they get inside our fence line. In addition, we keep one in our camper. This light, in conjunction with the smaller Stone River flashlights, are the only lights we use when hunting or fishing. All Stone River lights can be ordered directly from their website at www.stoneriveroutdoors.com.
One final note for those of us who do not always read instructions. I tried to change the heads by turning the barrel in the normal, counterclockwise direction to no avail. After my bride suggested that I read the instructions, I found out that to change power heads, you turn the barrel clockwise. This is so you do not inadvertently unscrew the barrel while adjusting the focus of the head. I will leave it to your imagination as to how I felt; stupid is not adequately descriptive. The knurled cap on the bottom of the main tube that holds the batteries unscrews in the normal, counterclockwise, direction.