Stone River SRG1000TRF 1000 Lumen Flashlight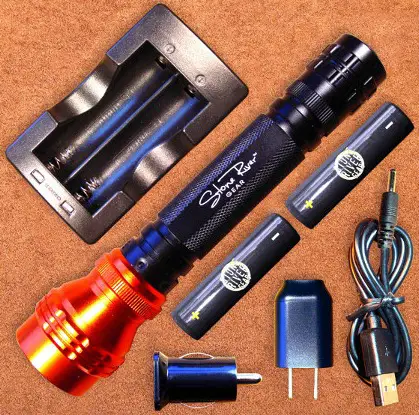 Illustration courtesy of Stone River Outdoors, LLCA.
Just when we thought that it wouldn't be possible to produce a compact, ultra-high lumen flashlight, Stone River unveiled this 1,000 lumen LED unit at the 2014 SHOT Show. As we were going over its features, our daughter (now a graduate archeologist) informed us that she would like to take it into the field. What better way to test a flashlight out than send it along with a 23 year old archeologist that travels and works at remote sites around the southwest?
We got our sample shortly before Susannah was scheduled to leave on an expedition in May and it was no sooner out of the box than she claimed ownership. We got to use this incredible flashlight around the farm for less than a week and it was gone. It was great, while it lasted. However, having deferred to our daughter, we would have to wait for her report.
Susannah and Carl only return to home base (our house) to restock their food and wash some clothes. After three weeks in the field, we asked them how the light performed. All they did was smile and say, "It did okay." Just okay?
We told them that if they weren't happy with it, we'd trade them any one of our other flashlights to get it back. To which Sus replied, "Dad, this one is ours! It is the most powerful and compact light we have ever used. You can keep everything else, this one stays with us."
That pretty much says it all. They have tried every flashlight, from multiple manufacturers, that we have reviewed over the past five years.
They keep the SRG1000 in their daypack and use it every night when they leave their excavation site and head back to camp. Because of the remote location of their sites, a powerful and reliable flashlight is an essential piece of equipment. The SRG1000TRF meets those criteria. They really appreciated the fact that it can be recharged from their truck, as there are no wall sockets in the boondocks. Their only recommendation was that it would be nice to have a belt carrying pouch.
Features and Specifications
Model: SRG1000TRF
Machined aircraft aluminum head and barrel
Two T6 CREE Type LED Bulbs
Button Mode Intensity Selection: High 1,000 lumens; Medium 150 lumens; Low 80 lumens
Strobe feature for emergencies
Rubber Encapsulated Positive On/Off Push Button Switch
50,000 hours average LED Life
Operates on two 3.7V Lithium Ion rechargeable batteries included
Charging cradle hold two batteries for quick charging
USB charging cable for adaptors included
12V automobile and wall charging adaptors included
Water resistant O-ring seal construction
Length: 7-7/8 inches
Bezel diameter: 1-3/4 inches
Weight: 8 ounces w/o batteries
10 year limited warranty
MSRP: $99.95
This flashlight is not cheap; but, quality and reliability rarely are. If you are looking for a flashlight that is reliable and will provide maximum illumination in a compact size, this is the one to buy. It can be ordered directly from the Stone River website at: http://www.stoneriveroutdoors.com