Stone River Survival Firestarter and Sharpener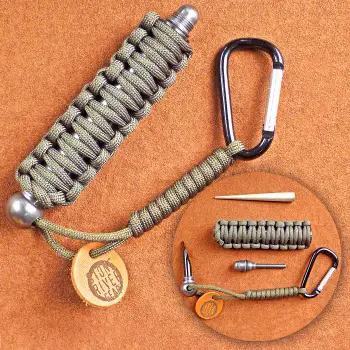 Illustration courtesy of Stone River Outdoors, LLC.
There are a lot of fire starters on the market, so the question is: Why should you buy this one? That was what came to mind when we first saw this tool at the 2014 SHOT Show. After we had the opportunity to use it, that question was quickly answered.
After you remove the magnesium stick, it screws into the handle for a solid grip when using the striker. The magnesium sticks of all fire starters are prone to degradation under humid conditions. As the oxidation builds up over time, they become less efficient. This magnesium stick has a protective black coating to prevent oxidation. To get the best sparks, scrape off a portion of the protective coat with the striker and spark away to start your fire.
That being said, remember, this is a survival tool to be used under emergency conditions, so do not play with it just to say you started a fire without matches. Allow the protective coating to remain in place until you actually need the tool.
The second aspect of this tool is the sharpening steel. We would venture to say that few of us take a decent whet stone or sharpening steel with us into the mountains and when our knives get dull--oh well. The sharpening steel also screws into the handle (on top of the magnesium stick) for convenience and ease of use. The taper of the cone allows you to easily re-sharpen serrated edges that can be a real challenge when using conventional sharpeners. It can also be used as an awl, if needed.
If all of the above wasn't enough to get your attention, there is a groove in the sharpening steel for fish hooks. Someone was reading Jim's mind, as quite often his emergency supply of hooks are dull and rusty after being stored in the bottom of his pack.
The handle of the Stone River Firestarter and Sharpener is wrapped with several feet of 550 paracord, just in case, and the paracord lanyard is equipped with a carabiner for your belt or backpack. With an MSRP of $29.95, it is a real value and cheap insurance for anyone who ventures into the wild. You can order the survival tool directly from Stone River at www.stoneriveroutdoors.com