Stone River 500 Lumen Adjustable Focus Rechargeable LED Flashlight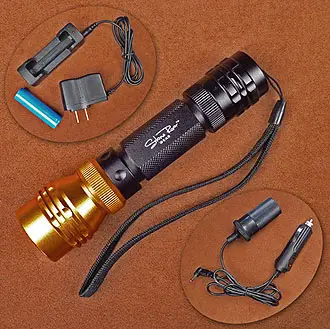 Model SRG1TAFR. Photo courtesy of Stone River Gear, LLCA
As you browse the Internet or big box stores, you can't help but notice the flood of imported LED flashlights on the market. They range in price from a few dollars to hundreds. The old saying "caveat emptor" really applies when it comes to these items. If you go cheap, you will get what you paid for: not much. Problems common with the cheapies include flimsy switches, inferior LED's, overheating batteries, leaking batteries and recharging stations that cease to work after a short period of time. These knock-offs of major name brands may work for a few weeks, but over time, they almost always fade away (no pun intended).
One of the reasons we have been impressed with Stone River Gear products is their guarantee. In the case of this flashlight, you are covered for a full 10 years against any and all defects. When they say they are warranted against all defects, they mean it. If you have a problem with a newly purchased light, send it back to their USA office for a replacement.
We used their smaller SRG3TAF 3-function flashlight, which has been supplanted in the Stone River line by the improved SRG3TAFS, on our ibex hunt and the outfitter was so impressed that not only did he keep ours, but he ordered several dozen more for his future clients to insure that they had a reliable flashlight in the mountains. The updated SRG3TAFS includes a carrying pouch, red and green lenses for night vision and on/off switch just behind the slider head.
Stone River recently added a new adjustable rechargable model, the SRG1TAFR that is the subject of this review, to their line of quality flashlights. Here are the features of the new SRG1TAFR.
Features:
Telescopic focus adjusts beam from wide (flood) to pinpoint beam

Positive High/Low/Strobe/Off Rubber Encapsulated push button switch

500 lumen high beam; 150 lumen low beam; Strobe feature

Cree LED Technology

Lithium Battery with Charging cradle with wall and car charging adapters

Machined aluminum slider head and barrel

Water resistant O-ring seal construction

50,000 hour average LED Life

Convenient lanyard included

10 Year Limited Warranty
As good as the 150 lumen pocket flashlights are, a higher power rechargeable CREE light was needed for use around camp, at home or in a vehicle. With that in mind, the folks at SRG spent the next two years developing the SRG1TAFR rechargeable lithium battery powered flashlight. This unit is incredible, with an output of 500 lumens on high beam or 150 lumens on low beam. It is only 5 ¾" in length, weighs six ounces with battery and comes with a charging cradle with both home and car adaptors. The machined aluminum case is virtually indestructible, not a flimsy metal tube or the pot-metal cases characteristic of so many Chinese imports. With its O-ring seals, we don't have to worry about the flashlight shorting out if it gets wet (when the drought in New Mexico finally ends).
To make it even better, the SRG1TAFR has a slider head which allows one to focus to a pinpoint or open up the beam to a flood and, as with its little brother from the Ibex hunt, it has a strobe function. The estimated lifespan of the LEDs is 50,000 hours, that's like turning the flashlight on and leaving it on 24/7 for more than 5 ½ years. I think we can safely assume that most people will never wear out the LEDs on this light. You may wear out the battery, but not the LED's.
We have one in each of our trucks, so that regardless of which we take on a trip, we have a good flashlight available. For good measure, we picked up an extra one for the house, so that when Susannah goes out to check the horses at night, she has a bright light that won't fail.
With an MSRP of $69.95, the SRG1TAFR is competitively priced with any of the other rechargeable flashlights of similar quality and lumen-power. In fact, it is quite a bit less than most. You can buy this light directly from the Stone River website at www.stoneriveroutdoors.com.