Stone River Survival Tools for the Outdoorsman:
S.R. Survival Belt and Neck Knives
We decided to write this article from a survivalist viewpoint. After slogging through the jungles of Southeast Asia and the mountains of the American Southwest, it became apparent that most folks need a few pieces of equipment that are not always available. The first is a source of good rope or parachute cord for emergency use. However, few of us venture into the outdoors away from camp with anything more than a couple of feet of line, if that.
The folks at Stone River came up with a very practical solution for that problem. They designed a survival belt that is comfortable to wear, durable under the toughest conditions and with enough paracord to handle just about any emergency situation you might encounter.
The S.R. survival belt is double braided from 500 weight paracord, not the cheap stuff you find in most stores. We say that, because there is a lot of imitation parachute cord being sold on the market. It looks like parachute cord, feels like parachute cord; but, generally has a strength of less than 150 pounds. That is not enough to lift a normal man out of a hole or pull someone up a hill.
The survival belts come in three sizes: Medium for waists of 32-36" (SRG1SBM*), made with two 51 foot strands of paracord; Large for waists of 38-42" (SRG1SBL*), made with two 55 foot strands of paracord; X-Large for waists of 44-48" (SRG1SBX*), made with 62 feet of paracord. Each belt is fitted with a heavy-duty zinc belt buckle for durability. They are available in three colors: black (*B), olive/tan (*O) and green (*G).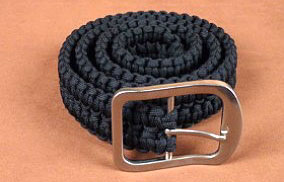 Photo courtesy of Stone River Outdoors, LLC.
In my sixty years in the field, I have never experienced a situation where I had too much rope. That is why I ordered the large belt, even though my waist measurement is slightly over 32". The extra slack easily tucks into my belt loops. If we ever get into a bind in the field, all we have to do is cut the end and unravel the belt. We then have all the rope needed to drag out a deer, reinforce the tent, or provide an emergency lifeline.
With a little practice, Mary has learned how to re-braid the belt, sealing the ends with her lighter and we are ready for another trip. With an MSRP of $59.95, the Stone River belt is comparable to leather belts or high quality web belts, but much more versatile. We ordered a belt for everyone in the family and a couple extras for our guides (they aren't getting mine).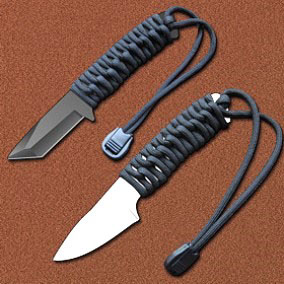 Photo courtesy of Stone River Outdoors, LLC.
The next piece of equipment that is essential for survival is a good knife. Now, we know, everyone carries either a belt knife or good folder into the field. They are necessary.
In the military, I used to have an emergency backup knife attached to the front strap of my gear, right at chest level for quick access. Since I don't wear military gear any more, there is nowhere to attach such a blade.
Enter the Stone River "neck" knife. It gets its name from the fact that the sheath for this little gem hangs around your neck and is adjustable so that it is readily accessible with either hand. The black ceramic zirconium oxide Tanto knife is 5 -3/4" overall with a 2-1/4" blade. The handle is wrapped with 500 weight paracord and comes with a Kydex sheath.
The Tanto blade is perfect for straight cuts, such as skinning game or cutting rope. With an MSRP of $49.95, it is a good price for an emergency backup blade. For those who prefer a different shape, they also makes the neck knife with a white zirconium oxide skinning blade with a 5-1/2" overall length and a 2" blade.
Both neck knives stay sharp 10-12 times longer than conventional steel and will not rust or pit, so you never have to worry about the weather degrading their usefulness. These knives are light enough that you won't even notice that you have one around your neck, but they will be there if you need them.
The Tanto style (SRG3NTB) or the Skinner style (SRG3NSW), as well as the survival belts, can be ordered directly from Stone River Outdoors. Visit their website at http://www.stoneriveroutdoors.com