By David Tong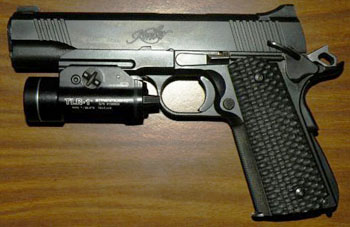 Streamlight TLR-1 mounted on Kimber .45 pistol. Photo by David Tong.
Today there are many weapon-mounted, parallel with the barrel, mini-flashlights available. In the past, a police officer or homeowner would have to carry a Mag Light or rechargeable Streamlight in one hand, while the other hand held a pistol. There were techniques promoted by Bill Rogers and the late Mike Harries, which either placed the light under the pistol arm or alongside it, respectively. However, these techniques must be learned and are somewhat clumsy. For many years, this was the state of affairs, as high output halogen and incandescent bulbs lacked the illuminating power without the bulk of C or D cell batteries and neither pistols nor long guns had appropriate mounting systems.
Developments by the military, led by Richard Swan�s modification of the Weaver �cross slot� scope base to a standardized dimension at the U.S. Picatinny Arsenal in New Jersey and the adoption service wide of the so-called �1913� rail system allowed the fitting of high-output, lithium battery powered, miniaturized lighting systems directly to firearms. These were lightweight, far more durable and featured a 10 year plus battery storage life.
While the SureFire brand is the one most often specified in both military and law enforcement circles, their products are quite expensive. This is due to high demand and manufacturer control over retail pricing. One can expect a SureFire pistol light system to cost $200.
There are low-end Chinese made units, which are not worth considering, and Glock offers a lamp for the �Universal� rails on their handguns, but this is a narrower slot than the US-standard 1913. Streamlight, who manufacturers the TLR-1 reviewed here, is a long-time supplier to law enforcement agencies and EMS personnel and their product is a well-executed light which can be rail mounted to either a long gun or pistol. Here are some basic specifications:
Length: 3.35� from bezel to end of switch plates

Weight: 4.18 oz.

Construction: Hard-anodized aluminum alloy, hardened glass crystal lens, solid rubber seal, waterproof to 1 meter for 1 hour

Batteries: Lithium CR-123 3 volt, two required

Battery life: Approximately 2.5 hours regulated run time

Lamp unit: High-powered light emitting diode (�L.E.D.�) with 135 peak lumens

Mounting hardware included: 1913 Picatinny, Glock Universal, Smith & Wesson 99 and TSW, Beretta 90-Two

Mil-spec 810F Standard tested

Options: O-ring sealed cable switches for long gun use, carrying pouch

Retail price: $195.00, though actual street prices can be between $100.00 and $120.00 (The Streamlight TLR series is also available with a windage and elevation adjustable red laser as the TLR-2, at additional cost)
The light is pretty straightforward. It comes with small plastic inserts that fit the popular rail sizes as noted above and the light unit is simply placed over the rail, the left side mounted thumbscrew is pressed inward, the unit snaps into place and the thumbscrew is tightened to lock it onto your pistol. Note that one advantage of this system compared to others is that one does not have to slide the lamp onto the handgun from the muzzle end.
One minor disadvantage is that the lamp is not truly waterproof, nor is it user-serviceable. There is no modularity in the unit, so one cannot replace a burned out bulb or even replace a cracked lens. However, Streamlight does offer a limited lifetime warranty, subject to the usual abuse and intentional damage exclusions.
What is interesting about the TLR-1 is that when mounted, the lamp not only provides a blinding white light with a decent peripheral coverage, the beam is coincident with the sights on my Kimber TLE/RL at distances greater than 6 feet or so, thus allowing both a flash sight picture if you don�t have tritium night sights, as well as a good likelihood of a close range hit by simply centering the beam on your target.
While the normal hand held light has its place under some circumstances and is obviously a more flexible general purpose tool, the Streamlight TLR-1 offers an apparently recoil proof, weapon-mounted light that provides the handgun user the ability to properly identify his/her target before a lethal force engagement, which is no small matter in today�s litigious environment. (Of course, it also gives the bad guys a highly visible aiming point at which to shoot. -Ed.)
One must be careful about trigger finger placement when using the light; like anything else, there�s a training curve. The ambidextrous momentary and continuous-on switches provide access by either the weak hand�s thumb or the trigger finger. The added weight of the light and mount under the barrel does help control recoil jump, but it also makes the pistol a greater burden to carry, more difficult to conceal and requires the use of a dedicated holster that can accept the pistol and light combination.
In summation and most importantly, the primary advantage of having the entire weapon and light operation in one hand leaves the other hand free to perform other tasks as required, thus ensuring that a handgun remains so.