Styrka S5 3-9x40mm Riflescope
By Chuck Hawks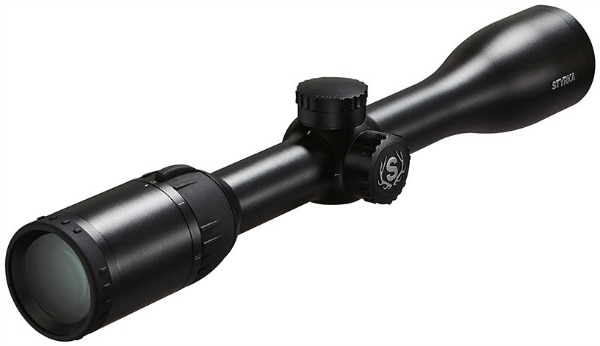 Illustration courtesy of Styrka Optics.
Styrka is a new name in sport optics for 2016. However, the owner/manufacturer behind this new brand has over a century of experience in the optics industry in both the USA and China (where Styrka scopes are made) and is highly respected.
Unfortunately, they requested I not mention the name of the parent company, so I cannot. For business reasons they decided their new foray into sport optics would initiate a new brand name, which is their call.
The word "styrka" is found not in any English dictionary I tried. Cheri Coleman, our G&S Online Staff Librarian, discovered it is a Norwegian word. It is pronounced "streak-ah" (one syllable). Used as a noun it means strength, force, or a troop (military force). Used as a verb it means to strengthen, to authenticate, or to verify. Since the Styrka website is www.styrkastrong.com, I imagine "strength" is the chosen definition. In the US, the Company is headquartered in Minnesota, so I suppose a Norwegian name makes sense.
The Styrka optics line includes riflescopes, reflex sights, tube style red dot sights, binoculars and spotting scopes. Styrka has hit the ground running as a full line sport optics provider.
The Styrka riflescopes are divided into three lines. From bottom to top these are: S3 Series, S5 Series and S7 Series. All three Series feature fully multi-coated optics, blackened edges on key lens elements, 6061-T6 aluminum main tubes, waterproof construction, 1/4 MOA click adjustments, fast focus eyepieces, and are nitrogen purged and sealed.
The scopes come with a simple Pride Warranty. This states they will repair or replace any damaged or malfunctioning scope free of charge, no matter who purchased it. In addition, the Styrka warrantee includes a free tune up of any product at no charge once a year. No registration or receipt is required to take advantage of this excellent warranty. Check the full warranty on the Styrka website under "Honesty in Optics."
The S3 and S5 series are built on one inch (25mm) main tubes, while the S7 series is built on 30mm main tubes. The S3 and S5 have proprietary SXL multi-coatings, while the S7 series has SXL-MSX flat broadband multi-coatings. S3 and S5 variables have zoom ratios around 3-to-1, while S7 scopes have 4-to-1 or 6-to-1 zoom ratios. Some S3 and S5 models have side parallax adjustment and all S7 series scopes include this feature. S5 and S7 scopes are built on one-piece main tubes and S5 and S7 erector tube systems are machined from premium brass.
Not being a fan of ultra wide zoom ranges, high magnification, complex reticles, parallax adjustment or 30mm main tubes in big game hunting scopes, I requested a straightforward S5 Series 3-9x40mm riflescope with a standard plex reticle. The S5 3-9x40 is available with variable parallax adjustment, but I requested the plain version without this feature. The parallax adjustment in the test scope is factory set at 100 yards.
This scope was ordered for installation on a .308 Winchester review rifle. An all-around scope on an all-around rifle should be a good match.
The new Styrka scope arrived packaged in an oversize red and black box adorned with the Styrka name and "buckhorn-S" logo. The box itself was impressive, not only for its size (the scope inside is cushioned in closed cell foam), but also for its unusual magnetic front flap closure. Very nifty packaging.
Inside was a nice looking scope with a one-piece main tube and rubberized, easy to grasp zoom ring and eyepiece focusing rings. There is a raised tactile ridge at the 5x position on the zoom ring. Both adjustment rings turn with the proper amount of resistance to make adjustment easy, even when wearing gloves, but accidental changes are unlikely. A black neoprene scope cover is included, as is a lens cleaning cloth, owner's manual and warranty.
Immediately noticeable, as soon as the scope was removed from the box, was the weight of the S5. At 17.5 ounces it is 6.3 ounces heavier than a previously reviewed Leupold VX-1 3-9x40mm and 4.5 ounces heavier than a previously reviewed Bushnell Elite 4200 3-9x40mm.
The objective and ocular bells curve to meet the main tube, rather than having sharp angles. Ditto where the adjustment turret assembly meets the main tube, giving the scope a smooth appearance. The external finish is an attractive satin black.
The graphics are subdued. "STYRKA" appears in moderate size, raised silver letters on each side of the objective bell and the Styrka "buckhorn-S" logo is embossed in silver on the windage adjustment cap. That is it for advertising logos on the scope. The only other markings are white letters denoting the magnification setting around the zoom ring.
Specifications
Model number: ST-93030
Magnification: 3-9x
Objective lens diameter: 40mm
Lens coatings: SXL fully multi-coated
Angular field of view: 6.9-2.3 degrees
Linear field of view at 100 yards: 36.2-12.1 ft.
Main tube: 1 in. diameter, one-piece
Reticle: Plex
Exit pupil: 13.3-4.4mm
Eye relief: 3.0-3.46 in.
Adjustment clicks: 1/4 MOA
Adjustment range: 60 MOA
Parallax setting: 100 yards
Relative brightness: 176.89-19.36
Twilight factor: 10.95-18.97
Length: 12-3/4 in.
Weight: 17.5 ounces
Country of Origin: PRC
2016 MSRP: $379.95
The optics appear clear, sharp and contrasty with low distortion, good color rendition and good flare suppression. Center to edge sharpness is good at all magnifications.
The plex reticle is somewhat unusually proportioned, with a larger center area for the fine crosshairs than in the original Leupold Duplex reticle and most copies. It works fine in general and is excellent at the rifle range or in open country. In dim light and very cluttered terrain, where the heavy posts might have to serve as the main guide for aiming, it might be a little less precise.
The eye box is relatively small. Keep your eye centered behind the scope or it will "wink" at you. The eye relief, specified as 3.0-3.46 inches, is also tight, especially for eyeglass wearers. I would suggest using this scope on rifles chambered for calibers with light to medium recoil (not exceeding about 20 ft. lbs.). The bottom line is that eye position is fairly critical when you use this scope.
The scope's overall ergonomics are very good. Large metal caps protect the windage and elevation adjustments. The adjustments themselves are clearly marked for direction, easy to adjust and click positively in 1/4 MOA increments. They are unusually user friendly. The total adjustment range is a generous 60 MOA for both windage and elevation. I found the adjustment accuracy entirely sufficient for sighting-in a hunting rifle.
The mounting latitude is better than many variable scopes. There is a reasonable amount of space between the adjustment turret and the front and rear bells. My guess is that this scope will fit on most rifles, whether long or short action.
Looking inside the optical tube with a small light revealed a well blackened interior. The inside of the objective bell is grooved to prevent internal reflections. The objective lens element appears to be secured by a threaded retaining ring, while some elements deeper inside appear to be butted against retaining rings and cemented in place. Styrka states that the most important elements to be edge blackened are the outer lenses of the objective and the outer lenses of the eyepiece, which makes sense.
The test scope looks well made and it works correctly. As expected, it withstood the recoil of our .308 test rifle at the rifle range and survived my modest drop test. (As a reviewer, I am not supposed to wantonly damage/destroy the product.)
Styrka promotional material emphasizes "Styrka Strong," "Styrka Pride" and "Honesty in Optics." (See their website www.styrkastrong.com for explanations.) Indeed, these intangibles are vitally important for reliability, long term durability and customer satisfaction. Unfortunately, a review such as this cannot determine such things. Here is a quote from the Company:
"At STYRKA, we are founded on the premise of giving you an honest product for an honest price. No tall tales. No spin. In the end, we think an educated customer is a better customer. And more likely to be a STYRKA customer."
Certainly, this is a philosophy with which I agree and at this moment the Styrka warrantee is the best in the industry. Since Styrka is a new brand as this is written, only time will tell how they fare in a very competitive marketplace. They appear to be off to a good start.