S&W AirLite Model 351PD .22 WMR Revolver
By David Tong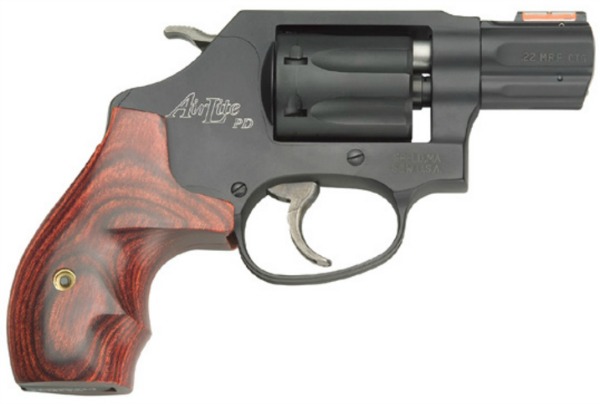 Illustration courtesy of Smith & Wesson.
I have to admit, I was not expecting much from this snub-nose revolver, even by my low standards of admiration for the genre. I am a semi-auto guy. I consider myself an above average shot with all types of handguns and cartridges, except for a snub revolver. I can shot the unlamented AMT Back-up .380 or a Walther PPK better than a snubby revolver, at ranges beyond bad breath.
When a friend asked me to help her learn to shoot the S&W Model 351PD revolver she had purchased as a house gun for her daughter and herself, I had to wonder if this experience would be any better than the two Colt Detective Specials and three S&W J and K-frames I have owned over the years. Compounding the issue in my mind was the revolver's feathery weight, despite its .22 WMR rimfire chambering.
Going in I thought, "I might be able to shoot the thing at seven feet, maybe out to ten feet, but no farther." What transpired was surprising.
The 351PD is an ultralight revolver with an aluminum frame, aluminum cylinder and aluminum barrel shroud with a stainless steel insert. The barrel insert has a recessed muzzle crown. The little revolver weighs just eleven ounces empty.
The frame's cylinder window is much too long for the .22 WMR cylinder, leaving an unsightly gap in front of the cylinder and making the entire gun longer than necessary. To bridge this unwanted space and achieve a proper cylinder to barrel gap, the steel barrel insert is extended rearward.
Although at first the little Model 351 felt like a toy, it looks businesslike with its matte black anodized aluminum finish. The external surfaces are smooth and uniformly finished.
It is supplied with smooth (un-checkered) plywood stocks with two finger grooves, which fill the space behind the trigger guard. There are noticeable gaps in the wood to metal fit behind the trigger guard and at the bottom of the grip frame. The exposed back strap is grooved, with a cross-pin for a lanyard.
It has a fiber-optic orange front sight, pinned in place. A square groove in the top of the frame serves as a non-adjustable rear sight.
Specifications
SKU: 160228
Model: 351PD
Caliber: .22 Magnum
Capacity: 7 Rounds
Barrel Length: 1.875 inches
Front Sight: HI VIZ Fiber Optic Orange
Rear Sight: Fixed groove
Grip: Laminated wood
Action: Single/Double Action
Frame Size: Small (J-Frame)
Finish: Black Matte
Overall Length: 6.19 inches
Material: Aluminum Alloy Frame and cylinder
Weight Empty: 10.8 ounces
2015 MSRP: $759
The double-action trigger pull was a bit better than the last centerfire J-frame I owned, although not by much. I would estimate a thirteen pound pull, but linear and smooth. I would estimate the crisp single-action trigger pull weight to be approximately four pounds and suitable for a short range, defensive firearm.
Shooting consisted of one, fifty round box of CCI Maxi-Mag 40 grain JHP cartridges at an indoor pistol range. We started shooting at the very short distance of only seven feet and eventually moved back to seven yards, which I would consider typical self-defense range.
I watched her shoot the revolver at close range and she was almost immediately able to center her hits at the point of aim, after some slight instruction from me. When I saw this, I wondered whether she was going to show me up, accuracy-wise!
I shot a double action cylinder load into a two-inch bullseye target at seven feet (2.3 yards), then moved to targets at 12 feet (four yards) and finally to 21 feet (seven yards). I shot at the latter range slow fire, single-action and the resulting tight cluster of bullet holes was still properly centered. (Imagine that! -Editor) The bright fiber-optic front sight worked quite well and was easily distinguished from the black bullseye targets we used.
It was slightly surprising that the noise and recoil levels were so low from the abbreviated barrel. The wood grips were reasonably comfortable, using either DA or SA trigger pulls.
There were no malfunctions of any kind. The revolver extracted and ejected smoothly.
While I do not believe the .22 Magnum is a good defensive caliber, I know it is a popular round for beginning shooters who are not accustomed to recoil. It is also fairly inexpensive with which to practice and the little 40 grain JHP bullets are known to be reliable expanders. I suppose one could do better, but one could also do worse than this very easily controlled round. When we cleaned the little revolver, SLIP 2000 725 Cleaner, Carbon Cutter bore cleaner and EWL synthetic oil made short work of the slight amount of firing residue.
I was genuinely surprised at how well this small revolver worked for a rookie shooter, as well as for me. Its small size and light weight makes it convenient to carry concealed in a pocket holster, handbag, or inside-waistband holster, so it can always be with you. It is sufficiently accurate for its intended purpose.
While I can think of lots of other handguns I would rather have for the same price, for a beginning shooter unused to noise and recoil this S&W 351PD makes good sense for concealed carry. For home defense, where concealment is not an issue, a four inch barrel would provide better practical accuracy and take much better advantage of the high velocity potential of the .22 WMR cartridge.