Swarovski AV-SR 3-10x42mm Rail Mount Riflescope
By the Guns and Shooting Online Staff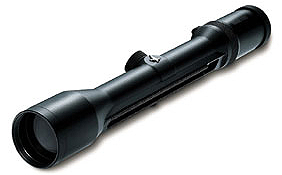 AV-SR 3-10x42mm showing bottom rail. Illustration courtesy of Swarovski Optik.
Founded in 1895 by Daniel Swarovski, the Swarovski Group is an internationally famous Austrian glass and optics company. They are perhaps best known for their Swarovski crystal, produced by the Swarovski Kristall Company, but sports optics from Swarovski Optik also have an excellent reputation. The US Army, for example, uses Swarovski Optik binoculars.
Wilhelm Swarovski, son of Daniel, founded Swarovski Optik KG in Absam, Tyrol in 1949 to produce binoculars. Today, Swarovski Optik specializes in producing a wide range of sports optics including binoculars, riflescopes, telescopes, rangefinders, image intensifiers and optronic devices. They have divisions on five continents and 90% of Swarovski Optik product goes to the export trade.
Our review of the Stutzen version of the takedown Merkel K3 single shot carbine (see the Product Review Page to read that rifle review) gave us the opportunity to use one of the new rail mount Swarovski SR riflescopes. "SR," by the way, merely stands for "Swarovski Rail." This is the 3-10x42mm scope normally supplied with the K3 attaché case set. The rail mounting system allows the scope to be detached and reattached without affecting the point of impact, a huge advantage for the traveling hunter. It also allows the scope to be mounted lower and without using scope rings. The Swarovski toothed rail system positively prevents the scope from sliding forward due to recoil forces, no matter how severe.
The SR scope is mounted on the rifle by a special base, the upper surface of which indexes into the toothed Swarovski rail. This base is held in place anywhere along the scope's integral rail that the shooter desires by Torx fasteners, allowing great latitude in fore and aft scope positioning. Another advantage is that the scope is automatically straight, never canted on the rifle. Integral with the base are adjustable clamps that attach to the grooves machined into the rifle, or to a conventional Weaver or other scope base if the rifle lacks the proper grooves. These clamps have integral stops or latches that click into place to prevent inadvertent release. Pressing a tiny button at the end of the clamping lever releases the latch so that the lever can be turned and the scope removed from the rifle. It is a clever system, easy to use although hard to describe in words.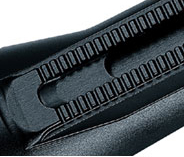 Close-up of SR mounting rail. Illustration courtesy of Swarovski Optik.
The Swarovski rail mount system is replacing the old Suhl pivot mount system on Merkel K-series rifles. It is stronger and more repeatable as well as eliminating the bulkier and rather unsightly pivot mount bases. The new detachable rail mount only requires that matching grooves be machined into the rifle's receiver or barrel. Note the grooves in the breech end of the barrel of the Merkel K3 rifle pictured below.
The lines point to SR scope mounting grooves on Merkel K3 rifle. Illustration courtesy of Merkel USA.
This Swarovski SR system is the best detachable scope mounting system that we have yet encountered. It is ideal for takedown rifles like the Merkel K3 and K4 and also should be popular with shooters who insist on access to their rifle's iron sights in the event of scope failure.
The Swarovski AV 3-10x42mm scope with which this sophisticated rail mount system is integral is a premium quality optic. It is built (no doubt primarily for the North American market) on a one-piece, one inch (25mm) diameter aluminum tube with the reticle in the second image plane so that it stays the same size regardless of the magnification.
Like other premium scopes, it incorporates several design refinements. Inside the optical tube are microstructure grooves, precisely defined ribbing to prevent residual reflections inside the tube for brilliant, high contrast images, even with backlighting. The optical elements are fully multi-coated. The scope is purged, nitrogen filled and completely dustproof and waterproof, even with the turret caps removed. The reset-able, fingertip windage and elevation adjustments use a patented "Quadratic" adjustment system for precise edge-to-edge adjustments in ¼ MOA clicks. The smooth turning magnification ring incorporates a rubberized sure grip and a tactile bulge for easy adjustment. The fast ocular focus is in the European style and the focusing ring is rubber covered to protect the shooter's eyebrow. Our test scope was supplied with a standard Duplex type reticle. Swarovski flip-open lens caps and a lens cleaning cloth are supplied with the scope. A threaded lens shade is available at extra cost.
Here are some specifications for the Swarovski AV-SR 3-10x42mm riflescope.
<![if !supportLists]>· <![endif]>Actual magnification: 3.3-10x
<![if !supportLists]>· <![endif]>Objective lens diameter: 42mm
<![if !supportLists]>· <![endif]>Exit pupil diameter: 12.6mm (3x), 4.2mm (10x)
<![if !supportLists]>· <![endif]>Eye relief: 90mm (3.5")
<![if !supportLists]>· <![endif]>Field of view at 1000 yards: 33' (3x), 11.7' (10x)
<![if !supportLists]>· <![endif]>Eyepiece focusing range: +/- 2.5 diopters
<![if !supportLists]>· <![endif]>Parallax free: 110 yards
<![if !supportLists]>· <![endif]>Light transmission: 94%
<![if !supportLists]>· <![endif]>Maximum windage and elevation adjustment range: 4.2' at 100 yards (approx. 50 MOA)
<![if !supportLists]>· <![endif]>Functional temperature range: -4 to +131 degrees F
<![if !supportLists]>· <![endif]>Objective filter thread: 44mm x 0.75
<![if !supportLists]>· <![endif]>Length: 12.44"
<![if !supportLists]>· <![endif]>Weight: 13.6 ounces
<![if !supportLists]>· <![endif]>Finish: Satin black
<![if !supportLists]>· <![endif]>2007 MSRP: $1088
Features and specifications are fine, but the real question is, how well does this Swarovski AV-SR scope actually work? To find out, we took our 7mm-08 Merkel K3 rifle and Swarovski scope combination to the rifle range. The easy to use windage and elevation adjustments proved to be quite accurate. It took only two shots to zero the scope at 25 yards. We then moved back to 100 yards and refined our zero by shooting three single shots and two three-shot groups. This is the way sighting-in a rifle is supposed to work and we expended only 11 cartridges.
The rather snappy recoil of the lightweight K3 rifle had no effect on the Swarovski scope or its detachable rail mount. We removed and replaced the scope several times during our testing to see if it would return to zero, and it did.
Our Swarovski test scope provided sharp, clear views of the target with only a minor loss of resolution at the edge of the field of view. Correction for optical aberrations appears to be good, although there is some coma. Contrast and flare suppression are very good. We estimated that, subjectively, in terms of its overall design, optical and mechanical quality, the Swarovski AV is a little more refined than a Zeiss Conquest and similar to a Leupold VX-III (one of our favorite scope lines).
The big advantage of the Swarovski AV-SR line is its unique rail mounting system. For applications requiring a quick detachable mount, it represents the state of the art.