Visit to Swarovski Optik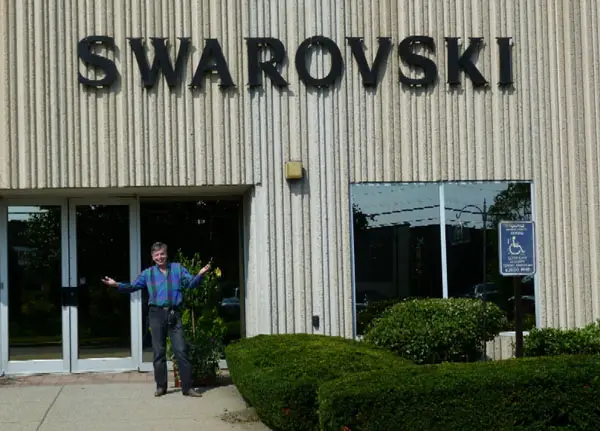 Randy at the entrance of Swarovski Optik North America.
Except for Leupold, located in the Portland, Oregon metro area, the riflescope industry in the United States has largely been an import business, with little or no assembly being performed on American soil. Most folks have never seen a riflescope manufacturing facility. No surprise, as there isn't one to be found on most street corners. You might be surprised that one of the most prestigious names in hunting and shooting optics makes their product in Cranston, Rhode Island, USA. That company is Swarovski Optik North America.
Swarovski offers no low quality, entry level, or starter-level optics. The scopes they offer are all built to one standard: their own, the best they can build. There are price differences throughout the line, but not based on quality. The price differences are based on technology, features and the realities of business climates, but sacrificing quality of machining and quality of assembly is not a compromise Swarovski is willing to make.
Gail Fisher is one of the super-women of Swarovski Optik. I half expected to find a cape in her office somewhere. I didn't see one, but that doesn't mean it wasn't there. She's involved in just about everything, from customer service to manufacturing to communications. It was Gail who took time out from her always-busy day to give me a tour of Swarovski Optik. Swarovski North America is now celebrating twenty years of North American operations.
One way to look at Swarovski product is based on zoom range. The Z3 riflescopes have a three-power range, the Z5 a 5x range, the Z6 a 6x range. Swarovski Z3 and Z5 riflescopes have 1-inch main tubes. The Z6 line is a 30mm riflescope series with the six-power zoom range.
The folks at Swarovski North America make Z3 riflescopes not just for the United States, but for the entire world. Not only are they offered in the U.S., but a goodly portion of the Swarovski NA production is for export. According to Gail, Z5 and Z6 models are also produced in Rhode Island on an occasional basis, as production demands dictate.
There is a very good reason for North American assembly and final testing of Swarovski product. What we pay for import duty and fees cannot go into a riflescope. Taxes, duties and fees are just that. Our current government's adventures in that area are most charitably described as puzzling, uneven and incomprehensible. Regardless, there is a substantial difference in the duties and fees imposed on finished goods from Europe, as opposed to loose components. By assembling finished goods at Swarovski North America, not only are invasive duties avoided, but American jobs are created and sustained. It is also good for the American consumer, as a quality of product that might be considered unaffordable due to import fees is now within reach, while losing nothing in engineering, quality of components and quality of assembly. All Swarovski riflescopes, whether assembled in the U.S. or Austria, are built to identical standards.
Many of the Swarovski North America's employees are trained and certified in Austria and Swarovski N.A. Employees are extensively cross-trained. I do have a crystal ball, the only problem being that it doesn't always work. So it goes with constantly changing consumer demands around the world. To be able to adapt to these continuously changing variables, a company has to maintain production flexibility without degrading quality and standards. That is what Swarovski has worked hard over the last twenty years in North American to achieve.
You've likely heard terms like "Austrian engineering"? Let me try to explain what that means, at least according to me. A properly engineered scope is not just a tube. It is a precision instrument where every component, including things like lubricant and O rings, are vital to durability and reliable function. Aesthetically, a scope like the Swarovski Z3 in designed to be slim and pleasing to the eye, complimenting the rifle. The lighter and slimmer the scope, the better, providing long term durability is not compromised. Lighter components have less mass and are therefore less affected by recoil. The slimmer the riflescope, the lower it can be mounted to minimize parallax. For example, the Swarovski Z3 3-10x42mm weighs about three quarters of a pound.
While a lot of attention is paid to light transmission, it does not define the quality or capability of a riflescope. Swarovski pays attention to things like internal ribbing and the microstructure surface inside the scope to attenuate the effects of bright light that can add flare and degrade image quality. Reticle selection is both personal preference and contingent on hunting conditions. It is important, however. For that reason, Swarovski offers over fourteen different reticles, many of their own design.
Going through the plant with Gail, what became obvious to me was the camaraderie and esprit de corps of the Swarovski team, with great pride in their work. Visiting with one fellow who was doing a scope evaluation, the great appeal of what he was doing was the precision and close tolerances involved. It was as close as he could get to being a Swiss watchmaker and he was obviously delighted by his work and took great satisfaction in what he was doing. When you talk to someone at Swarovski, you're not just talking to folks who know how scopes work or know how scopes are put together. You're talking to people that actually put them together and people that actually make them work. It makes all the difference in the world.
The good news for consumers is that due Swarovski's continued focus on total production cost without compromising quality or their own standards, European optical design is now within reach of most North American hunters. Shooters seeking the best and who would rather have a high quality scope they can trust, rather than a bucket full of dubious scopes, can now get a Swarovski Z3 for less than half of what a brand name European scope of this quality might ordinarily cost. Z3 3-9x36 riflescopes start for around $750, with Z3 3-10x42 models costing about $75 more. "Seeing the unseen" has become a whole lot more obtainable! For info on the entire Swarovski line, check out www.swarovskioptik.us