Thompson/Center U-View Flex Loader for Inline Muzzleloaders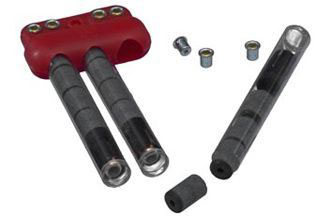 Illustration courtesy of Thompson/Center.
There are lots of useful tools on the market to make a muzzle loader's life easier. Most are gadgets, nice to have on the range, but not of much value on a hunt. The U-View Flex Loader is an exception to that. If you are a pellet shooter, this tool is a "must have" on your hunt. This neat little piece of equipment allows you to pack your pellets and bullet in a single tube, readily available for a quick reload. In addition, it solves the problem of what to do with your extra primers.
It is definitely not a good idea to carry loose primers in your pocket and, if you carry the box, the primers rattle and make noise. With this unique loader, you have three backup shots ready to go and four 209 primers, all in a single compact carrier.
Being new to muzzle loading, I've had the opportunity to observe several other hunters reloading. They reach into their pocket for a tube of powder or pellets, fumble around for a bullet and then carefully open a box of primers. All of which is time consuming, when you may not have that time in the field.
On my recent ibex hunt, I carried the T/C U-View Flex loader on a lanyard around my neck, neatly tucked into my shirt pocket. When I had to reload for my infamous downhill shot, it was quick and convenient. I simply pulled the loading tube out of the holder and dumped the pellets down the barrel and the bullet was positioned for my starter. Plucking 209 primer from the carrier couldn't have been easier.
 As a side benefit, I found that the tubes that IMR White Hots pellets are packaged in fit the Flex Loader. So, when you are reloading, you don't have to worry if you drop and/or lose a tube, the IMR tubes make ideal replacements at no cost. The Flex Loader holder is made of a silicone material called Bio-Flex®, which remains soft and pliable even in cold weather. With a MSRP of $7.70, the T/C U-View Flex Loader is a real bargain.