G.P.S. Tactical Range Backpack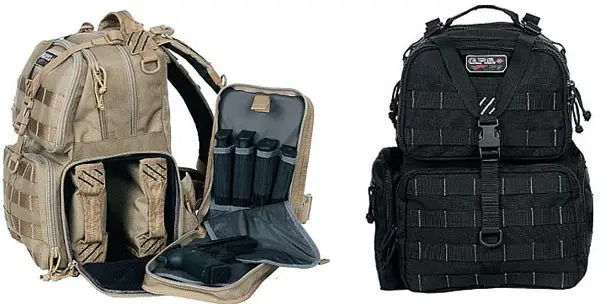 Illustration Courtesy of G-Outdoors, Inc.
A lot of us who served in the military wish that we had been able to bring one of our field backpacks home for personal use. We are not talking about those that had the ALICE, or All-Purpose, Lightweight, Individual Carrying Equipment setup that utilized metal clips for attaching our equipment. We are talking about the MOLLE packs (Modular Lightweight Load-carrying Equipment) that utilize nylon webbing that was stitched directly into the backpacks. The MOLLE system permitted secure and quiet attachment of our equipment. The MOLLE packs were first introduced into the U.S. military in 2001, but did not get widely distributed until we entered Afghanistan in 2003. Unfortunately, they are still there today. We wanted one of those new packs, but when checking the surplus stores all that we were able to find were cheap Asian imports masquerading as military surplus (which is common) or completely worn out U.S. Government stuff.
The folks at G-Outdoors recognized the need to produce a tactical backpack with MOLLE webbing for use in the field and on the range. It took a while for them to come up with the final design, as they wanted to improve the military-style backpacks, making them more versatile for the civilian market while retaining the best features of the standard military MOLLE pack. The result is the Tactical Range Backpack.
When we saw the prototype at the SHOT show, we knew that we had to have one. Not just for testing, but to become a permanent part of our equipment inventory. Unfortunately, we had to wait until Patrick Gee got everything as perfect as possible before going into production. We waited and waited until, finally, in July our tan tactical backpack arrived.
We want to state right up front, we've seen a lot of new equipment over the years. Some good and some bad. Even the good ones don't usually get us too excited. However, this pack is truly awesome and I do not believe that we have ever used that word before to describe a product. It incorporates all of the best features of a military backpack with added features to fill the needs of us civilians. For example, there are three internal padded handgun storage cases, each with four magazine pouches. Our daughter appropriated one to carry her Springfield XD9 when traveling.
The backpack is constructed with 1000 Denier nylon with a waterproof backing. It is treated with a DuPont coating to resist stains. In short, it is the best material on the market for manufacturing a backpack. (We have seen golf bags, luggage and chaps made with this material.) Include the triple stitching of the MOLLE webbing and the GPS signature Visual I.D. Icons for the storage areas and you have a backpack that is just about perfect.
Illustration Courtesy of G-Outdoors, Inc.
Tactical Range Backpack Features/Specifications
Features three internal handgun storage cases with magazine storage

Features 4 outside zippered pockets for ammo and other accessories

Padded waist strap for load stability

Internal (Honey Comb) frame for rigidity of the pack

MOLLE webbing system that is triple stitched

Visual I.D. storage system for ease of use

Features an external bungee system for targets

Has pull-out rain cover for sudden downpour

YKK Locking zipper for handgun compartment

Hook and loop area for name or club placard
The only minor thing we could find that we would add to the backpack would be a bit more padding in the shoulder straps. When loaded with 40-50 pounds of gear, they tended to hurt Jim's shoulders. Of course, he's a pretty skinny dude and managed to remedy the situation by using a $5 pair of Velcro seat belt shoulder pads.
The GPS Tactical Range Backpack has an MSRP of $159.99. Not cheap, but it will definitely be the last backpack that you will have to buy for range use or daily hunting excursions in the hills.