Talon Gun Grips
By Chris Cover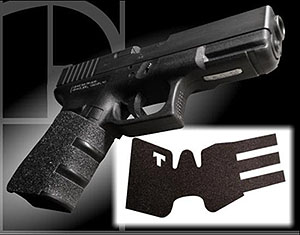 Talon Gun Grips on a Glock. Illustration courtesy of Talon Grips.
I recently joined the masses that have purchased Glock pistols, choosing a Glock 19 for my first handgun. Immediately after the purchase, I began buying ammo in anticipation of knocking over some tin cans, shooting holes in paper, etc.
After a few sessions of shooting, my expectations were totally met and exceeded. The Glock 19 has great practical accuracy and is a joy to shoot. However, one thing I noticed about the pistol was that while shooting my hands got sweaty and the polymer grip became a little slippery. Since there are many options available to customize the Glock, I decided the next thing on my "to do" list was pick out an after-market grip to ensure a firm and solid hold, even if it was wet and slippery.
While perusing a gun forum on the Internet, a guy mentioned he had found some grips called Talon Gun Grips and they were working great for him. I found the website, www.talongungrips.com, and ordered a pair. The August 2010 price was only $9.99 and that included free shipping!
The grips were delivered very quickly; in fact, they arrived only four days after placing the order. Talon grips are a one-piece, no-nonsense grip made from a material that feels similar to skateboard tape, but is not as abrasive. Pre-cut to the specific dimensions to individually fit almost all of the Glock handguns, as well as the full-size and sub-compact Springfield XD semi-automatics in 9mm and .40 calibers, the Talon grips encircle both sides of the stock handle, the back strap and the finger grooves for a 360-degree grip on the pistol.
The Talon grips are very easy to install. Just clean the handle of the gun with the alcohol swap that is included with the grip, peel off the backing of the grip, wrap around the handle and press into place. Using a hair dryer, heat the grip all around and the adhesive backing of the grip sticks securely. Grip it firmly while it is still warm to ensure a good seal and that is it. The Talon grip can be removed at any time and it will not leave any residue behind.
After installing the grips, I could hardly wait to see how they felt when actually shooting at the range. The first thing I noticed was that I had a firm grip on the gun, although I was not squeezing as hard as usual. When firing the pistol, I was pleasantly surprised that the grip did not abrade my hand, as I had worried it might. It felt a little rough at first, but I quickly got used to it and loved the fact that, although my hands got sweaty in the hot California sun, it was easy to keep a secure grip on the gun. If the grip is a little too rough for its user, a quick rub with 120-grit sandpaper will smooth it down.
Those of us who try to support American products will be happy to note that the maker of the Talon grips gets his material from a U.S. supplier and uses a U.S. die cutting company. This is a quality product at a great price. If you are looking for a grip for your Glock that adds extremely little bulk and allows you to maintain a firm grip at all times, I highly recommend Talon Gun Grips.