Taurus' PT-845B .45 ACP Pistol
By David Tong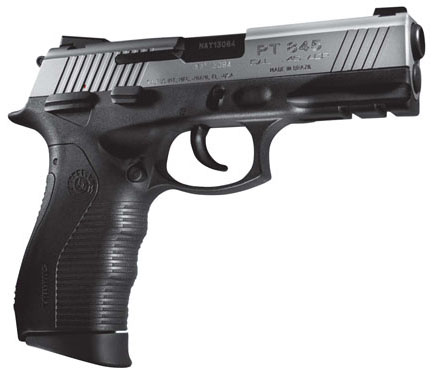 Model 845SS. Illustration courtesy of Taurus International.
Forjas Taurus of Porto Alegre, Brazil, is a major manufacturer of modern semi-automatic handguns. As any casual observer has noticed, they occupy a lower price point, which leaves many serious shooters questioning whether they are worth their price.
In addition, their history of copying other manufacturer's designs and rapid CAD-blueprint-to-production process has made some wags question their R&D, quality control and customer services processes. This author has been among them.
The pistol reviewed is a follow up to the Model 24/7 polymer framed, striker-fired series, available in calibers 9mm Parabellum, .40 Smith & Wesson and .45 ACP. My test example is in the latter caliber.
The prior 24/7 has, in the author's estimation, a fatal flaw, in that disassembly requires the removal of a very small lever, which can be easily misplaced or lost. Curiously, their entry in the now aborted "Request for Proposal" U.S. Joint Services Pistol .45 ACP of 1996 featured this lever, in the model "24/7-OSS-DS." This alone would have made the weapon a non-starter in any kind of military trials. One can imagine if troops had to strip the pistol in the Sandbox and lost the part, rendering it hors de combat.
When I examined the OSS-DS, I wondered, "What if they could produce this pistol with a captive disassembly lever, improve the trigger system both in release quality and reset distance and, possibly, return it to a hammer-fired system, as most military forces prefer this visual and tactile indicator of state of readiness?
Six months after thinking this, my local shop, Albany Guns (Oregon) had this pistol on the shelf. By taking one feature of the Glock, the twin sliding disassembly switches located on the front sides of the frame, adding the 1911-style manual safety plus de-cocker first seen on the Heckler and Koch USP and providing fully ambidextrous controls, including the slide release, safety and magazine release, they have created an interesting entrant into the world of polymer framed pistols. It was almost as if they had been reading my mind.
Specifications
Type: Single and double action semi-automatic pistol, multiple carry modes to include DA first shot or SA first shot, manual safety on or off in both

Barrel length: 4.2"

Overall length : 7.75"

Height: 6"

Grip width: 1.14"

Sights: Novak's .45 shop, 3-dot Patridge type

Sight radius: 6"

Trigger: DA approximately 11 lbs.; SA approximately 6 lbs.

Empty weight: 27.8 oz (.45 ACP); 28.6 oz (.40 S&W); 29.1 oz (9x19mm)

Magazine capacity: 12 rounds (.45 ACP); 15 rounds (.40 S&W); 17 rounds (9x19mm)

Included accessories: M-1913 Mil.-STD Picatinny accessory rail for light and laser mounting; polymer lockable hard case; polymer loading tool; spare magazine; 2 extra backstrap inserts; Taurus integrated locking system plus 2 keys. Available as PT-845B in blue or PT-845SS with stainless slide.

MSRP: $645.00 (stainless steel)
As can be seen from the above figures, it appears that Taurus started out with the .45 ACP frame size and simply modified internal parts and different magazines for the smaller calibers. This can be seen by the unloaded weight, with the .45 being the lightest of the trio.
The internal components appear to be largely either stamped sheet steel or metal injection moldings, which is typical for a modern autoloading pistol. This is not necessarily an indictment, as it appears the use of steel forgings in frames or small parts is on the wane because of cost and due to the public's preference for lightweight. In addition, these easier to fabricate components have proven quite reliable in a number of newer pistol designs.
The PT-845 has three interchangeable backstrap designs, to better fit one's hand size; size medium is fitted as delivered. Taurus provides a small drift pin along with their integral locking system on a single key chain device to facilitate changing them, along with two magazines and a polymer loading tool. All of this and the pistol are housed in a polymer case lined with foam.
The PT in .45 ACP is my preference. While all pistol rounds are velocity dependent to a certain degree, if one views the vaunted Evan Marshall study on stopping power, the smaller 9x19mm and .40 S&W rounds require both more rounds on target and higher pressure and velocity from their lighter bullets to effect the same incapacitation with center mass hits. Elite law enforcement and military units seem to agree with this assessment, which is why they continue to specify the caliber 99 years after its initial issuance to the U.S. Army.
In addition, since the U.S. is a signatory to the 1899 and 1907 Hague Conventions, which "Declaration III" specifically prohibits the use of bullets designed to deform or upset, or whose jackets are notched to provide expansion, .45 ACP remains the best pistol caliber for short-range military purposes. (This, of course, has no relevance to civilian use. -Editor)
The PT design provides an external hammer, whose sides are relieved to lighten the part and provide quicker lock time. Trigger take up on single-action is approximately 5/16", followed by an unacceptably heavy, but crisp, release of 6 pounds, with no over-travel. More important to rapid fire shooters is the trigger reset distance, which is less than 1/8". This means that the experienced shooter can pre-stage the trigger, bypassing the take-up, and fire successive shots very quickly. This reset distance is bettered by only two designs, the Model 1911 and the Glock.
Fit and finish of the pistol is average for its type. For some reason, Taurus has left the chamber block area (visible in the large ejection port) and feed ramp polished "in the white," while the rest of the pistol is a uniform matte black color. No more than minor tool marks were visible when inspecting the stripped pistol and none that would interfere with the proper smooth function of the arm.
The slide has slant cut grasping grooves fore and aft, to allow for easy slide retraction or "press-checking" for loaded chamber confirmation. While the pistol has a loaded chamber indicator located above the extractor, I do not believe there is a substitute for actually looking at the cartridge case.
A short range session at Albany Rifle and Pistol Club's 25 yard range produced the following average results of three, 5-shot groups from a bench rest:
The sights appeared well regulated and shot to point of aim/point of impact with both loads tested. While the trigger pull is heavy, it is actually decent against the modern pistols I have reviewed, especially the striker fired variety. I was able to hold the front sight steady with either (single) hand during single-action (crisp) presses and the lack of over-travel was quite refreshing.
However, there were several malfunctions during my brief test session. My preferred load, Federal's Gen. II 230 grain Hydra-Shok failed to feed four times in three magazines, mostly being caught by the fixed ejector and failing to feed from the magazine.
The sights, supplied by Wayne Novak's shop, are of the "3-dot" variety and were easy to acquire, with plenty of light around the front sight for short range fire. It is not a target weapon, though I suspect that the trigger, if anything, will improve with shooting and the grip width is easily managed by anyone with small to medium-large hands, something that cannot be said of many high-capacity pistols.
Ergonomically, the pistols molded-in widely spaced "finger grooves," flat faced checkering/grooving and gently curved rear strap were all comfortable, though I would prefer a flat magazine floorplate rather than the extended triangular shape provided, at least as an option, to aid in concealed carry. (It is unlikely that most shooters would choose a full size, 28 ounce [without loaded magazine] service pistol that is nearly 8" long for concealed carry, in any case. -Editor)
Long-term durability is something that is outside the purview of this review. Obviously, there are other designs on the market that have stellar reliability and durability, but they cost a more, which in these economic times might be the difference between having a pistol or not.
Regarding quality control, I noticed several things, all of which are magazine-related. First, some magazines do not drop free from the pistol when the magazine catch is depressed. I am not sure whether this is a dimensional inaccuracy in the magazine tube, or, less likely in the thin plastic frame molding, but it is somewhat bothersome.
Second, when the magazine is fully loaded with 12 rounds, it would not drop free when the magazine catch was pressed. It is likely that the extended magazine floorplate was intentional, to aid in the mag's removal during administrative handling or a range cease-fire; some older European service automatics also had magazines that did not drop free, so that soldiers would not lose them in the field. The problem in the PT-845 could be caused by the use of too thin sheet steel in its fabrication, insufficient heat treatment of the tube, or both, which may be causing expansion of the tube when loaded.
Third, when the fully loaded magazine is latched into its well, it is very difficult to rack the slide to load the piece. I found it far easier to rack the slide and lock it to the rear, inserting the magazine, and then racking the slide to load the piece, then topping it off.
While not a QC issue, the very strong magazine spring initially made the included polymer loading tool mandatory after seven rounds were loaded. This means that, if one forgets the tool, topping off the magazine in the field or at the range is going to be a problem. I suspect that the spring is intentionally strong to ensure reliable feeding with the lightweight milled steel slide and stout recoil spring, which must cycle very quickly.
Of course, every Taurus firearm is covered by a limited lifetime warranty, retroactive to July 1975, for defects or workmanship, though one would wish that this minor quibble could have been dealt with out of the box. The company is ISO 9001 compliant and has passed the tough German "TUV" standards for quality control. This does, however, make the minor magazine quibbles I experienced a bit perplexing, as the ISO rating of the manufacturing process is supposed to ensure the consistency of quality.
At the time of writing (July 2010), your local dealer may have additional discounts available on new inventory of these pistols; at under $400 discounted retail, the frugal pistol packer might find a PT-series pistol to be a good deal, with some reservations regarding its magazine system and some sensitivity to ammunition.
NOTE: This review is mirrored on the Product Reviews page.