Taurus Pistols: The PT-99 Semi-Auto
& Model 941 Revolver
Taurus PT-99
I've had a Taurus PT-99 autoloader for about 8 years now and I can't say that I have any complaints. In fact, even though I was able to afford just about any 9mm pistol on the market, I chose the Taurus for it's combination of quality and features. It is well made, well finished, accurate and has proven to be completely reliable.
Illustration courtesy of Taurus International.
For those not familiar with the PT-99 it comes with adjustable sights but is otherwise very similar to the Taurus PT-92. It is a large, double action, exposed hammer, double stack, 9mm service pistol--a "wonder-nine" if you will. Visually and mechanically it is very similar to the Beretta 92, and it employs the same takedown system. At one time Taurus of Brazil produced Beretta pistols under license for the Brazilian military.
The basic specifications for the PT-99 are as follows: Caliber 9mm Luger (9x19); Capacity 15+1; Barrel length 5"; Overall length 8.5"; Height 5.39"; Width 1.45"; Weight 34 ounces; Sights Blade front, micrometer click-adjustable rear; Manual safety Ambidextrous, locks trigger and slide; Finish Blue or stainless steel; List price (2006) $578 (Blue).
As someone who grew up shooting my dad's Colt 1911, I found the frame mounted safety to be easier to use than the slide mounted lever on Beretta's similar 92 series. I think the ability to carry cocked and locked is a worthwhile option not available on the Beretta pistols. The PT-99's adjustable sights are also a nice touch. I would recommend Taurus semi-autos to anyone.
Taurus Model 941
Taurus revolvers are a different story, however. Taurus revolvers have actions based on the basic Smith & Wesson design. They look, feel, and function much like a S&W. Their Model 941 double action, eight shot .22 seemed like a great first pistol for a friend a few years ago. It was light, compact and had the simplicity and reliability (or so I thought) inherent in all double action revolvers. Unfortunately, it never lived up to its billing.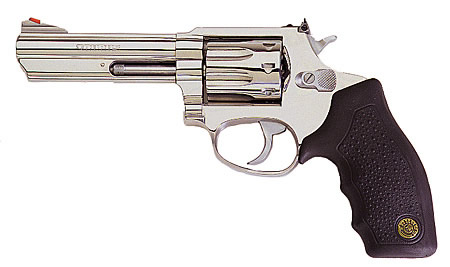 Illustration courtesy of Taurus International.
The basic specifications of the Model 94/941 are as follows: Caliber .22 LR or .22 WMR; Cylinder capacity 8; Barrel lengths 2", 4", 5"; Weight 25 ounces w/4" barrel; Sights Serrated ramp front, micrometer click-adjustable rear; Grips Brazilian hardwood; Finish Blue or stainless steel; List price (2006) $344 (Blue).
The 941 was plagued by misfires from day one, but worse than that it had a very rough bore. In it's first cleaning I was pushing large shards and chunks of lead out of the bore. We returned it to the factory for repair, listing our complaints and it was returned with a new mainspring and a freshly cleaned, but not replaced, barrel.
We tried it again and found that the misfiring problem was improved, but not cured; and, of course, by the end of the session the barrel was just as obstructed as before. We returned it again and in a few weeks were surprised to receive a brand new gun. The new revolver was an improvement over the pistol it replaced but it still misfired sometimes and the barrel still fouled frequently, although not as frequently as the first one.
Since then I have read a Taurus revolver review in Guns And Ammo magazine that reported the same barrel fouling problem, so I think that the problems we experienced are manufacturing/design flaws and not the result of purchasing a rare lemon that accidentally made it through quality control.
In addition to the aforementioned problems I have also noticed that the side plates of Taurus revolvers are not as well fitted as American revolvers; and the trigger pull, although adequate, couldn't compare with a Smith and Wesson or Colt. (I used to love Smith and Wesson revolvers but I'll never buy another Smith and Wesson due to the sorry deal they cut with the Clinton Administration.) Anyway, that's my experience with Taurus pistols!
Note: This article can also be found on the Product Reviews page.