Tele Vue Plossl Eyepieces
By the Astronomy and Photography Online Staff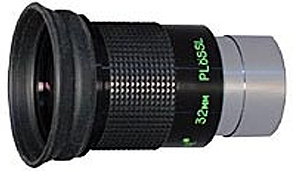 Tele Vue 32mm Plossl Eyepiece. Photo courtesy of Tele Vue Optics, Inc.
There is plenty of competition in the Plossl eyepiece market. Astronomers can choose between Celestron, Lumicon, Meade, Orion, Tele Vue and Vixen, to name some of the more prominent ocular brands. Among these, Tele Vue is perhaps the best known of the premium Plossl eyepieces, so it seemed only appropriate for us to acquire a Tele Vue Plossl and write a review.
The Plossl ocular design uses four elements in two symmetrical groups to achieve a flat field with excellent sharpness and contrast. Lateral color error is well corrected. The apparent field of view (AFOV) for 1.25" diameter Plossl oculars below 33mm in focal length is about 50-degrees and the eye relief increases with focal length. Plossl's in focal lengths of about 25mm and longer have generous eye relief, usually from about 17-31mm depending on focal length and manufacturer, and are thus suitable for eyeglass wearers.
Tele Vue offers 1.25" Plossl oculars in focal lengths of 8mm, 11mm, 15mm, 20mm, 25mm, 32mm and 40mm. Tele Vue Plossl's were designed and patented by Al Nagler and are made with fully multi-coated, high index glasses. Lens edges are blackened and inner lens barrels feature anti-reflection threads to improve contrast. On axis performance is diffraction limited. They claim reduced astigmatism and lateral color error at the edge of the FOV, and overall sharper images than any other four or five element Plossl or Orthoscopic oculars on the market.
We selected a 32mm Tele Vue Plossl for this review, as this is one of our favorite focal lengths. The 32mm Plossl has an AFOV of 50-degrees and offers the widest true field of view (FOV) possible in a 1.25" diameter mounting barrel. Longer focal lengths are vignetted by the mounting barrel, so a 40mm Plossl has the same FOV as a 32mm Plossl with less magnification. The 32mm Tele Vue Plossl has a 22mm eye relief that allows comfortable viewing, even when wearing eyeglasses. For those with astigmatism who choose not to wear eyeglasses when viewing, the 32mm and 40mm Tele Vue Plossl's accept DIOPTRX correction lenses.
Like all Tele Vue eyepieces, every Plossl is manufactured to the highest standards and individually quality controlled in Tele Vue's New York facility before being shipped to dealers anywhere in the world. This rigorous and expensive procedure assures the end user the highest possible level of uniformity and has made Tele Vue eyepieces famous for superior performance. Tele Vue Plossl's are more expensive than most brands and this is part of the reason why. You get what you pay for.
Here are the specifications for the 32mm Tele Vue Plossl:
Model #: EPL-32.0
Focal length: 32mm
Mounting barrel diameter: 1.25"
Elements/groups: 4 / 2
Field stop: 27mm
Apparent field of view: 50-degrees
Parfocal: Yes (Tele Vue group "B")
Eye relief: 22mm
Barrel diameter: 1.6"
Length: 2.8"
Weight: 6.2 ounces
DIOPTRX correction lenses: Yes
2009 MSRP: $150
2009 online discount price: $116.99 (Optics Planet)
Tele Vue Plossl eyepieces are nicely finished in a hard-anodized gloss black with checkered rubber gripping rings and chrome-plated mounting barrels. There is a wide safety groove in the mounting barrel to help prevent inadvertent loss. At the top is a fold-down rubber eyecup. In the case of the 32mm Plossl, beneath the eyecup is the DIOPTRX retaining ring. The Tele Vue name and ocular focal length are engraved around the lower end of the main barrel and filled with Kelly green paint, which we think is particularly attractive against the black barrel finish. Tele Vue Plossl's are classy looking eyepieces, as befits premium oculars.
We used Stellarvue SV115T and Meade ETX-90 telescopes for visual observations with the Tele Vue Plossl. The Stellarvue is an extremely high quality, true apochromatic refractor with a 4.5" clear aperture and 800mm focal length. With the 32mm Plossl in place, the magnification is 25x, the true field of view is 2-degrees, the exit pupil diameter is 4.6mm and the telescope is operating at 5.6 power/inch.
The Meade ETX-90 is a sharp 3.5" Maksutov-Cassegrain with a 1250mm prime focal length. With the 32mm Plossl, the magnification is 39x, the true FOV is 1.28-degrees, the exit pupil diameter is 2.3mm and the telescope is operating at 11.1 power/inch.
As a "control" eyepiece, we had a Celestron 32mm Plossl that has always delivered good performance. Indeed, Celestron and Tele Vue are among the most used (and recommended) eyepiece brands here at Astronomy and Photography Online. The purpose of the control Celestron Plossl was not to do an in-depth ocular comparison, but rather to verify that the Tele Vue 32mm was performing correctly and get a general idea of how its performance compared to a less expensive, but similar, ocular of known capability.
The quick answers to those two questions are that the Tele Vue Plossl performed perfectly right out of the box. As befits its price and status, it gave as good or better views of the night sky as any Plossl ocular we have ever used.
After peering through the 32mm Tele Vue at the sun (using a Thousand Oaks full aperture glass solar filter), moon, sundry deep sky objects and an assortment of terrestrial subjects, we concluded that it is an excellent eyepiece. The aforementioned terrestrial objects included tree branches silhouetted against a bright sky on a ridge in excess of 1000 yards distant and details of pine tree branches with needles and cones at more reasonable distances. These are good test subjects, particularly the terrestrial part. There is a lot of detail to be seen in pine trees and the profusion of long needles make a good test for edge to edge sharpness.
Our impression after viewing these test subjects is that there is little to choose in terms of sharpness and field of view between the Celestron and Tele Vue Plossl oculars. The Tele Vue seemed a little bit superior in contrast or visual "snap" and its color rendition seemed slightly more saturated. Lateral color error is very well controlled in the Tele Vue Plossl. The eye relief is excellent in both, but the Celestron Plossl seemed a little less critical in terms of eye placement; with the Tele Vue, you need to keep your eye centered directly behind the ocular to avoid "blinking."
Our SV115T scope's 800mm prime focal length is not long enough to get any real satisfaction with a 32mm ocular, no matter how good, for planetary observing. However, for deep sky use a 32mm Plossl is just about right. You get a wide field of view with excellent center sharpness, high contrast, good field flatness, no lateral color error and minimal astigmatism. Because of its wide FOV, it also makes a fine go-to ocular for locating objects in the night sky. We frequently use a 32mm Plossl to locate an object and center it in the field of view, before switching to a higher magnification ocular for detailed viewing.
Overall, the Tele Vue 32mm Plossl is a very nice eyepiece to look through and a pleasure to use. Its build quality is obvious and Tele Vue's reputation for excellence is second to none. The Plossl design is at its best in the longer focal lengths, from about 25mm to 45mm in 1.25" eyepieces. We don't see how you could go wrong by purchasing a Tele Vue Plossl.