Tenzing TZ721 Hunting Waist Pack
By David Tong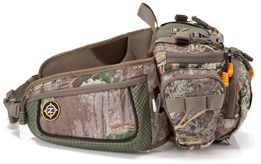 Illustration courtesy of Tenzing.
The Chinese company Tenzing recently sent us one of their mossy oak infinity camouflage pattern waist packs for review. This is a small/medium-sized fanny pack with several interesting features.
The main body is constructed wholly of 100% polyurethane foam in a brown leaf pattern with OD green trim. Nylon thread is used in the stitching, but very little of it is double-stitched, so it is designed for lighter objects.
Features and Specifications
BREATHABLE MESH BACK PAD
BUILT IN HAND MUFF SECTION WITH HAND WARMER POCKETS
ADJUSTABLE PADDED HIP PANELS FOR PERFECT FIT FROM THE BACK SECTION
FOUR SPECIALIZED POCKETS FOR HAND WARMERS
17 TOTAL COMPARTMENTS AND POCKETS
CELL PHONE POCKET ON TOP OF LID FOR EASY OPERATION AND ACCESS
THREE SPECIALIZED ZIP POCKETS
ADJUSTABLE BUNGEE STRAPS COVERING EACH OPEN TOPPED SIDE POCKET
VERY UNIQUE DOUBLE ADJUSTABLE WAIST-BELT SYSTEM
TWO LOWER VERTICAL COMPRESSION STRAPS
DYNEEMA BOTTOM COVERED WITH LODEN TRICOT
WAIST BELT MINIMUM 24 INCHES
WAIST BELT MAXIMUM 56 INCHES
2014 MSRP: $129.99
The TZ721 features seventeen pockets of various sizes. The main storage area measures approximately 12 inches long by 7 inches wide and 8 inches deep. It is secured by a nylon zipper with two zipper pulls, one on each side for access by either hand. Were I to carry this pack, I would use the main storage area to carry gloves, a small first aid kit, digital camera, my billfold, Mylar space blanket, small game bags and food items.
An internal pocket within this compartment has a Velcro secured flap that is made to hold a chemical heating pack. (There are a total of four hand warmer pockets.) Two zippered slits at the root of the waist-belt allow for hand warming, with elastic cuffs to seal off inclement weather. These are roomy enough to also allow wearing medium weight gloves.
On either side of the main pouch there are two elastic closed, top-loading pouches that appear intended to hold small water bottles or cans of soda. On the top of the pack's lid, an open-ended pass-through can be used for a small camera tripod or something similar. At the bottom of the pack, two nylon webbing straps with quick release buckles can carry a small tube-type foam seat pad or a rolled up rain jacket.
A front pouch measures 9.5 inches by 6.5 inches by 3 inches. Within this space are five elastic pouches that could carry duck calls, while the pouch front has two zippered mesh compartments to hold other items, such as smaller cell phones and keys. However, the zippers themselves are very fine pitch nylon and curve. One of them snagged and was damaged during my first attempt at using it.
The waist area has 5-6 inch wide mesh areas that form support for the belt and comfortably spreads out the load on your hips. The belt is adjustable to accommodate 24 inch to 56 inch waist sizes. The waist clasp is a quick-release Fastex type buckle with pull straps on either side for adjustment.
I would have liked to see provision for carrying a hunting knife on the belt. I suppose one could thread the sheath through the webbing by detaching it from the buckle assembly. However, the webbing is thin and would not support a heavy knife and sheath. I would limit any knife carried in this manner to under 3/4 pound with sheath.
The pack's construction, using soft foam and nylon pouches, was chosen to make the pack somewhat quieter when walking through light brush. I expect the TZ721 would be very suitable for use in tree stands when hunting.
I have some reservations about the pack's lightweight construction and some of the fine tooth zippers may not prove completely adequate under field conditions. I would limit the carry weight to no more than three pounds. As it is not waterproof, I would probably not wear it in heavy rain, especially if one is carrying delicate electronic gear.
Since the TZ721 has so many pockets, it is clearly meant to be worn in front for access purposes. As long as one is careful in selecting the items carried in it, both in terms of weight and being soft or smooth-edged to preclude damaging the light construction, the Tenzing TZ721 appears to be a reasonably well made, general purpose waist pack.