The Inertia Shotgun of Doom and Mystery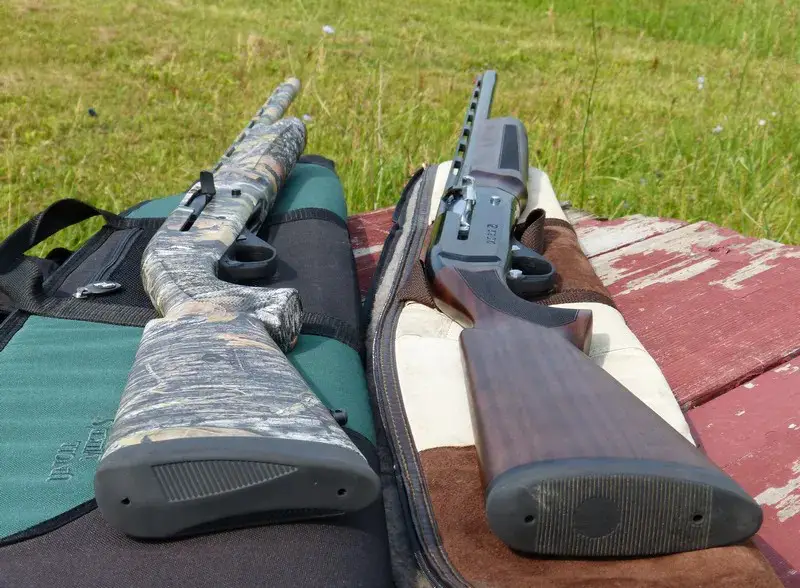 Above, a pair of Girsan MC312's previously tested. They are good, solid guns that have been produced since 2012 at an attractive price. They are now imported by EAA with a lifetime warranty to the original purchaser.
The basics of the so-called inertia shotgun (also called the kinematic action) go back over 122 years. Around 1900 when John Browning was perfecting his triumphant Automatic-Five, Carl Sjögren of Denmark made the "Normal," the first inertia shotgun. It looks anything but normal, though, but apparently it narrowly beat the A-5 to market, but was not at all well-received. Some 5000 were made in total, with no production after 1909.
It was the Browning A-5 that was the first successful automatic shotgun, dominating the world for fifty years. Newcomers to auto shotguns like Beretta, didn't begin until far later as Beretta introduced its Model 60 around 1956. The 1960s began the rule of the Remington 1100, which was introduced in 1963. Everyone else trying to build a successful self-loading shotgun was fifty years behind John Browning.
What is currently called the inertia action was developed by Bruno Civolani of Italy, who shopped his design to several gun manufacturers with no takers. Finally, the Benelli Brothers picked it up, without great success. Benelli Arms failed by 1983, when it was absorbed by Beretta. It wasn't until 1986 when the rotating bolt, used in the Browning designed Remington Model 8 of 1905 and later, in the M1 Garand, was finally added to the three inch chambered Benelli M1 Super 90. It was parent company Beretta that created the "Benelli Click" by doing so.
The rotating bolt head (four lug) was used in the Winchester Model 1400 of 1964, the best-selling Winchester autoloading shotgun ever produced, years before the Civolani action was patented and before Benelli Arms so much as existed. Twenty-two years after the Winchester Model 1400 auto, Model 1200 pump, and the Armalite AR-17 autoloader, Beretta took it and applied it to the Civolani action.
In 1988 Mossberg and Federal Ammuntion co-introduced the 3-1/2 inch 12 gauge. The inertia shotgun was still fairly obscure until 1992, when the Super Black Eagle was released. The timing was good, as that was a year after the steel shot mandate took effect. In 1994, Beretta bought the bankrupt Franchi brand. In 2000, Beretta purchased an interest in Vursan of Turkey, buying them completely in 2002, finally renaming Vursan "Stoeger."
When the Browning patents owned by F.N. expired, there was a mad rush to build long action recoil guns. Whether the Franchi 48 AL, Remington 11-48, the Pointer, or the Fabarm Goldenmatic, the Browning-inspired long recoil based shotguns were prolific. Today, history repeats itself, for there are thirty or so brands of inertia guns on the market with more with each passing year. The inertia action is cheap to make, needing no steel receiver, no action bars, no gas piston, no additional gas ports in the barrel, and so forth. It is the cheapest shotgun autoloading action there is to produce.
Over the years, I've tested countless inertia guns. They include those from Benelli, Franchi, Stoeger, Breda, Girsan, Browning, Retay, Weatherby . . . and more are on the way. Huglo makes the CZ 1012, Marocchi makes the Weatherby 18i, there is the Sauer SL-5 (Breda), the Istanbul Silah Impala Plus, a Caesar Guerini not available in the U.S., and what I'm told began as a partnership of sorts with Retay: Aselkon Arms. You can't make this up: https://aselkonarms.com/. They appear to be using remarkably similar barrels, choke tubes, and overall designs to Retay, using similar logos and packaging as well. They are both located in the same city: Konya, Turkey.
One of the most unusual attempts at an inertia gun was the Benelli Vinci, now discontinued. For the last several years, Benelli's have become the brand to avoid as they shoot ridiculously high. They still haven't fixed the problem, not even close. "But the SBE3 shot 100 percent above point-of-aim on every shot." "Like the SBE3, the Ethos patterned high, but it was a touch worse in this gun. My best pattern with the Cordoba was 100 percent above point-of-aim."– Outdoor Life, Nov. 24, 2022.
The price spread on inertia guns is mind-boggling. A CZ 1012 can be had for about $550, or less, as is the case with the Weatherby Element, the Instabul Impala Plus, the Girsan MC312, and others. On the other end of the spectrum, the plastic-stocked Browning A5 Wicked Wing has a MSRP of $2279, and a few traditionally overpriced Benelli models are priced even higher than that. What an individual is willing to pay, and what type of use your gun will see is a matter unique to you.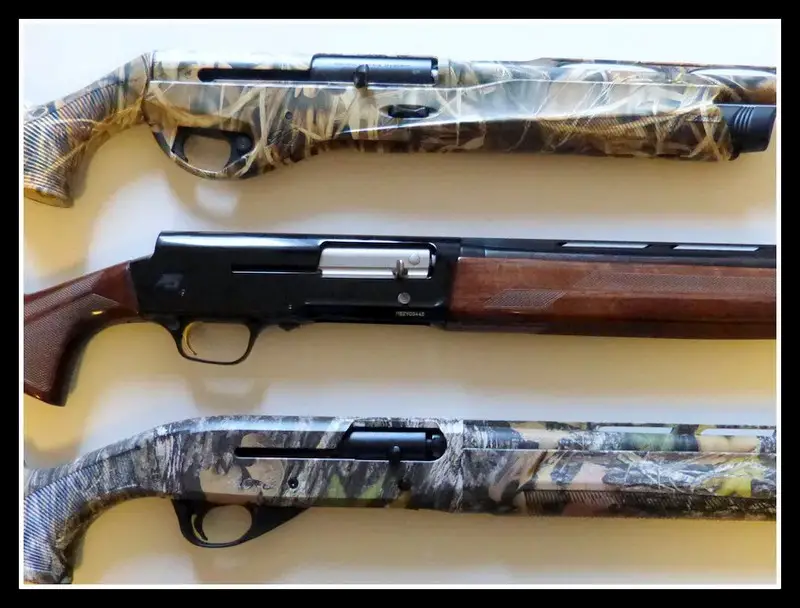 This is nothing particularly new, for back in 2013 (yes, nine years ago) I compared a trio of 12 gauge inertia guns, shown above. Note that the prices cited here are 2013 price levels.
Ostensibly due to the expiration of the Bruno Civolani patents, there are more and more "inertia" or "inertial" autoloading shotguns being introduced, beyond what is offered by Beretta Group affiliated brands. This is a comparison of three: the Benelli Vinci, the Browning A-5 Hunter, and the Girsan MC312. All are 12 gauges, all with three inch chambers, all have 26 inch barrels, all are autoloaders based on the Civolani action.
PRICE
Benelli Vinci, Realtree Max-4 Camo, $1469 MSRP, about $1300 street.
Browning A5 Hunter, walnut, $1559 MSRP about $1300 street.
Girsan MC 312, Mossy Oak Break-Up Camo, $699 w/ free shipping.
WEIGHT, AS TESTED
Vinci, MAX-4 Camo, 26 inch: 7 lbs., 1 oz.
A5 Hunter, 26 inch: 6 lbs., 8 oz.
Girsan 7 lbs., 2 oz.
TRIGGER BREAK, AS TESTED
Vinci: 5 lbs.
A5: 6-3/4 lbs.
Girsan 5-1/2 lbs.
WARRANTY
Vinci: Five years.
A5: Five years, 100,000 rounds.
Girsan: Five years.
CHOKE TUBES SUPPLIED
Vinci: Five Crio Plus
A5: Three Invector DS
Girsan, Five Mobil Choke
SHELL HANDLING
Vinci: Speed Unloading
A5: Speed Loading and Unloading + Magazine Cut-off
Girsan: Conventional M2 style
VENT RIB TYPE
Vinci: raised rib, red front and small silver center bead
A5: flat rib, red front bead and large white center bead
Today, about 9-1/2 years later, the Benelli Vinci is discontinued, the A5 Hunter is now $1899.99 MSRP / about $1600 street, the Girsan MC312 has stunningly tumbled in price and comes with a lifetime warranty from EAA.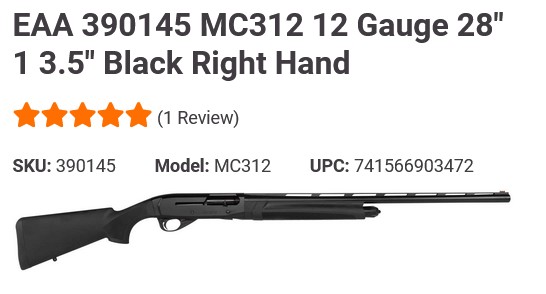 Right now, in my area you can get a EAA-imported 3-1/2 inch Girsan MC312 for $352.99.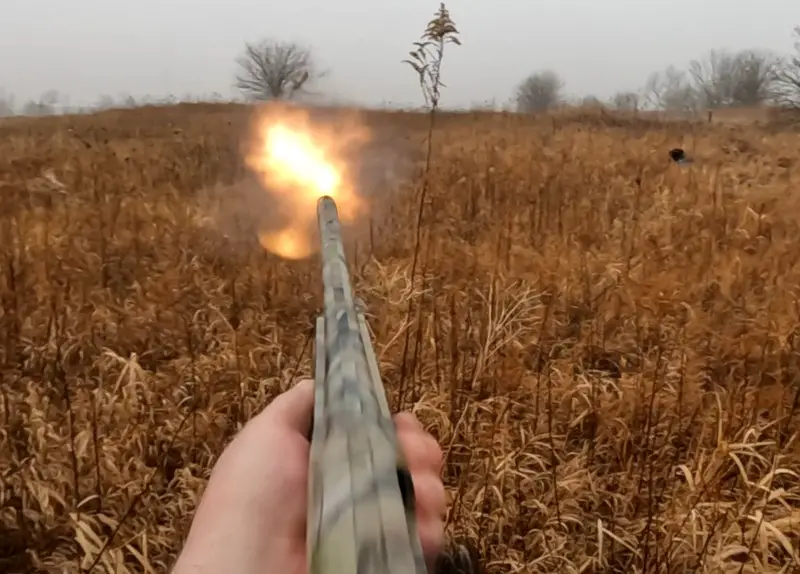 Taking a wild rooster with the Benelli M2 20 gauge. The video is here: https://youtu.be/-BrzwMdqmIo
I have had some regular gripes with most factory inertia guns. One example is my Benelli M2 20 gauge, above. The M2 has an obnoxious silver center bead on the rib that is just bizarre. Like the fat fellow that when he gets his shoes shined, he has to take the guy's word for it, the same is true of the front bead on the M2. The center bead obliterates the view of the front bead, so whether it is there or not in actual shooting is anyone's guess. Center beads on field shotguns make no sense; a center bead that blocks out the front bead makes even less sense. There is no easy way to unscrew the center bead, apparently a pin vise is an "iffy" proposition (according to Benelli), so attempting to twist it off with pliers broke it off flush with the rib to my immense delight.
The shell stop on the M2 makes it really painful to load shells into the magazine. Painful enough where getting through a box of shells is a sure-fire promininently painfully sore thumb. Benelli Customer Service told me to remove it and hit it with a hammer: it is a well-known issue. Well, I'm not trained in bashing at brand new guns with hammers, so I suggested that the Benelli gunsmiths do the hammering as they have far more experience than I with hammering on new guns. So, the gun went back to Benelli, they apparently beat it into submission, so although still on the stiff side, it is much improved.
The Benelli M2 20 gauge weighs 6 lbs. on the nose. The M2 trigger, as supplied, breaks at a heavier weight than the entire gun at 6-1/2 pounds. Heavier triggers are less problematic on heavier guns, but the supplied trigger was unacceptable. Benelli Customer Service is quite good. Off went the entire trigger guard to Benelli and it came back at 4-3/4 lbs., a far more reasonable and usable break weight. Unlike current mile-high patterning Benelli's, this M2 shoots to point of aim at 40 yards. The stiff loading remains, it does have more recoil than comparable gas guns, but the Comfortech stock does more good with heavy loads than with target loads.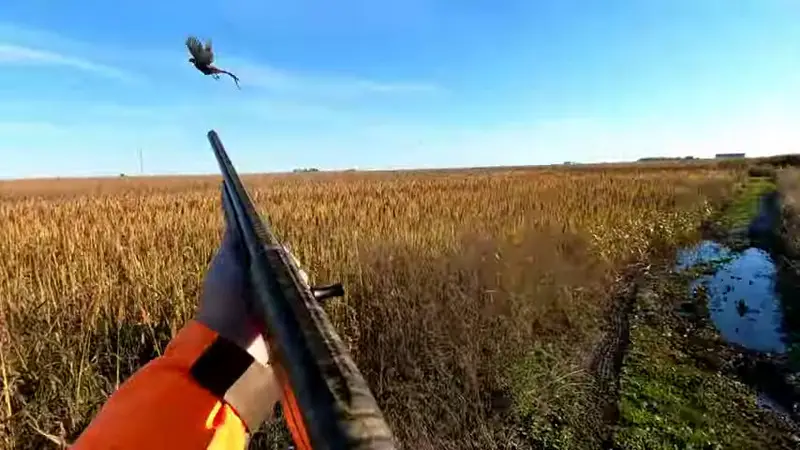 Whacking a rooster with the Retay Gordion 12 gauge.
My Retay Gordion 12 gauge (above), turned out to be a good gun, eventually. The factory recoil pad was a nasty vinyl crucifix: it was replaced with the more generous Masai Mara pad. The Retay Gordion 12 gauges have had excessively heavy triggers. I've asked Retay USA and Retay Konya why Gordion triggers run a bit heavy, but there has been no response to date. Dave at Precision Sports in Oshkosh, Wisconsin took care of the trigger for me: https://www.thefirearmsspecialists.com/gunsmithing . It now breaks at a crisp 4 lbs., 5 oz. which is ideal for a hunting trigger.
That's essentially all it took, a recoil pad and a trigger job. Retay USA Customer Service has been disappointing: they have seem to have great difficulty returning a phone call or answering an e-mail these days. I have had countless numbers of readers complain. Hopefully, this dismal record will one day improve. The Retay 20 gauges have caused some commotion. Originally, Retay USA published that 7/8 oz. 1200 fps was the minimum recommended load for their 20 gauge autos. Too many Retay 20 gauges are jam-o-matics with common 20 gauge target loads. To their great discredit Retay USA, rather than addressing the problem, just changed their minimum recommended 20 gauge load to a rare and peculiar "7/8 oz. 1300 fps" load.

Above, Retay USA has decided to go full-on P.T. Barnum with one of most boneheaded, delusional, mindless ad brags ever inflicted. It is equally offensive to both physics and common sense.
Retay's initial offering, the Masai Mara, was once $750 or so, but it has since ballooned in price to $1250 on up to $1500 or so. In fact, the Retay USA "Antalya SS" stickers at $2999.99. That's far more than most folks would pay for a Turkish auto. Other Turkish inertia guns have held the line on pricing, or decreased them, as the Turkish economy is stressed, with 85.5% inflation in October, 2022. The Turkish lira is now worth only 5.4 cents, down from 9.4 cents or so just one year ago.
Nevertheless, Retay USA has exorbitantly jacked up their prices, making their Masai Mara no longer competitive. I do appreciate Retay's no-click Inertia-Plus action, and every Gordion comes with it. The Gordion packaging has been cheapened up, for what once was a very nice lockable hard case is now just a cardboard box. Although the Gordion is a very clear downgrade from the Masai Mara, a camo Gordion currently runs $865 or so, which is the current sweet spot of the Retay line.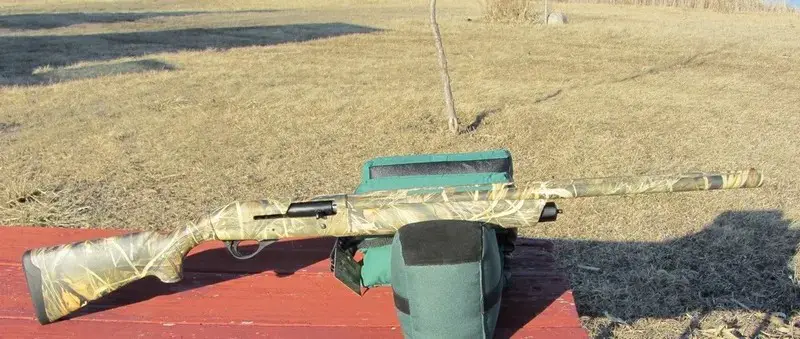 The Franchi Affinity (above) was released in 2012 with a street price of about $850 at that time. The Affinity is the Vursan under-the-forearm style inertia action variation, now called Stoeger, and it turned out to be a solid shotgun. The Vursan / Stoeger inertia action variation uses a dual action bar (Remington idea) located beneath the forearm, seen below. This gives the Franchi / Stoeger models a more front-heavy bias vs. the more prevalent mainspring / mainspring tube located in the butt stock design, and a bit more bulky forearm as well. However, it also makes Affinity easier to fully clean, as no buttstock removal is necessary.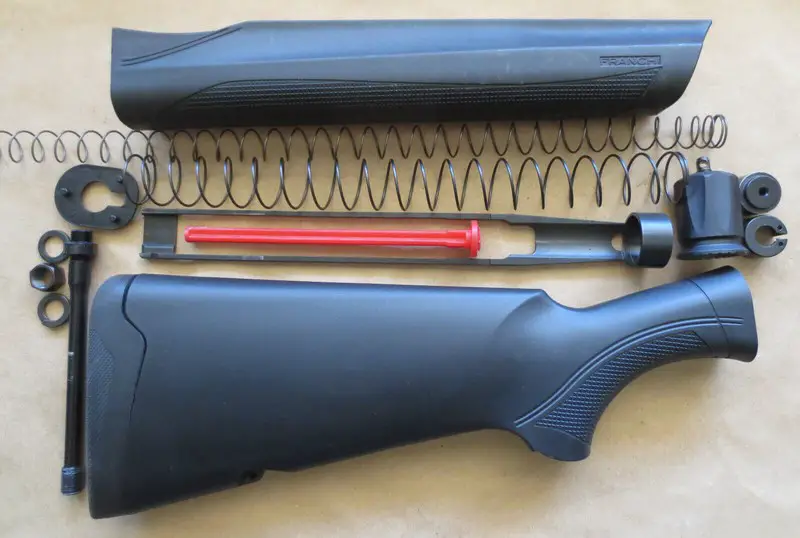 The Affinity replaced the not-so-great Franchi I-12. Although I still resent the TSA recoil pad which is not easily replaceable, the Franchi uses common Mobil-chokes and surprisingly still sells for about the same price as it did ten years ago . . . or even a bit less, down to $710 in some configurations. There are lighter semi-autos, to be sure, and the 20 gauge Affinity is stiff to load. However, with a 7 year warranty and a solid track record, it is likely the best "bang for the buck" inertia 12 gauge on the market today.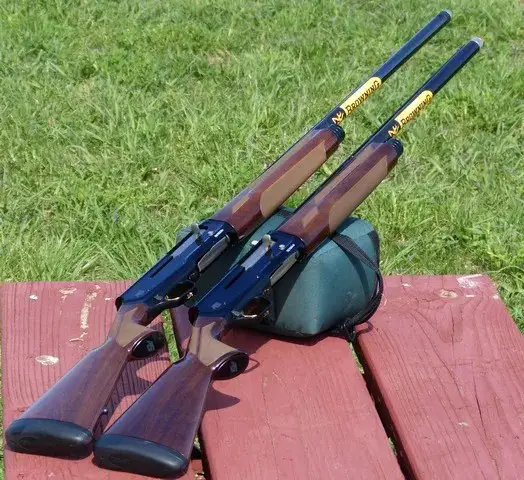 Above: a pair of Browning A5 12 gauge Hunter models, previously tested.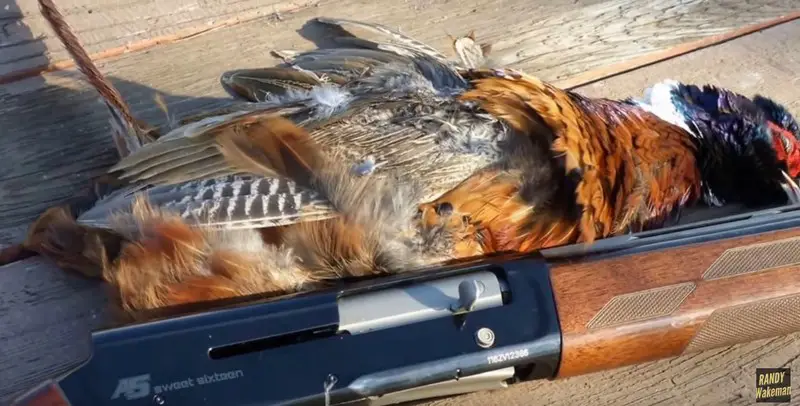 The Browning A5 "Sweet Sixteen." Current street price is $1700 or so.
The Browning A5 Sweet Sixteen (above), although pricey, is one of the most enjoyable upland guns out there. The good thing is that it is a 16 gauge, which is also the bad thing in the ammo department. I suspect Browning would do far better if they offered a 20 gauge model, but so far they have not.

The Weatherby Element Waterfowler 12 gauge, made in Turkey by ATA, called the ATA Neo outside the United States.
The Weatherby Element, at a street price of $550 or so, isn't perfect, for it could use a better trigger and a better recoil pad as well. The Weatherby Element suffers a bit from "Wacky Buttstock Syndrome," as does the Franchi Affinity and numerous other shotguns that have goofy buttstocks for no good reason.
The end of the Weatherby Element buttstock is concave, or dished out. The recoil pad is just a piece of solid rubber, convex to mate with the concave butt. It means that replacing the factory pad is problematic or a royal pain, take your pick, for the popular Limbsaver, Kick-EEZ, and Pachmayr replacement pads have little hope of fitting. Nevertheless, the Element's price is a bargain, Weatherby Customer Service is superb, and if it fits you as is, a trigger job is likely to be your only additional expense. The Weatherby's safety is reversible for left-hand shooters as well.

Yet another recent inertia gun, the F.A.I.R. SSX12.
As I write this, there are two more inertia shotguns with full reviews forthcoming: a 3-1/2 inch Sauer SL5 Waterfowl apparently made by Breda (MSRP $1779), and at the other end of the spectrum, an Impala Plus 3 inch 12 gauge model from Istanbul Silah, MSRP $645. After all these years, there is a sort of "universal inertia gun": 12 gauge, 3 inch chambers, screw chokes, adjustment shims. There are dozens to choose from to fit most any budget. Most share the same basic advantages and disadvantages. The low maintenance required holds appeal for many, but the high recoil compared to gas-operated autoloaders makes them less pleasant to shoot and less than ideal for clay target shooting.