Thompson/Center's Triumph Muzzleloader

Illustration courtesy of Thompson/Center.
As mentioned in the SHOT Show overview, I shot T/C's new muzzleloader, the Triumph, at range day and was generally quite impressed by it. It is a nice step up from the Omega, the fingers only breech plug makes good sense, the enlarged trigger guard is a welcome addition, and the triggers were outstanding. Ken French, affiliated with T/C, is one of those fellows that always seems to know a lot more than he was letting-on, and Ken was smiling.
The Triumph is a break-action muzzleloader, and a nice step up from the Omega in my view. The Triumph I shot had a superb trigger: T/C claims they will all be set from three to three and one half pounds. The trigger guard is enlarged for use with gloved fingers. The "toggle-lock" method of operating the action was not intuitive, but quickly learned.
The gun I shot was a prototype of sorts, having a steel frame and thus a bit on the heavy side. Production guns are to have lighter, alloy frames, so my notion of a bit heavy is probably not reflective of what you'll see in gun shops. The Triumph retains the T/C Speed Breech, made completely tool free by the addition of a generous knurled collar on the end. It works like a charm.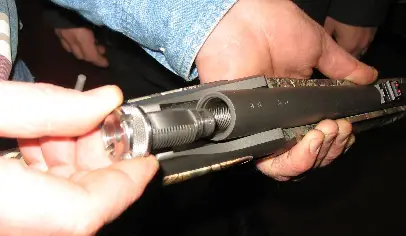 Speed Breech. Photo by Randy Wakeman.
I was advised that the "stainless model" is not stainless steel, but carbon steel with T/C's new "Weather Shield" finish. It is attractive, well applied, and looks like a matte stainless steel barrel.
The forearm is a smallish beavertail type without checkering. I was told that either checkering or a roughed-up textured finish to make the gun easier to control was being considered for production guns.
The Triumph comes with the thinnest little Limbsaver butt pad that I've ever seen. Though it did not look very substantial, it did contribute to what I felt was the reasonable felt recoil of the rifle. I believe that this new T/C will come in at an attractive price point, so in many ways this gun appears to supercede the Omega.